GTA V on PC drives TTWO sales up 142%
Latest release pushes shipments of Rockstar blockbuster to 54 million copies and counting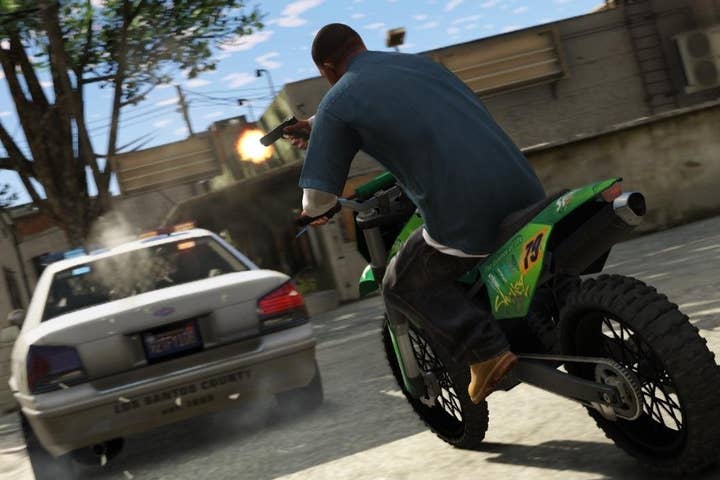 Grand Theft Auto V continues to be a force for Take-Two Interactive. The long-awaited PC port of Rockstar's open-world action game released during Take-Two's first fiscal quarter, providing the publisher with an impressive sales spike considering the game debuted on the PlayStation 3 and Xbox 360 more than a year and a half earlier. To date, GTA V has shipped more than 54 million copies.
For the three months ended June 30, Take-Two reported net revenues of $275.3 million on a GAAP basis, up 119 percent year-over-year. However, the publisher still posted a net loss of $62.6 million on a GAAP basis, compared to the loss of $33.2 million for the prior year's first quarter.
On a non-GAAP basis, Take-Two's revenues were up 142 percent to $366.4 million, with a net income of $34.2 million. In the same quarter the year before, Take-Two posted a non-GAAP net loss of $11.2 million.
Digital revenues also played an increasingly important role in Take-Two's business, with digitally delivered content accounting for $254 million (about 69 percent) of the publisher's non-GAAP net revenues. Some 25 percent of that (roughly $91.6 million) was classified as recurrent consumer spending (virtual currency, DLC, or online games).
"These results were driven by strong consumer demand for Grand Theft Auto V, NBA 2K15 and an array of other titles, along with better-than-expected growth in recurrent consumer spending," Take-Two chairman and CEO Strauss Zelnick said. "Fiscal 2016 is off to a solid start and promises to be another year of meaningful Non-GAAP profits for our organization. We have a robust development pipeline and are well-positioned to generate revenue growth and margin expansion in future years, and returns for our shareholders over the long-term."