Grand Theft Auto 5 ends Elden Ring's reign at No.1 | UK Digital Charts
The new PS5 and Xbox Series S/X version is the second biggest digital launch of the year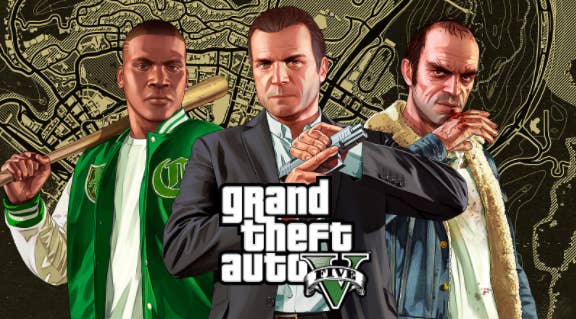 Grand Theft Auto 5 was the best-selling game in the UK last week, according to the latest data from GSD.
Gran Turismo 7 may have been the biggest physical game last week, but Rockstar's action title comfortably topped the digital charts because of the newly released PS5 and Xbox Series X and S version. The new edition is the second biggest digital launch of the year behind Elden Ring.
In terms of pure digital sales, 55% of GTA 5 units were sold on PS5, 35% on Xbox Series, 6% on Xbox One, 3% on PC and 1% on PS4.
These percentage splits will be influenced by the different ways this game was launched on the new PlayStation and Xbox consoles.
The PS5 version of GTA 5 has a launch price of £8.75, while the Xbox Series S and X version costs £17.49. This is because Sony has signed a three-month deal with Rockstar that gives its players a copy of GTA Online for free. GTA Online is available seperately, but it also comes bundled with GTA 5, which is why the PS5 version of the main game is cheaper than the Xbox edition.
This chart only tracks premium games, not free games. Therefore, GTA Online's position at No.3 is based on Xbox Series S and X sales alone.
Elsewhere, Elden Ring slips to No.2 in the digital charts after a 39% drop in sales week-on-week. Elden Ring is already the third biggest new game release of the last 12 months, behind FIFA 22 and Call of Duty: Vanguard. So far, 72% of its sales have been via digital stores.
There were two other new releases in the digital Top Ten. Stranger of Paradise: Final Fantasy Origin debuts at No.8. 83% of downloads were on PlayStation platforms, with the remainder on Xbox. And just sneaking in to the chart is Persona 4: Arena Ultimax at No.10, which launched on PC.
Finally, last week's new release WWE 2K22 falls to No.4 from No.2 after a 64% drop in downloads week-on-week.
Here is the GSD UK Digital Top Ten (week ending March 20th):
| Position | Title |
| --- | --- |
| 1 | Grand Theft Auto 5 (Rockstar) |
| 2 | Elden Ring (Bandai Namco) |
| 3 | Grand Theft Auto Online (Rockstar) |
| 4 | FIFA 22 (EA) |
| 5 | WWE 2K22 (2K Games) |
| 6 | Gran Turismo 7 (Sony) |
| 7 | F1 2021 (EA/Codemasters) |
| 8 | Stranger of Paradise: Final Fantasy Origin (Square Enix) |
| 9 | Red Dead Redemption 2 (Rockstar) |
| 10 | Persona 4 Arena Ultimax (Sega) |
GSD digital data includes games from participating companies sold via Steam, Xbox Live, PlayStation Network, Nintendo Eshop. Participating companies are Activision Blizzard, Bandai Namco, Big Ben Interactive, Capcom, Codemasters, Electronic Arts, Focus Home Interactive, Koch Media, Konami, Microids, Microsoft, Milestone, Paradox Interactive, Quantic Dream, Sega, Sony, Square Enix, Strelka, Take-Two, Ubisoft and Warner Bros. Nintendo and Bethesda are the notable absentees, alongside smaller studios.