Google: We're "committed to protecting and respecting privacy" with Stadia
Phil Harrison assures streaming service's users will be able to create an online persona "distinct and different" from their Google one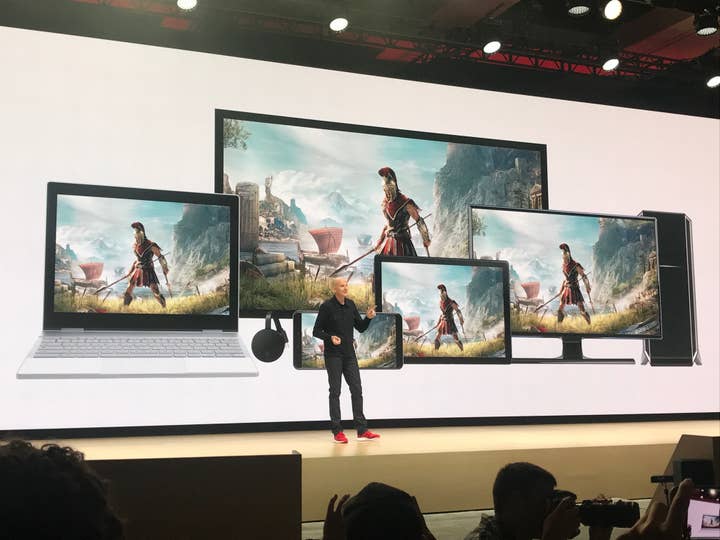 Google has addressed concerns over how it will use personal and private data through its Stadia streaming service.
The internet giant has been under scrutiny for how it uses people's information, particularly since it received a record €50 million fine by French data protection watchdog CNIL earlier this year for making it harder for users to understand how to opt out of data-processing for personalised ads.
Concerns also arose after patent applications likely connected to the Stadia controller mentioned readable memory that will store account information and preferences on the device.
When Stadia was announced at GDC 2019, questions were raised about how Google will use personal information and other data gathered by the service. GamesIndustry.biz discussed these concerns with vice president and general manager Phil Harrison.
"This is built on top of Google's very robust privacy and personal information policy and we will not change that policy through Stadia," he told us.
"The account you use for Stadia is built on top of your Google account, but of course you'll be able to have an online persona that is distinct and different from your Google persona.
"We're committed to protecting and respecting users' privacy every step of the way."
Stadia was announced at GDC 2019 last month, and will enable users to play video games across a multitude of devices -- from smartphones and tablets to TVs via Chromecast -- without the need for installs or downloads.
Given the developer-centric nature of the conference at which it was unveiled, Google focused primarily on the technology of Stadia, leaving many questions unanswered about its business model.
Since then, there has been rampant speculation as to how Stadia will be monetised. Amid these conversations, there has been the question of users' privacy -- our own Haydn Taylor discussed this on the GDC episode of The GamesIndustry.biz Podcast.
You can read the full interview with Harrison here, in which he suggests Stadia is the start of an "inevitable and one-way shift" away from dedicated games consoles.