Google Play games services announced
Google makes things easier for gamers and developers
Following reports of a possible games service for Google's Android, the company formally announced Google Play games services at today's Google I/O 2013. The new platform will be available to developers as a free SDK and will be available on Android, iOS, and web platforms. As previously reported, Google Play games services will include achievements, leaderboards, multiplayer matchmaking, and cloud game saves. Google is talking up the ability for players to start their game on one platform and move to another.
"Start a game on your Nexus phone, continue playing on an iOS device, earn an achievement, and watch it show up on your web browser," says Google on the official games services developers page.
The backbone of the service is Google+, the company's social networking service. Players will use Google+ circles to compare achievements and invite their Google+ friends to games in progress. The new real-time multiplayer feature is also predicated on using Google+, though it is only available on Android devices.
According to the SDK's documentation, Google Play games services features are available on all mobile devices with an operating system version equal to or higher than Android 2.2 or iOS 5. Any Android users using version 2.2 (Froyo) devices or better merely have to update Google Play services and any titles using the new platform.
A number of titles have already launched with the new games platform, including World of Goo, Triple Town, Modern Combat 4, Kingdom Rush, Eternity Warriors 2, and Super Stickman Golf 2.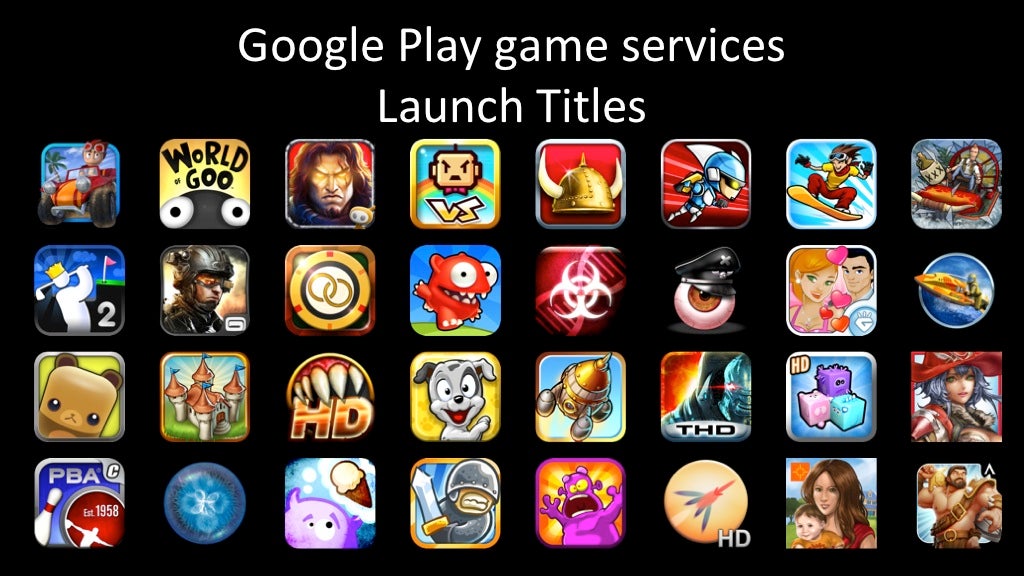 "It's user focused in the sense that we're trying to reach out to the largest number of users," Google Play game services lead product manager Greg Hartrell told Polygon. "And for developers, they want to maximize the size of the audience and the quality of the audience. Both of those things drove that decision. At Google, we want to make our services available to as many folks as possible."
Google Play games services also has the added benefit of being an anti-piracy measure, a possible fix to one of Android's larger problems.
"Game services introduces APIs to allow for additional checks in the game to see if the game was purchased through the Play Store," Hartrell told Engadget. "A developer can leverage those checks and see how they wanna handle the piracy of their game when it's detected."
While onstage at Google I/O 2013, Google's new Android and Chrome head Sundar Pichai also announced that 900 million Android devices have been activated to-date, with 48 billion app downloads so far.