Global console content, services spend reaches record high in 2018
IHS Markit: 2019 expected to see continued market growth largely thanks to the Nintendo Switch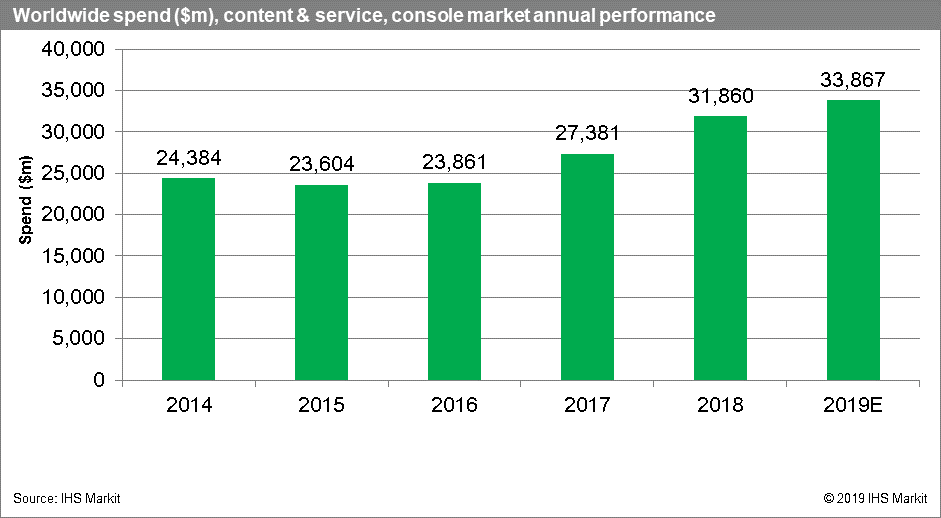 The global console market saw continued growth in 2018, with total spend across hardware, content, and services reaching $47 billion - up from $42 billion in 2017.
That's the highest that spend has been since 2011 according to IHS Markit's analysis, but the real growth has been specifically in the content and services sectors taken separately. These two, sans hardware, reached nearly $32 billion last year, a record high beating out the previous best year in 2008. In fact, the only area in which content or services declined was in packaged game sales, which saw a 3% sales decrease year-over-year.
IHS Markit predicts that this growth will continue in 2019 due to a number of factors. One of those is the rumored new Nintendo Switch SKU for a smaller, more portable Nintendo Switch. That version of the console is still, per all reports, still coming in 2019 though Nintendo president Shuntaro Furukawa did specify the company would not be unveiling new hardware at E3 next month.
Another factor is the strength of certain content models that led the console market to its 2018 success. That includes a continued, steadfast interest in traditional first-party releases such as God of War and Super Smash Bros. Ultimate as well as the growth of games as a service, digital full game downloads, and paid DLC.
While Nintendo is showing up with hardware and content numbers, its service offerings still pale in comparison to its competition. Nintendo Switch Online only represented 1% of the total market share for the service sector last year.
With all of this, IHS Markit anticipates the 2019 console spend for content and services (hardware excluded) will reach nearly $34 billion in a sign of continued growth.