GI Fair schedule featuring Rare, Ubisoft and BAFTA now live
Event at Eurogamer Expo offering advice for students and grads looking for jobs in games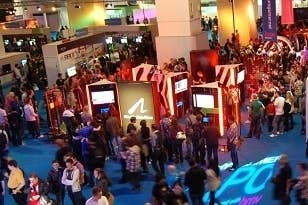 The full schedule for this year's GI Fair has been announced, with panel sessions featuring Rare, Boss Alien, Ubisoft Reflections and Born Ready Games offering free advice to students and graduates looking to work in the games industry.
As well as developers in the field, there will also be universities on hand for those considering their academic future, and advice from the BAFTA surgeries on the show floor, with pointers on game development, production, marketing and PR, script writing and journalism.
The afternoon of Friday September 27 features panel sessions at set times, while the BAFTA surgeries are more casual sessions for a handful of participants taking place Thursday to Sunday at the Virgin Media stand.
Companies and educational institutions exhibiting as part of the GI Fair include Sega Europe, Sports Interactive, Creative Assembly, Jagex, Marmalade, Teesside University, Kingston University, GamerCap, University of Bradford, National Film and Television School, University of Hertfordshire and Amersham & Wycombe College.
The GI Fair takes part of Eurogamer Expo at Earl's Court, London, September 26-29.
The schedule for Friday September 27 is as follows:
12:30: Dlala Studios: Giving It All Up To Go Indie. One man's journey from developer on a MMO, to BAFTA winning social game, and the highs and lows of setting up an indie business.
13:30: What Are the UK's Most Successful Studios Looking For? What exactly are development studios looking for in their new recruits, and how can you tailor your portfolio to stand out from the crowd? Featuring Ubisoft Reflections, Rare, Boss Alien and Born Ready Games.
14:30: The Unconventional Route: Can I Get a Job Without a Degree in Games? Do you really need a degree from university to land a job in the games industry? Dean 'Rocket' Hall and other discuss the alternative path to a career in games.
15:30: Microsoft's Accelerator Program: How To Get Investment and Support. Incorporating all elements of its business including Xbox, services and mobile, hear how Microsoft's new accelerator program can help you with start-up, legal, finance and business advice.
16:30: A Career in Games Media: How To Get Started. There are more ways to make a living documenting the hobby you love. Journalists, broadcasters and more share the problems and potential of new games media. Featuring Eurogamer, Ginx TV, Ali A and freelancer Guy Cocker.