GameStop: Trying to change faster than the market declines
The traditional retail market continues to shrink, but the company fights to diversify with digital, kids and print offerings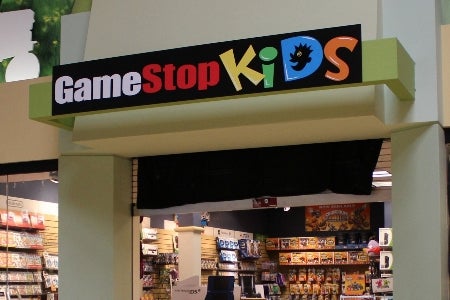 It is a perilous time for GameStop, as the retail video game industry continues to shrink and GameStop's main source of revenue shrinks with it. The third quarter for GameStop was a mixed one, as its performance for the quarter came with its guidance, and beat the consensus on earnings by $0.06. Of course, the context for this is that GameStop lost $624 million on sales of $1.7 billion... though that is misleading. Actually, most of that loss was an accounting change, writing off goodwill dating back a number of years to the merger with Electronics Boutique and the acquisition of Micromania.
"We believe we have to drive a higher rate of internal change than the rate of external change around us to be a viable player in the future"

CEO J. Paul Raines
Despite the loss for the quarter, and a forecast for the remaining quarter that at the high end shows 1 percent growth over last year, investors are still standing by GameStop. What seems to be fueling the positive investor reaction to GameStop (the share price was up over 4 percent for the day following the earnings call) is the company's continued growth in market share and the success of its diversification efforts into digital distribution, mobile, and online gaming. Moreover, GameStop is aggressively moving into other product lines to sell in its stores in order to make up for the decline in boxed software sales.
"We believe we have to drive a higher rate of internal change than the rate of external change around us to be a viable player in the future," said CEO J. Paul Raines. It's a difficult strategy to follow, but GameStop knows full well that the future is moving away from games on discs sold in retail stores. It's not clear how fast things are changing or where growth will be strongest, so GameStop has to place bets on many areas.
Raines again: "New software declined at a rate slower than the market, driving another unprecedented 320 basis points of market share growth." In other words, video games at retail are selling poorly, but GameStop isn't doing as badly as other retailers at selling video games. GameStop is doing a better job of attracting the dwindling retail dollars of gamers than other stores. This is not as good as a growing market, but at least it's ameliorating the decline as far as GameStop is concerned.
While GameStop is losing money, it's keeping expenses under control and seeing strong growth in the areas with higher margins and better prospects: Digital products, online games, mobile hardware, and other initiatives. "The GameStop formula continues to show strong resilience in the face of challenging category headwinds, and the new categories of digital and mobile are creating new profit pools that we are exploiting aggressively," Raines noted. "Once again, we produced very strong margin expansion during the quarter, up 200 basis points year-over-year and 260 basis points in 2 years. As we have shared on previous calls, we are transforming the business model towards richer margins through the creation of the new categories of digital and mobile to supplement our preowned and new software and hardware."
"We anticipate that we will end the year between 30 percent and 40 percent overall digital growth or $590 million to $635 million of digital receipts"

Tony Bartel
GameStop is reaching out for new profits in some interesting ways, such as its GameStop Kids initiative. "In order to take advantage of the growth category of children's toys and games, we've opened up 82 GameStop Kids stores in malls across the nation," explained president Tony Bartel. "These store have an expanded selection of kids games, toys, action figures, plush toys, clothing and accessories that cater to our younger audience and gift givers. These stores are helping us to drive sales of popular titles such as Activision's Skylanders Giants, which has grown 5.5x over the same launch window last year." GameStop is expanding into selling any kind of goods it can to make up for the weakness in boxed software, and it appears to be working.
Bartel laid out some of the growth areas for GameStop. "We anticipate that we will end the year between 30 percent and 40 percent overall digital growth or $590 million to $635 million of digital receipts. We now offer over 2,000 downloadable games in our stores and on GameStop.com. And we saw our PC digital download sales nearly tripled during the quarter. We have also expanded the ability to fund Steam Wallets at nearly all of our stores globally and we are seeing this drive PC customers into our stores and into our loyalty programs."
Bartel continued, "Kongregate grew 29 percent during the quarter as we now have 240 games that monetize through in-game transactions. Revenue from in-game transactions grew 77 percent during the quarter." GameStop even made progress in the print magazine business, which most in the industry have given up for dead. "Game Informer digital subscriptions grew 140 percent during the quarter and we now stand at 8 million total subscriptions and 2.7 million digital subscriptions."
"Our mobile business grew to $43 million and is on track to deliver our full year goal of $150 million to $200 million at a greater than 30% margin rate that we have previously communicated. We sell new Android-based tablets in over 1,600 stores domestically and 800 internationally," said Bartel.
This all adds up to successful new business areas for GameStop that are growing well with good margins, but it's nowhere near enough yet to make up for declining sales of games in boxes. In that arena, GameStop continues to sound hopeful notes about the future of the console business. The company's optimism for the Wii U is strong, and so far the pre-orders have done nothing to dispel that optimism.
GameStop is not predicting how well next-gen consoles might do, or when they will arrive. The one point the company made clear was that in the course of the last few years it's doubled its market share since the last time new consoles were launched. "We're more than doubled market share versus when we went in to these console launches last time," EVP of International Mike Mauler said. GameStop feels that when new consoles do arrive, its market share, ability to take trade-ins of old consoles, and the 21 million PowerUp members (sure to grow by then) will enable the company to make the best of new console sales.
"It has been a challenging time for most players in the video game business," Raines said with more than a little understatement. He is not daunted by this or what lies ahead. "As we move into the 2012 holiday season with a new gaming console and look to 2013, we relish the opportunities and challenges we face."
Bring it on, game marketplace. GameStop is ready to laugh in the face of adversity and battle its way to prosperity despite the worst of what the market can throw at it.