GameStop: "We still see growth in pre-owned"
Q1 earnings call highlights: Retailer grows digital revenue, has advice for next-gen consoles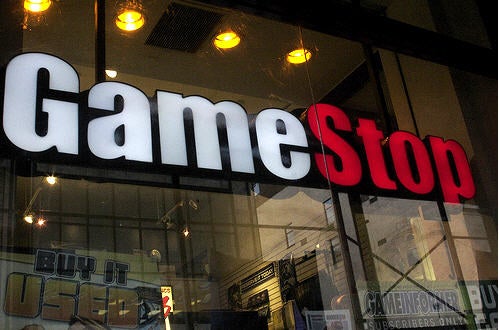 GameStop's quarterly earnings report is a snapshot of the overall industry, as well as a look at how GameStop's changes for the future are working. The key point is that GameStop saw a decline in both overall revenue and earnings, attributing this to the overall lower number of store visits, due to slower hardware sales industrywide and fewer strong releases.
CEO Paul Raines noted that "The first quarter was weaker than we expected on the top line... due primarily to the slower new physical software and console sales. It is clear that GameStop, as well as those following our industry, are struggling to forecast hardware and software sales during the late stages of the current console cycle."
CFO Rob Lloyd was careful to point out that GameStop did better than the market as a whole at least as far as new software: "New software sales declined 20 percent, compared to a 29 percent decrease in the US market." GameStop expects their digital receipts to reach $675 million this year, with significant growth in DLC, the PC download business (which grew 172 percent) and Kongregate (which saw in-game transactions grow 144 percent).
Looking at the pre-owned software business, GameStop was bullish. "There's no question that we are improving margins in [the pre-owned] business," said Raines. "We still see growth in the pre-owned business for 2012. We also have seen gross profit growth in this quarter and we'll see it in other quarters. We don't believe that the pre-owned business is in a long-term decline."
" It is clear that GameStop... [is] struggling to forecast hardware and software sales during the late stages of the current console cycle"

J. Paul Raines
GameStop has been doing well with its venture into the mobile business, which they admitted was "a bit of a pilot program" at the beginning. Now they are projecting to bring in $150 to $200 million from tablets and used iDevices for the year, looking for trade-ins of iDevices to rise from 3 per week now to 7 per week, and to extend this across more stores and internationally as well.
Among the elephants crowding the room was the question of the current console business and the state of the industry as a whole. "If you look at the history, and spend time looking at previous console cycles, this behavior is not dissimilar from previous console cycles," noted Raines. "We see a decline in innovation, we see price point pressure on hardware, we actually see contraction in all of the companies' valuations in the sector, then you get the big pop with the new innovation."
The next generation of consoles was an important question for GameStop and analysts alike. GameStop noted that they have surveyed their 18 million PowerUp members, who represent 72 percent of all sales in the first quarter. Further, some 35-40 percent of all video game consumption in the US comes from PowerUp members, according to Raines. So what those PowerUp members think definitely matters when it comes to sales, and Raines shared the key points.
PowerUp gamers are excited about next-generation consoles; they expect a lot of innovation in new consoles and they want a good value from their next-generation purchase. Three key features gamers are looking for: backwards compatibility, the ability to play pre-owned or shared games, and a physical drive.
"Three key features gamers are looking for [in next-gen consoles]: backwards compatibility, the ability to play pre-owned or shared games, and a physical drive"
All three of those things have been rumored as possible features that next-generation consoles may not have. Some of those rumored features may have been leaked in an effort to gauge potential response while there's still time to change the feature. Of course GameStop will want new consoles to be able to play used games, and it's no surprise either that customers would be in favor of this.
Crucially, GameStop believes it's well positioned to benefit from the next generation of consoles. Raines said that GameStop estimates that there is approximately $1.8 billion in pre-owned console value among their PowerUp user base, which is available for use to purchase next-gen consoles. GameStop feels that its ability to let customers trade in their old consoles for credit towrads new consoles gives the retailer a big advantage in new console sales, at least near the release of new consoles.
Of course that might be problematic if one or more next-gen consoles is not able to play current-gen titles; in that case a customer might want to keep their current console. The effect on next-gen sales might therefore be significant, a factor manufacturers will have to consider when deciding whether to include backwards compatibility or not in their next-gen consoles.
The specifics of what their PowerUp member survey said concerning prices for next generation consoles has been communicated to the hardware manufacturers, though GameStop isn't making that information public right now. It's a good bet that GameStop will also be telling manufacturers about the features customers expect in new consoles, too.
GameStop seems to be dealing well with the broad decline in traditional retail, by ramping up their efforts in other areas like digital distribution, streaming games, DLC, used hardware and software, and mobile products. Whether or not the new consoles will arrive soon enough, and provide a big enough boost in revenue to meet GameStop's expectations, are open questions. GameStop is busy trying to forge ahead in non-traditional areas so that they will do well regardless of the answers.