Sales fall 12% for GameStop in Q1
Pre-owned and digital's sales share increases as store traffic slows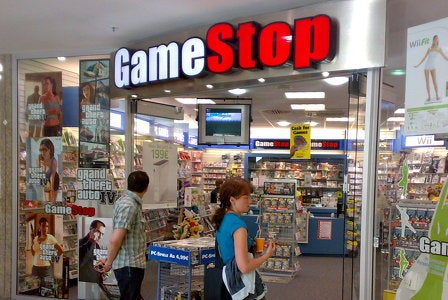 Retailer GameStop's Q1 reports for 2012 showed falls in both net income and sales, though it still met its earning targets for the period.
Global sales fell 12.2 per cent, from $2.28 billion for Q1 2011 to $2 billion this year. Net income stood at $72.5 million, down from $80.4 million for the same period last year.
The figures for the 13 week period ending April 28 also showed that new software accounted for 36.5 per cent of sales, with the pre-owned sector following close behind with 30.9 per cent. Hardware made up 17.4 per cent of sales. While new games and hardware's share of overall sales had fallen, used game share of sales were up 3.5 per cent compared with the same period in the previous year.
The other category, which made up 15.2 per cent of all sales, saw growth in both digital and mobile. Digital saw a 23 per cent increase compared to last year.
"GameStop continues to outperform the market in new game sales through the late stages of this console cycle," said CEO Paul Raines.
"Despite slower store traffic during the quarter, we achieved our earnings target due primarily to gross margin expansion and positive profit contributions from our pre-owned, mobile and digital businesses. We expect those segments to fill the profitability gap as we transition to the new console cycle."