GameHorizon expands with Investment Summit, confirms return to Newcastle in 2014
Nintendo keen to meet indie developers at event held in London, September 26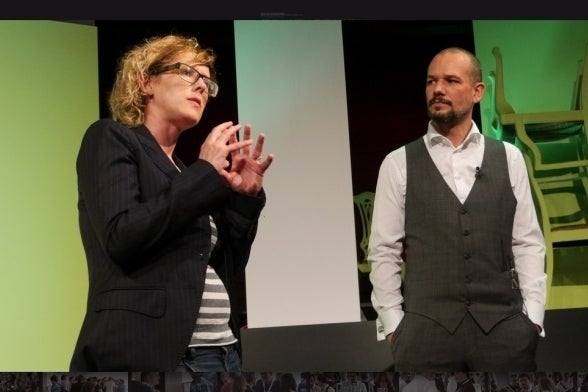 The GameHorizon Conference has extended its brand to include an Investment Summit, taking place this September in London and featuring Nintendo, Kickstarter, Sony XDEV, Sega and more.
The additional event bolsters a rapidly growing brand and comes as GamesIndustry International confirms the popular GameHorizon Conference will return to Newcastle in May 2014.
Created for small and medium-sized businesses, the GameHorizon Investment Summit takes place September 26 at Earls Court as part of the Eurogamer Expo, and features sessions, networking and one-to-one pitching opportunities.
Attendees will be able to network and hear from experienced public and private investors, including Kickstarter's Cindy Au, Bradley Crooks of Sony XDEV and Ian Livingstone OBE. Applications can also be made to meet privately to formally pitch to investors on the day.
The event, previously known as GamesInvest, is co-ordinated by Jamie Sefton, MD of Game Republic, and includes support from companies including Nintendo, Sega Europe, Sony XDEV and Standfast Interactive.
"Nintendo will attend the GameHorizon Investment Summit and we are interested to meet with the independent developers that want to propose original projects we can consider partnering with," said a Nintendo spokesperson. "We look forward to being surprised by the creativity and talent at the GameHorizon Investment Summit."
Tickets for the GameHorizon Investment Summit also include entry to the Eurogamer Expo and the GI Fair, as well as an evening of networking drinks.
Attendees of the GameHorizon Investment Summit will also receive a significant discount on next year's GameHorizon Conference, which returns to Newcastle in 2014.
"We're really proud to be expanding the GameHorizon brand with this new Investment Summit, demonstrating our support for video game business development," said Matt Martin, European editor of GamesIndustry International and curator of the GameHorizon Conference.
"The GameHorizon brand really reflects the editorial values we've always believed in on GamesIndustry International. With a commitment to delivering high calibre content and reflecting the real issues the games business faces, GameHorizon events will offer essential networking opportunities and the most value-for-money tickets on the calendar."
Rebooted last year, the GameHorizon Conference featured stand-out sessions from former THQ exec Danny Bilson, The Sims creator Will Wright, Paradox CEO Fredrik Wester, Ubisoft's Pauline Jacquey, Barry Meade of Fireproof Games and Bossa Studios' Henrique Olifiers - all of which can be viewed online.