Game Changers | Ladell Smith, Auroch Digital
The studio's associate social and community manager discusses their work supporting marginalised voices and encouraging changes across Sumo Group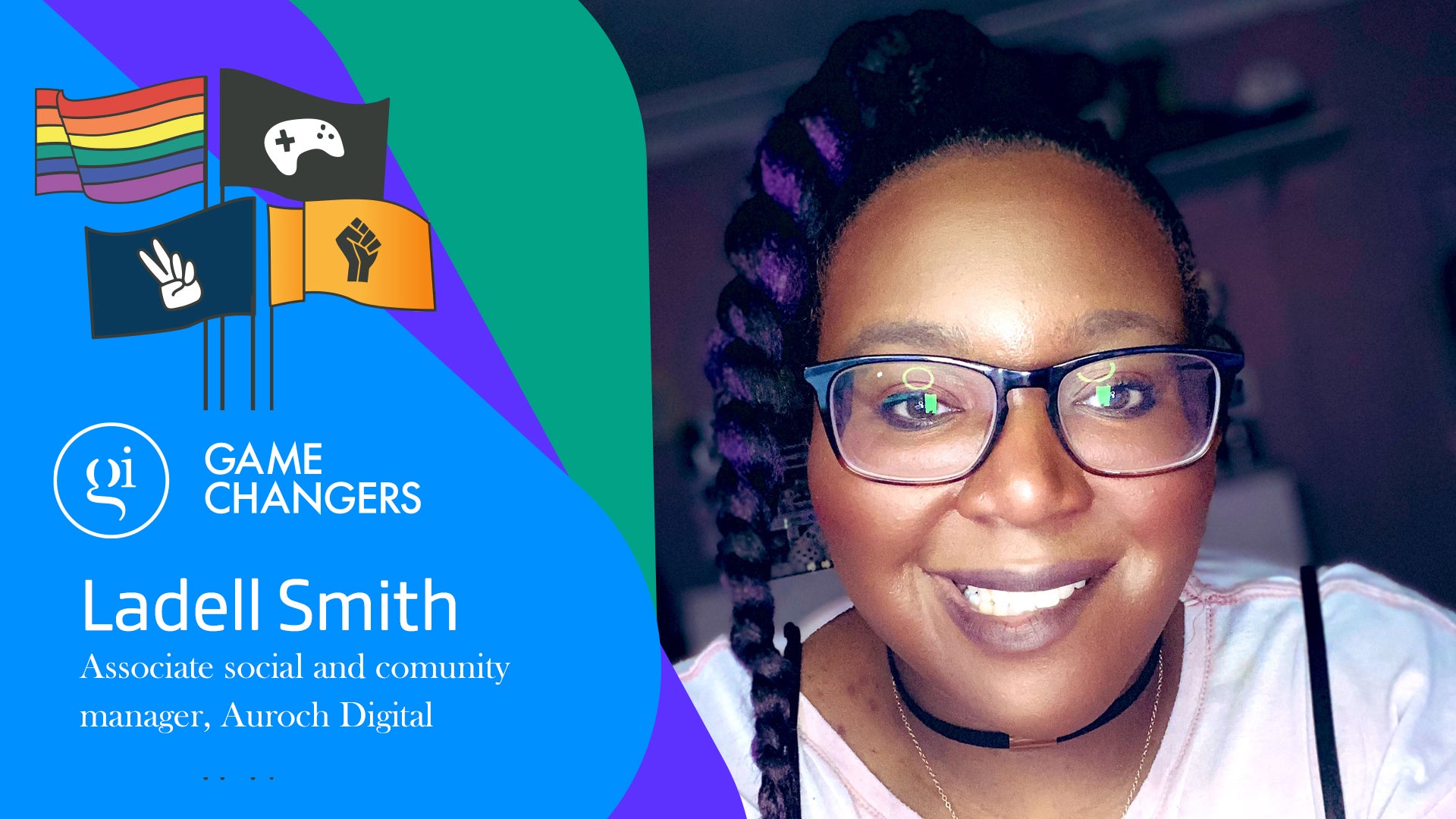 GamesIndustry.biz Game Changers is a series of profiles on the groups and individuals going the extra mile to make the games industry a better place. These interviews encompass folks from around the world helping to improve conditions and attitudes towards diversity, equity, inclusion, accessibility, mental health and more. You can read more Game Changers interviews here.
When reviewing the many, many reasons why Ladell Smith has been nominated as a GamesIndustry.biz Game Changer, it's hard to believe they've barely been in the games industry a year.
Whilst Smith's entire industry experience has been in just one place so far – Auroch Digital – in the "one and a bit years" they've been in post as an associate social and community manager, Smith's peers say they've been an "outstanding" advocate for marginalised voices and has had "a huge impact on improving diversity and accessibility, not only in Auroch Digital but in the wider Sumo Group."
"[Smith is] an outstanding advocate for mental health and has been instrumental in building a healthy, safe community space for our players," says Jemima Crow, Smith's manager and director of communications at Auroch Digital.
"Both in and out of work, Ladell puts a lot of time and effort into finding new ways to improve the industry and rally others to get involved. We are incredibly lucky to have them in our team."
"When I joined the games industry, I vowed to myself that I would make it a more diverse place from the inside out"
Reflecting on their career so far, Smith tells GamesIndustry.biz: "When I joined the games industry, I vowed to myself that I would make it a more diverse place from the inside out. I had no idea how I was going to do that, but I was set.
"It was known that the games industry was a bit harder for marginalised voices to get into and so being a Black woman, I was determined to show that we are just as worthy as anyone else. I have a big mouth, and I don't know how to shut it!"
Smith's peers see that 'big mouth' as nothing but an exceptional asset, though. Auroch Digital's marketing manager, Alice Liguori, says that despite their short tenure, Smith "has become an advocate for all things mental and physical health, celebrating queerness in the industry and always striving for more inclusion, diversity, and accessibility."
"They are one of the loudest voices out there in the games industry at the moment and are always pushing for more to be done to make the industry a better place today and for tomorrow," Liguori says. "This amount of care and inclusion also feeds into their job as social and community manager, being a great face and voice for our company and making our online spaces warm and welcoming places to be.
"To be so new to the industry and to have already made such an impact is amazing."
On joining Auroch, Smith wasted no time in getting stuck in. The moment Smith passed probation, they asked to get involved with Sumo Group's internal inclusion and belonging community Prism, which was "going through a rebranding process" at the time.
Keen to make an impact not just at Auroch but also its parent company, this was a meaty role Smith undertook alongside their community role, splitting the hours to ensure they weren't "getting burnt out on either side." They now serve as diversity champion for the ethnic minorities stream – although Smith also supports other streams/protected characteristics, too – advocating for accessibility through open conversation and the organisation and execution of events, including panels and workshops.
Smith says that whilst no one stream or protected characteristic is "less important" than the other, they initially focused their work on supporting ethnic minorities, balancing community and socials for Auroch whilst talking to other members or Sumo Group "about issues that they may have or their wins" – or just sharing pictures of their pets "so we can all have that instant serotonin burst."
"At least once a month, I would have a tea and chat with people, which was a half-hour drop-in session for the ethnic minority stream – although everyone was welcome – where we could just grab a cuppa and talk about anything," Smith explains. "I think there was a whole session where a colleague and I talked about k-dramas, and everyone else was deeply invested in our emotions!
"Being able to support your [people of colour] colleagues through these unprecedented times will lead to better work environments"
"In the background, I was actually working with other ethnic minority diversity champions on how we can make a change. We created a private Teams channel so that people were able to speak openly, and also connect with one another. As Sumo Group is a company with many different studios, it can feel lonely at times, so having a place where people can feel connected was an important thing for us."
Beyond ensuring that Black and minority ethnic colleagues had a safe, respectful place in which to get to know each other and share their experiences, Smith believes that game companies need to be "diverse from top to bottom" in order to make meaningful and impactful change – and that means looking to diversify staff at senior roles, too, not just entry and junior positions.
"We can be managers and leads, too," Smith says. "I think people need to have a look into their policies and training to see how their anti-racism policy is and make sure to cover microaggressions.
"It shouldn't be a quick tick exercise and it should be something that can be discussed because – as we unfortunately know – news is always changing. Being able to support your [people of colour] colleagues through these unprecedented times will lead to better work environments. Honestly, I would have everyone do the training, not just those in management."
Part of this support comes from recognising key dates and activities that affect Black and minority ethnic people, such as Juneteenth, for which Smith organised Sumo's Juneteenth blog post. A clear and accessible blog, it offers a candid and informed perspective on the importance of the event for people of colour.
Beyond that, Smith says that engaging focus groups and consultancies are important, too, not least because by actively engaging the views and voices of marginalised people, games can better identify – and mitigate – issues sooner rather than later.
Consequently, Smith ensured that the company's newly drafted anti-racism policy was presented directly to Sumo Group's managing director, Gary Dunn, to ensure the project's research and recommendations were seen by senior leaders. It not only reflected on the experiences of Sumo staff thus far, but also detailed suggestions on what else needs to be done, and what – in the group's view – were the key factors that should be the standard for Sumo studios.
That's not all Smith does for the industry, either. They regularly participate in panels – including Women in Games' Online Community Culture: Values, Challenges and Solutions and It Gets Better's Community Management – as well as work as a Women in Games Ambassador. They also formally supported organisations like Soot Sprites, The Nerd Council, Sistas Of The Fog, and Black Girl Gamers.
"Mental health is just as important as physical health, and I think sometimes people push it to the side"
Furthermore, as part of their drive to "push more for marginalised folks," they started a podcast – They Play Games – for gender non-conforming people, with content that appeals to both gamers and game-makers alike.
"I started this as I hate being put in the woman category or as an end piece," Smith explains about the new venture. "I also wanted to celebrate and thrive with anyone else who felt like me as I guessed I wouldn't be alone – and I was right.
"I've been overwhelmed by the love and support and people wanting to be a part of my podcast. It excites me to no end hearing from others and being able to share our stories."
As for impactful, low or zero-cost changes that other game companies can make right now? Smith's tip is to focus on the language you use. Is it gendered? Is it ableist? What assumptions are your words making, and can you change them right now to make them more inclusive? Avoid localised or colloquial language, too; Smith says that makes it much harder to translate things for wider audiences.
Including pronouns on email signatures is another quick and simple way to signal a company is serious about inclusion, as well as ensuring that any and all graphical content you post on social media – be it screenshots, statements, or even memes – include a full alt text description so that everyone can enjoy your posts, even with screen-reading software. Smith also advocates that captions should always be provided in videos, too.
Interestingly, by taking up this work, Smith admits that they, too, have had to do some self-reflection.
"Mental health is just as important as physical health, and I think sometimes people push it to the side," they add, firmly pointing fingers at themselves for emphasis. "The best thing I ever did was learn that cutting off work at 5pm, every day, meant that I had time for me and all my joys.
"I am nosy and proud and always want people to have a better experience than I had," Smith says, when asked why they do the work they do. "I knew if I could change one person's life for the better, I needed to do something.
"I believe everyone should be able to enter the game industry regardless of background or race, so if we can educate those who are already in the games industry as to why it is so important to leave those stigmas behind and see the person for who they truly are, we can make some absolutely amazing games!"