From Square Enix to startup: Wan Hazmer's plan to put Malaysia on the map
Final Fantasy XV's lead designer on bringing hard-won experience from Japan back to his home country
An array of virtual foodstuffs have been sold across the dozens of games that comprise the Final Fantasy universe. But Final Fantasy XV featured one dish that, for a certain group of people, made it stand out.
Roti canai is perhaps the staple breakfast dish in the Southeast Asian country of Malaysia, and yet there it is, a consumable item in one of the most famous of all Japanese video game franchises. A Google search for "Final Fantasy XV roti canai" will demonstrate what that detail meant to gamers in a country seldom featured in games -- save, I suppose, for the odd jungle-bound adventure for heroes like Nathan Drake and Lara Croft.
The question of how it got there is simple to answer: Wan Hazmer, a Malaysian-born developer who worked on the game as a lead designer, and who announced his intention to return to the country and establish a studio at Kuala Lumpur's Level Up KL conference in November 2017. Standing ovations are not a common sight at developer conferences, but Hazmer received one that day.
"To me, the Western world is too obvious a choice. I wanted to be challenged. I wanted to learn new things"
"When someone who has worked overseas, and gained that experience, comes back, people expect they will bring something new to Malaysia," Hazmer said when we met at Level UP KL the following year. "That's where that reaction comes from."
Level Up KL is a free event, supported by the Malaysian government in an attempt to galvanise what it hopes will become a key creative industry for the country in the future. Hazmer decided to leave Malaysia in 2008, largely because the structures that are now being put into place didn't exist. He made two Flash game, entered them into a competition, and won first and third prize. It wasn't that Malaysia didn't have talent, but at that time it offered precious few opportunities for that talent to develop and flourish.
"I thought if I kept doing the same thing I would not grow as a game designer," Hazmer told me. "I had been in Malaysia my whole life. I really wanted to get out there, and it was either going to be Western development or Japanese."
The English language is relatively widely spoken in the cities of Peninsular Malaysia, so the fact that Hazmer ended up in Japan is somewhat difficult to fathom. At that point in his life, Hazmer had a firm grasp on an essential skill needed to gain employment in the UK, Canada, the US, and a host of other countries where globalised studios speak English by default.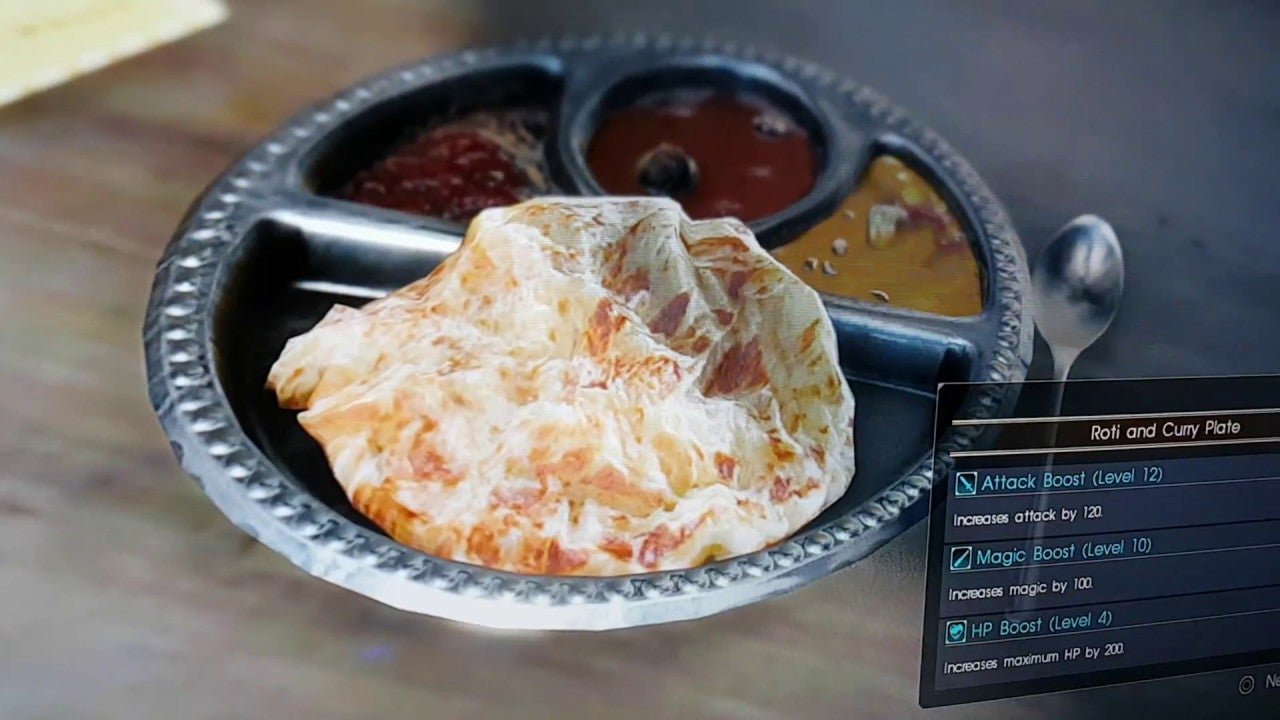 "It's because of that," Hazmer said with a grin. "Because, to me, the Western world is too obvious a choice. I wanted to be challenged. I wanted to learn new things.
"I had read so many books on Western game design philosophies, but none about Japan. I loved Japanese games and Western games equally, but I knew how Western games were made. I didn't know how Japanese games were made."
There was no job waiting for Hazmer, or even a solid lead on a job. He didn't know the language beyond two or three of its more famous words. And yet, to use his description, "I saved some money, and I just went to Japan."
"I went to a Japanese language school for 18 months. I thought it was going to be great experience even if I didn't get a job after that"
"I knew that the language was the biggest hurdle to joining the industry -- especially as a game designer," he continued. "As an artist or even a programmer it would have been much easier. Because of that I went to a Japanese language school for 18 months. I thought it was going to be great experience even if I didn't get a job after that."
For that 18 months, Hazmer had a singular goal: to learn Japanese well enough to write a game design proposal expressing his ideas on the failings of MMORPGs. He believed he knew how to make the single-player experience in those games more satisfying, and he hoped that would be enough to convince a company to give him a chance. In 2010, after almost two years in Japan studying the language, Hazmer sent that proposal to every company he thought might be interested. Square Enix was the first to respond.
"Interestingly, it wasn't the Final Fantasy XIV team that got back to me," he said, referring to the MMO that first launched later that same year. "That proposal showed my creative thinking -- and also that I could speak Japanese. But I think [what interested them] was that I was not Japanese, in a way. An outside perspective was something they needed."
The first day at Square Enix was overwhelming, Hazmer said, the sheer scale of the operation so much larger than anything to be found in Malaysia at that time. The most unexpected moment arrived at the end of his eight-hour induction day, when he was told that the first project he would be working on was Final Fantasy Versus XIII.
"It blew my mind," he laughed. "I was expecting to work on a much smaller game."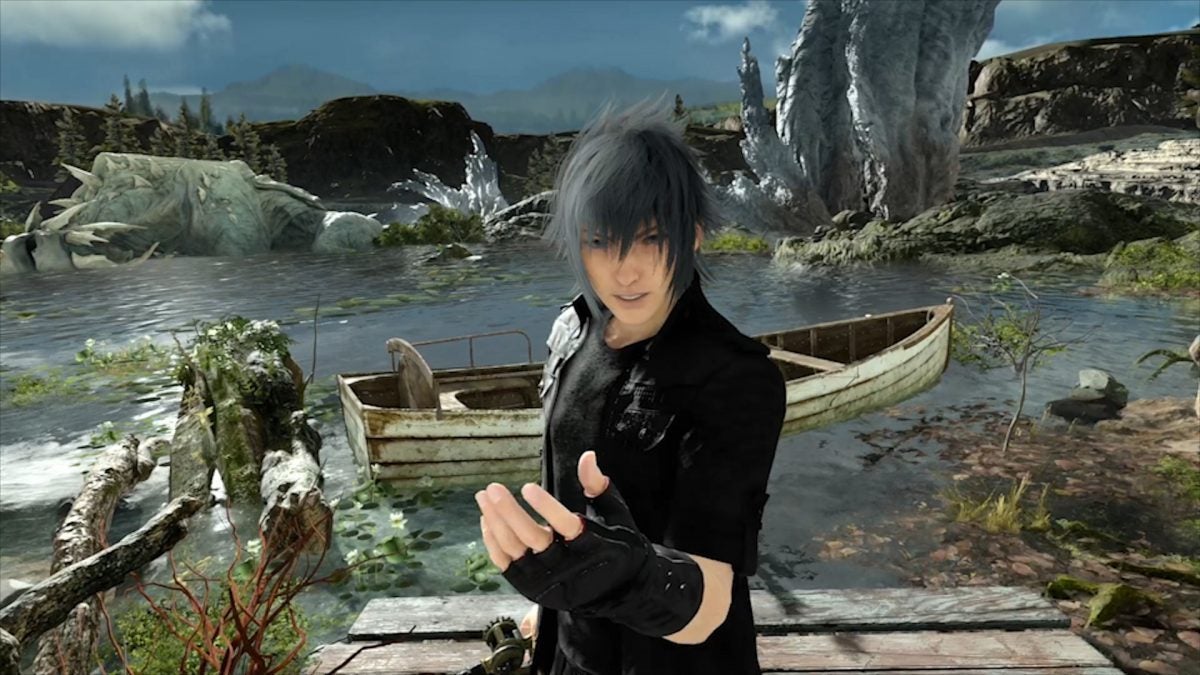 The path from that first day to leading a design team on Final Fantasy XV was far from simple. Doing so required understanding not just how to manage a "huge team", but to do so effectively when that team was composed almost entirely of Japanese people.
"There was one German programmer, and that was about it," Hazmer recalled. "You have to understand that way of communication. There are a lot of things you have to care about.
"In Malaysia, if you want an artist to do something, you can just say, 'Hey, can you draw this thing for me?' But the Japanese environment is so much more cushioned. You should talk about their weekend, what did they do with their kids, and then you can proceed with asking for the work.
"Five years ago I told Tabata-san that I wanted to leave Square Enix to bring all of my knowledge back to Malaysia. That was always part of the plan"
"You have to get everybody on the same page, and when you have a leader who isn't Japanese, it can be more difficult to be convincing."
As much as anything else, that digital plate of Roti Canai symbolises the degree to which Hazmer was successful in the ambitious goal he set for himself in 2008. Having attained that status against such daunting odds, it's a little surprising that he elected to leave just a year after Final Fantasy XV's triumphant launch. At that point, the foundation was in place for Hazmer to rise even higher through the ranks of Square Enix.
"My mind didn't change," Hazmer said. "Five years ago I told my director, Tabata-san [Hajime Tabata], that I wanted to leave Square Enix to bring all of my knowledge back to Malaysia, and spread it. That was always part of the plan.
"I could see the government was really supporting the games industry here... I would have come back regardless of whether the government supported the industry or not, but I'm very lucky to have come at the right time."
Hazmer is far from the first person to leave Malaysia and succeed in the games industry, but he is perhaps the most successful person to return and make a long-term commitment to the national industry. Metronomik, the studio Hazmer co-founded with Daim Dziauddin, has a core team of 20 people, almost all of them from Malaysia, and every single one drawing from the experience in design and communication and leadership that Hazmer acquired at Square Enix. If the government's plan to build a thriving industry is to succeed, that kind of talent and experience will be an essential component.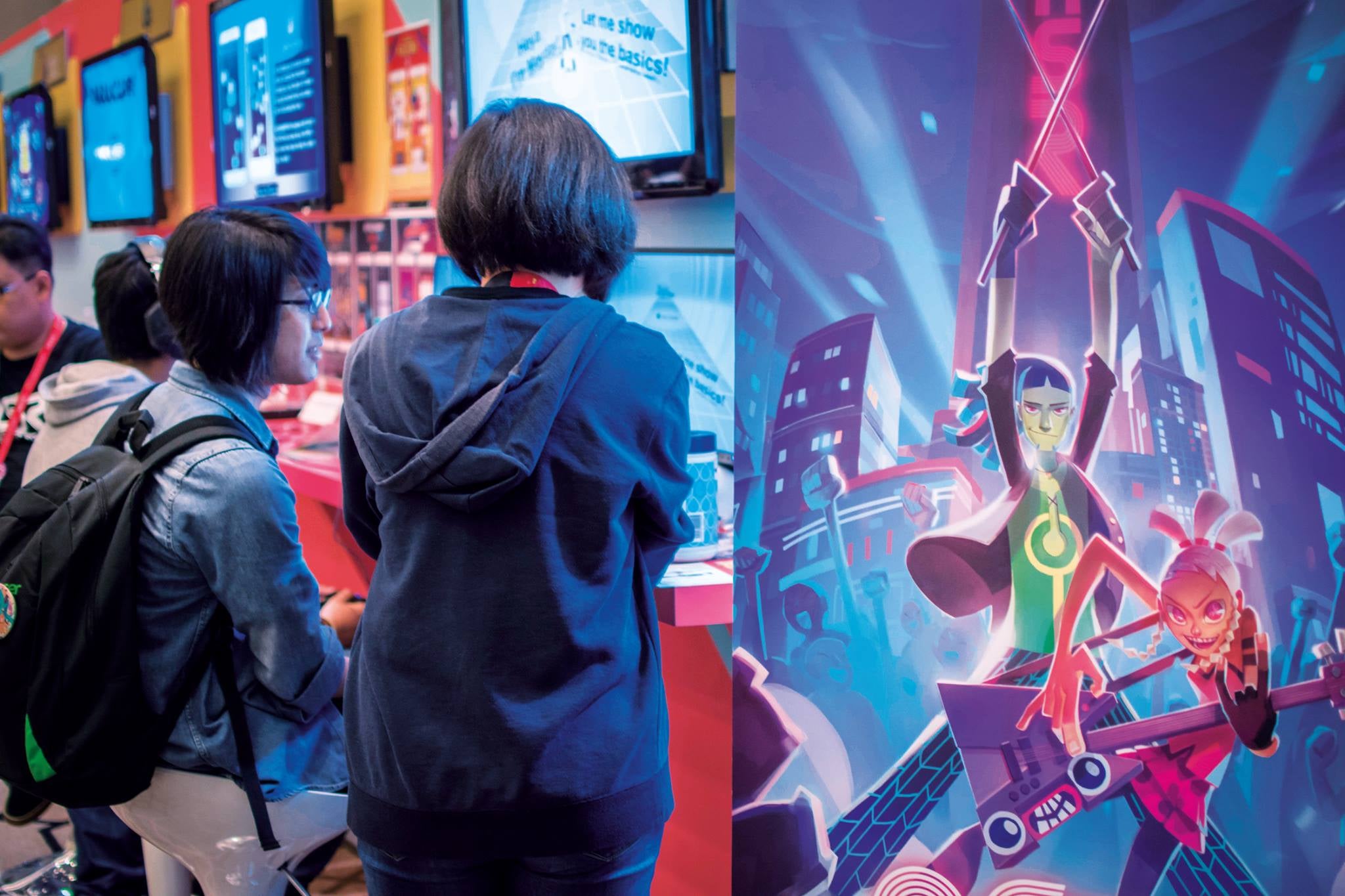 The benefit of Hazmer's experience was evident in No Straight Roads, a music-driven adventure game in the vein of Double Fine's Brutal Legend, the playable demo for which was by far the most polished and complete experience exhibited at Level Up KL 2018. Of course, it also benefited from the skill of Hazmer's co-founder Dziauddin, a Malaysian artist whose career in Japan also brought him into contact with one of gaming's icons (Street Fighter in his case). And then there's "Falk" Au Yeong, a mixing engineer who worked with Hazmer at Square Enix on Final Fantasy XV, and also contributed to Kingdom Hearts III.
"He's very passionate about dynamic music," Hazmer said, describing an approach to No Straight Roads' aural landscape that flits between both genres and aspects of musical structure based on the player. "Somehow everybody participated in the graphics race and the business model race... But we decided that this is our user experience, so we're going to put a lot of money, a lot of effort into dynamic music."
"The bigger picture for me is that everyone understands that Malaysia has a lot of talent. We're just not using it properly"
User experience is central to what Hazmer believes he can offer to the Malaysian industry at this point in its development. Working for Square Enix had given him a "AAA mindset" in terms of budgets and resources, he admitted, but user experience isn't constrained by how many dollars or people you can throw at a problem.
"User experience for me is very important," he said. "I'm a huge evangelist for user experience, because nowadays it's not about mechanics any more. It's not about story and art. It's about the user experience, which ties all of them together.
"The beauty of user experience -- and I only learned this from coming back to Malaysia -- is that even when you have limited resources, you can still achieve the same level."
In Final Fantasy XV, the user experience its development team sought to create was "a road trip with buddies" -- and that manifests in myriad ways in all aspects of the game. With No Straight Roads the user experience is "your music can change the world," and Hazmer believes it will capture that idea as coherently and completely despite having a fraction of the team and budget at his disposal.
I saw only a slice of No Straight Roads, but that idea is certainly explored through its story, its gameplay systems, in its constantly shifting music and audio, and in a narrative-focused boss fight that played out like a set-piece in a broadway musical. Metronomik expects to have a complete version of the game by the end of Q2 2019, Hazmer told me, and to say that expectations are high within the Malaysian development community would be an understatement.
"For me, the game that we're making is the proof that we [Malaysia] have a say in all of this," Hazmer said, referring to the global games industry. "The bigger picture for me is that everyone understands that Malaysia has a lot of talent. We're just not using it properly.
"The reason I came back is that I believe Malaysia deserves better. We have a pool of talent -- very talented artists, very talented programmers -- and they all deserve better in the sense that we don't have enough good producers, or enough good directors.
"In Malay we would call it 'wira kampung' -- the hero of the village. We don't have enough of those people. Yet."
We attended Level Up KL as a guest of the organiser.