Foxconn strike halts iPhone 5 production
Thousands of employees reportedly walk out over forced holiday work, quality control demands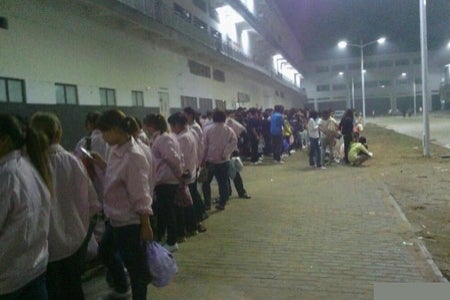 Manufacturing giant Foxconn is dealing with labor complaints again. According to workers' rights group China Labor Watch, up to 4,000 Foxconn employees went on strike across the manufacturing giant's facilities Friday afternoon, stopping iPhone 5 production lines at multiple locations.
The strike began when quality control inspectors refused to report for work. The group was upset that Foxconn required employees to work through the Oct. 1-8 holiday week in China at the same time it was tightening quality control standards. Citing information from a handful of Foxconn employees, China Labor Watch said that "overly strict demands on product quality" led to fights between workers and quality control inspectors when the production lines had trouble assembling iPhones that met the new standards.
The strike originated at Foxconn's Zhengshou factory, but spread to three other facilities. At the height of the strike, between 3,000 and 4,000 employees had joined in. The stoppage lasted until Saturday, when Foxconn said it would fire anyone who continued to be absent from work.
Foxconn employs over 1.1 million people in China and works for electronics giants such as Apple, Nintendo and Microsoft. This year has already seen Foxconn workers threaten mass suicides, riot, and riot some more.
In March, a US Fair Labor Association inspection of Foxconn facilities (conducted at the request of Apple) found "significant issues," including health and safety problems, long working hours, and workers missing required days off. At the time, Foxconn agreed to a number of changes to address concerns, including shortening work hours and improving worker representation.