Foxconn profits hit amidst restructuring and media scrutiny
Manufacturer's stock plummets after financial results significantly under-perform analyst estimates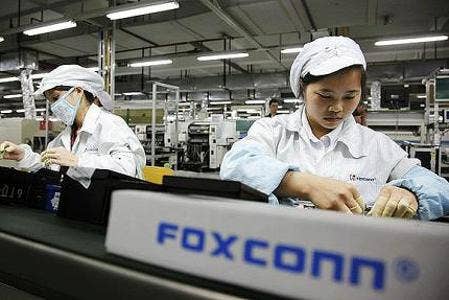 Foxconn's flagship company, Hon Hai Precision Industry Co., has reported collapsing profits due to intense scrutiny of working practices at its Chinese manufacturing plants.
Hon Hai's first-quarter profits actually climbed 3.6 per cent year-on-year to NT$14.9 billion (£314m/$510m), but an analyst report compiled by Bloomberg predicted profits of NT$21.5 billion (£454m/$737m).
An inspection of Foxconn's vast manufacturing facilities in China - conducted at Apple's request in March - revealed "significant issues" around working conditions. The company intends to ease the problems by opening a new factory in Brazil and moving its operations from Eastern to Inland China.
Speaking to Bloomberg before the results were announced, Foxconn chairman Terry Gou claimed that the production migration was 60 per cent complete, and confirmed that its partners had agreed to help cover the increase in employee wages.
Foxconn's revenues for the quarter were NT$789 billion (£16.6b/$27b), giving it a gross margin on 4 per cent over the period - down from 4.5 per cent in the same quarter in 2011.
Foxconn expects its margins to recover by the end of the year, but the drop caused its stock price to plummet by 7 per cent to NT$92.40 (£1.95/$3.17).