Five things to see and do at Esports BAR
The event returns to Cannes for its seventh show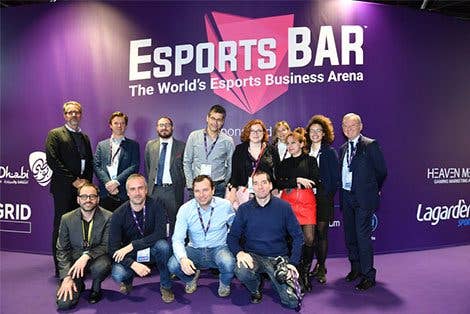 Esports BAR returns to Cannes next month, and will once again connect the world of professional gaming with non-endemic brands.
The event takes place February 11th to 13th at the Palais des Festivals, and will feature talks, roundtable meetings, fireside chats with investors, and other networking opportunities.
This year the event has shaken things up, with a conference that is organised by genre and title. GamesIndustry.biz has looked through the schedule for the event, and have put together the five things we think you need to check out.
1. Deep dives on League of Legends, Rainbow Six, Counter-Strike Go and more
The big focus for Esports BAR this year is to create a conference programme that goes deeper on individual games and franchises. The event organiser says that 'the best way to approach esports from the outside and grow it from the inside is to see esports as a universe, with galaxies you must approach one at a time.' The idea is that talking broadly about esports is becoming less useful, as it's the equivalent of discussing 'sports' over just 'tennis'.
In order to make the event more granular, Esports BAR is running deep dives on a number of 'galaxies', which will feature experts hosting ten-person tables to discuss their games. Those currently scheduled to appear include Ubisoft's François-Xavier Deniele, Riot Games' Alban Dechelotte, Head of Business Development & Sponsorships, RIOT Games, Gameloft's Hugues Ossart, EA's Paul Jonhson, Tencent's Bernd Gottsmann and many more.
2. A discussion on what a cereal brand sees in League of Legends
One is a caramel and chocolate cereal, and the other is the biggest esports brand in the world. The keynote for Esports BAR will see Bérengère Chalvon Demersay, associate marketing manager at Cereal Partners Worldwide (which owns Lion Cereal) sit down for a fireside chat with Alban Dechelotte, head of business development and sponsorships at Riot Games. The two will discuss the three year partnership between Lion cereal and League of Legends, and reveal what it takes to make such a partnership a successful one for both parties.
3. Major football teams explain what they see in esports
So how do you take a major football brand and make it work in the world of esports? As more football clubs invest in the sector, Esports BAR will reveal the perspective of 'real world' sports, featuring Dominik Hahn, Head of Licensing and Esports at Bundesliga, and Fabien Allegre, Director of Merchandising and Paris Saint-Germain Diversification at PSG Esports.
4. Meet with some of the biggest investors and sponsors interested in the esports world
The main strength of Esports BAR is in the way it connects businesses together from all sorts of backgrounds. Investment will once again feature, with a segment on what investors are looking for (and start-ups are invited to pitch to the attending investment firms). Meanwhile, significant non-endemic brands will be at the show to meet with esports companies, such as Nike, L'Oréal Yves Saint Laurent Beauté, Mac, Burger King, Coca-Cola, Bud, Domino's Pizza, Barilla, HSBC, Mondelez Hall's and Trident, Nestlé, Pirelli, Porsche, Mastercard, Barclays and many more.
5. The Game Shaker Awards will return
Esports BAR's special awards night will once again take place on February 11th. The Game Shakers highlights and awards professionals for bringing esports to mainstream audiences. The ceremony is streamed via Twitch (and other partners) and is voted on by a panel of leading esports names.
In terms of the awards themselves, 100 Thieves CEO, Matthew 'NaDeSHoT' Haag, will be honoured as the Esports Shaker of the Year (100 Thieves is a gaming lifestyle organisation). The other categories at the show include Media Shaker, Brand Shaker, Sport Shaker and Community Shaker.
For more information on the Cannes Esports BAR, and to check out the full schedule of events, talks and roundtables, click here.
GamesIndustry,biz is a media partner to Esports BAR. Esports BAR is operated by Reed Midem, a sister business to our parent company Gamer Network.
For the record: Post-publication, Esports BAR amended its schedule to change one-to-one investor meetings to fireside chats with investors. We have updated the story above to reflect that.