Final Fantasy XV lead designer Wan Hazmer details new studio Metronomik
Studio co-founded with Street Fighter V artist Daim Dziauddin aims to raise the profile of the Malaysian industry with debut project No Straight Roads
Former Square Enix Japan lead designer Wan Hazmer has returned to game development with a new studio, Metronomik, and a goal of raising the profile of Malaysia in the global games industry.
Wan Hazmer left Malaysia in 2008 to seek professional opportunities in Japan. After securing a position at Square Enix Japan in 2010, he rose to the position of lead game designer on the critically acclaimed Final Fantasy XV.
Speaking at the Level Up conference in Kuala Lumpur this week, Hazmer recalled the previous year's event as "very important for me."
"I announced that I would be leaving Square Enix," Hazmer said, in an official press briefing in which he discussed Metronomik and its debut project, No Straight Roads.
"I promised a lot of people that I would deliver a game, along with opportunities and education for Malaysian talent"
"I left last year, in November, and I promised a lot of people that I would deliver a game, along with opportunities and education for Malaysian talent."
The return of a talent like Wan Hazmer is a significant event for the Malaysian development scene, which has suffered from brain drain over the years due to a lack of local opportunities. However, government support through entities like the Malaysian Digital Economy Corporation (MDEC) has created an environment that nurtures indie developers and allows larger companies such as The Streamline Media Group to grow and thrive.
"I lived in Japan for nine years, and I travelled around the world and all that, but I haven't seen the very strong support that is provided by the Malaysian government," Hazmer said, citing that support as a significant factor in establishing Metronomik.
"When I left for Japan in 2008 it wasn't that strong, but when I visited in 2015 I noticed how strong that support had become. You can actually see the ecosystem, all the way from education to making contacts with other game companies."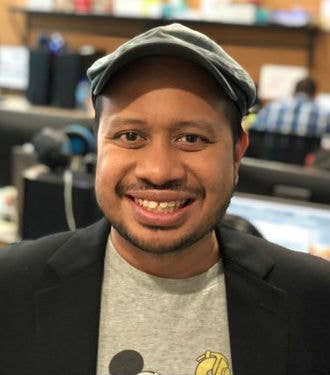 Metronomik was co-founded by Wan Hazmer, who is CEO and game director, and Daim Dziauddin, who also returned to Malaysia after years working in Japan, most prominently as a concept artist on Street Fighter V.
The company has been stealthy since its foundation a year ago, but the last two weeks has seen Hazmer and Dziauddin travel to a series of events to showcase No Straight Roads, a "music-based action game" with vivid art and characters that calls to mind Brutal Legend, but focusing on indie rock and electronic dance music rather than heavy metal.
Indeed, No Straight Roads picked up the Grand Jury Prize at the Southeast Asia Game Awards, which closed the final day of Level Up KL 2018.
Metronomik is working towards a Q2 2019 launch window, and the combination of the game's high production values and the team's strong pedigree makes No Straight Roads arguably the Malaysian industry's best chance at a truly international hit.
If that comes to pass, Hazmer said, it will provide a platform from which Metronomik can help the local scene to grow and improve even further.
"There are little things that I want to improve in Malaysia, but I have to prove myself first," he said. "I was in the comfort of a team of 300 people, in a company that has 5,000 employees, and I was just one of them.
"Now I have my own company with just 20 people, so I want to prove with this first game that we can do it. From there, I want to spread that awareness to other people in the Malaysian industry."