FIFA is Christmas No.1 as God of War drops to third place | UK Boxed Charts
Football title's sales up 67% since last week, Crisis Core: Final Fantasy 7 Reunion debuts at No.8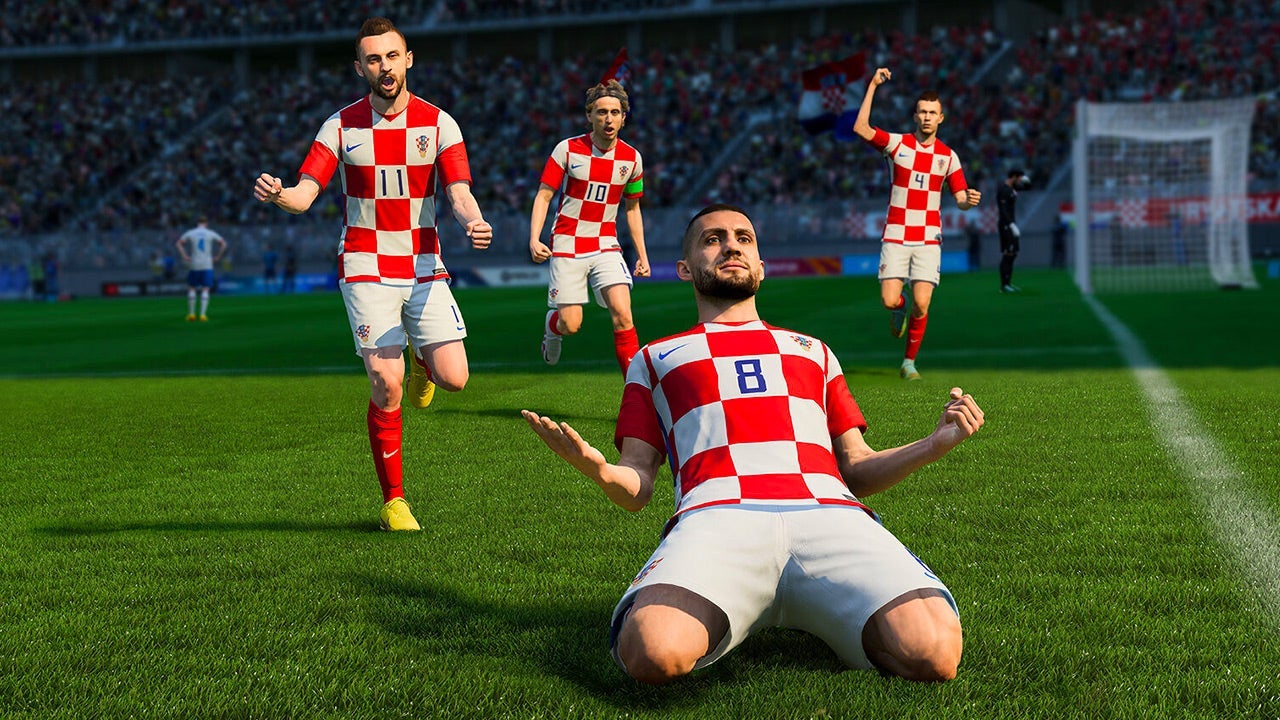 FIFA 23 was the best-selling game in the 2022 Christmas UK retail charts, according to GfK.
The game enjoyed a 67% surge in sales compare to last week, keeping Call of Duty: Modern Warfare 2 at bay, with the shooter seeing a 13% boost in sales.
While it's possible, perhaps likely, FIFA will have been boosted by interest in this year's World Cup, which ended over the weekend, EA's football series is a regular Christmas chart topper at UK retail – as is Call of Duty.
This is the tenth year since GfK began tracking retail data that FIFA has been Christmas No.1, pulling ahead of Call of Duty, which has been Christmas No.1 nine times (most recently with 2019's Modern Warfare).
There have been a few breaks in recent years, with Assassin's Creed Valhalla taking No.1 in 2020 and Red Dead Redemption 2 taking the title in 2018. (Prior to that, it was four consecutive years of Call of Duty)
Last week's No.1, God of War: Ragnarok, slips to third place after a 23% week-on-week decline in sales.
There was only one new entry this week, with Square Enix's Crisis Core: Final Fantasy 7 reunion debuting at No.8.
The rest of the Top Ten is dominated by Nintendo titles, with Mario Kart 8, Nintendo Switch Sports and the latest Pokémon duo accounting for No.4 through No.7, and the Switch edition of Minecraft (which is published by Nintendo) at No.9.
Ubisoft's Just Dance 2023 rounds off the Top Ten, with Switch accounting for 87% of all sales.
Here is the GfK UK Boxed Top Ten for the week ending December 17:
| Last Week | This Week | Title |
| --- | --- | --- |
| 2 | 1 | FIFA 23 |
| 3 | 2 | Call of Duty: Modern Warfare 2 |
| 1 | 3 | God of War: Ragnarok |
| 5 | 4 | Mario Kart 8 Deluxe |
| 4 | 5 | Pokémon Violet |
| 6 | 6 | Nintendo Switch Sports |
| 7 | 7 | Pokémon Scarlet |
| NEW | 8 | Crisis Core: Final Fantasy 7 Reunion |
| 10 | 9 | Minecraft: Switch Edition |
| 11 | 10 | Just Dance 2023 |
Sign up for the GI Daily here to get the biggest news straight to your inbox