FIFA 13 sells 353,000 in North America on day one
EA Sports touts series' best debut in the region ever, numbers up 42 percent-year-over-year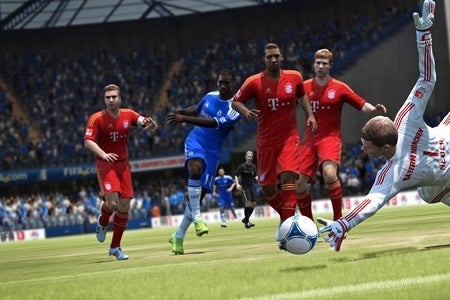 EA Sports' soccer sim popularity has kicked up a notch this year, as the publisher is reporting that FIFA 13 launched to record numbers in North America. According to EA's estimates, FIFA 13 sold 353,000 copies on the Xbox 360 and PlayStation 3 when it hit stores Tuesday, a 42 percent increase over FIFA 12's day-one total.
While EA didn't detail specific sales figures for versions of the game on other platforms, it did note FIFA 13 posted the best launch-day iOS performance in the company's history, with the number of downloads for the app (which currently sells for $6.99 on the US iTunes store) up 62 percent year-over-year. FIFA 13 also launched on the PlayStation Vita, 3DS, Wii, PC, PlayStation 2, and PSP. A Wii U version has been confirmed to launch alongside that system's November 18 debut.
FIFA 13 launched in North America on Tuesday. It will be released worldwide tomorrow.