Fate/Grand Order was the most talked about game on Twitter in 2019
Meanwhile, E3 2019 was the most talked about gaming event, followed by The Tokyo Game Show and The Game Awards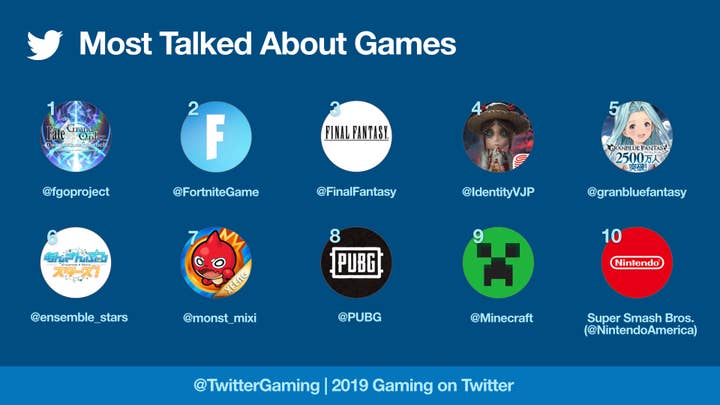 Free-to-play mobile title Fate/Grand Order was the most talked about game on Twitter last year.
That's according to data directly from the platform holder, which offered insights into the definitive trends of 2019.
Last year there were more than 1.2 billion tweets about gaming, up nearly 20% year-over-year. Many of the most talked about games on Twitter reflect the status quo of popular live service games titles like Fortnite and PlayerUnknown's Battlegrounds.
The top ten breaks the Western-centric illusion of what's popular and what's not however, as constant bestsellers like Call of Duty, FIFA, Grand Theft Auto V are notably absent, in favour of the games more popular in Asia.
| No. | Most talked about game |
| --- | --- |
| 1 | Fate/Grand Order |
| 2 | Fortnite |
| 3 | Final Fantasy |
| 4 | Identity V3 |
| 5 | Granblue Fantasy |
| 6 | Ensemble Stars |
| 7 | Monster Strike |
| 8 | PlayerUnknown's Battlegrounds |
| 9 | Minecraft |
| 10 | Super Smash Bros. |
Meanwhile in other areas of the games industry, FaZe Clan was the most talked about esports team, beating out established giants such as Cloud9, Team SoloMid, and Fnatic.
The most talked about gaming event was E3 2019, followed by The Tokyo Game Show, and The Game Awards, while the League of Legends World Championship was the most talked about esports event.
Finally, Tyler "Ninja" Blevins was the most talked about gaming personality, while Felix "PewDiePie" Kjellberg didn't feature in the top ten, despite reaching over 100 million subcribers on YouTube and finding himself the centre of multiple controversies this year alone.