European Charts: Crash Team Racing takes pole position
Activision kart racer was the No.1 physical and digital seller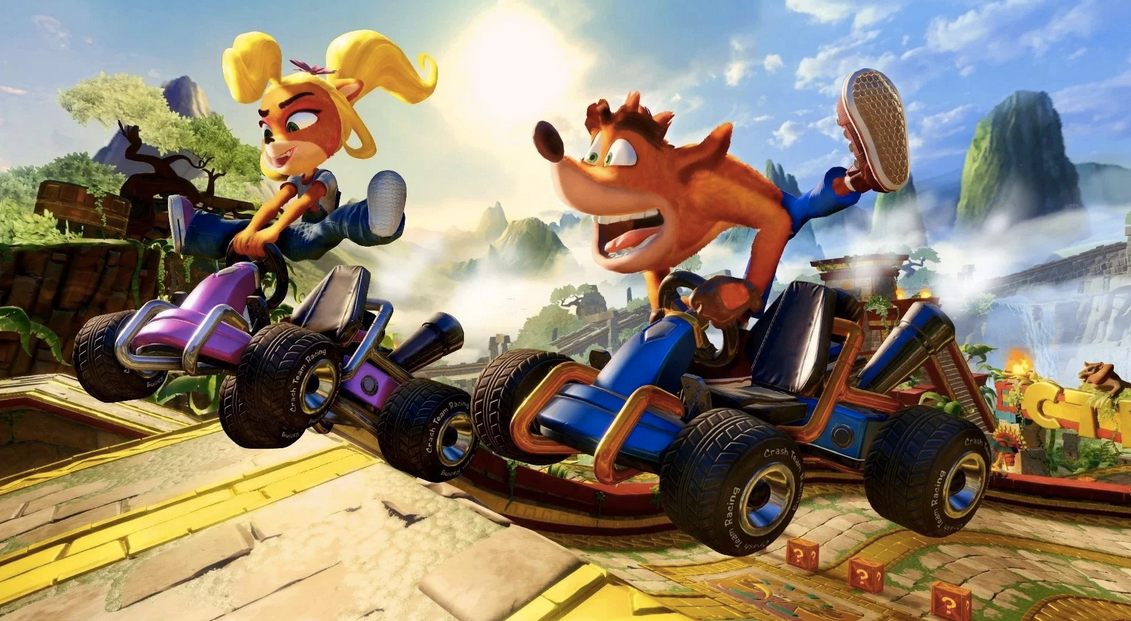 Crash Team Racing Nitro-Fueled was the best-selling game across Europe, Middle East, Africa and Australia, both as a download and a physical release.
This is the latest data from European chart supplier GSD, and includes games sold for the week ending June 23.
Unsurprisingly, the PS4 version of Crash Team Racing was the best-seller (Sony's console is dominant in almost every market), followed by the Xbox One edition and then Nintendo Switch. However, this result is skewed slightly because Nintendo still does not share download data. In fact, if you look at the physical-only chart, although PS4 still comes out top, Nintendo Switch arrives ahead of the Xbox One SKU.
Regardless, it's a very strong start for Activision's kart racer, which also enjoyed a dominant performance in the UK charts, which came out earlier in the week.
It's not the only kart racer to perform well this week. Mario Kart 8: Deluxe races to No.6 from No.21. Nintendo's game has been a popular bundle item with the Switch console, and sales often spike if there is any promotional activity around the hardware (which there has been). Again, Mario Kart 8: Deluxe digital sales are not counted.
Last week's No.1, Borderlands: The Pre-Sequel, disappears from the chart entirely following an end to the game's sale.
It's a quiet week for new releases aside from this, so there's a few familiar faces in the Top Ten, including Grand Theft Auto at No.2. FIFA 19 shoots up a few places to No.3, while Rainbow Six: Siege takes No.4. Recent activity and promotion around The Sims 4 also continues, and the game breaks back into the Top Ten at No.9.
Further down the charts there are a few new releases. Sega's new IP Judgement comes in at No.33, while the anticipated spiritual follow-up to Castlevania, Bloodstained: Ritual of the Night, debuts at No.44.
Here's the Top 10 best-selling games by units (combined digital and physical) in EMEAA for the week ending June 23:
| Last Week | This Week | Title |
| --- | --- | --- |
| New Entry | 1 | Crash Team Racing Nitro-Fueled |
| 2 | 2 | Grand Theft Auto V |
| 5 | 3 | FIFA 19 |
| 7 | 4 | Tom Clancy's Rainbow Six: Siege |
| 9 | 5 | Red Dead Redemption 2 |
| 21 | 6 | Mario Kart 8: Deluxe |
| 6 | 7 | Day's Gone |
| 23 | 8 | Tom Clancy's The Division 2 |
| 16 | 9 | The Sims 4 |
| 4 | 10 | Assassin's Creed Odyssey |
Participating companies in the GSD charts (run by B2boost on behalf of ISFE) are Activision Blizzard, Bandai Namco, Capcom, Codemasters, EA, Focus Home Interactive, Koch Media, Microsoft, Milestone, Paradox, Sega, Sony, Square Enix, Ubisoft and Warner Bros.
Digital data includes games sold in Australia, Austria, Bahrain, Belgium, Bulgaria, Croatia, Cyprus, Czech Republic, Denmark, Finland, France, Germany, Great Britain, Greece, Hungary, Iceland, India, Ireland, Israel, Italy, Kuwait Lebanon, Luxembourg, Malta, Netherlands, New Zealand, Norway, Oman, Poland, Portugal, Qatar, Romania, Russia, Saudi Arabia, Slovakia, Slovenia, South Africa, Spain, Sweden, Switzerland, Turkey, Ukraine and UAE.
Physical data includes all games, but only those sold in Belgium, Denmark, Finland, France, Great Britain, Italy, Netherlands, Norway, Poland, Portugal, Spain, Sweden and Switzerland.