Eurogamer launches new dedicated Xbox website
Outside Xbox will offer daily news and video content for gamers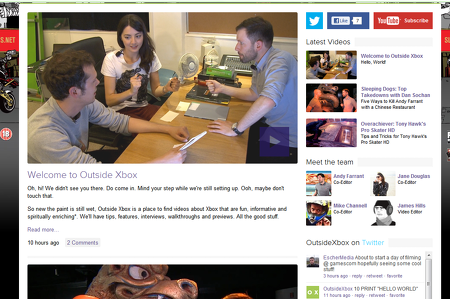 Eurogamer Network has added to its portfolio with the launch of Outside Xbox, a website focused on the Microsoft console.
Andy Farrant, formerly of Inside Xbox, ex-Official Xbox Magazine deputy editor Mike Channell and Jane Douglas, best known for her work with Gamespot, have all been recruited to the Outside Xbox team.
"We've been fans of Mike, Jane and Andy's work for a long time so it's brilliant to have them join the Eurogamer family," said Rupert Loman, MD of Eurogamer Network. "We're excited to launch Outside Xbox with them and hope to make it one of the world's leading Xbox gamer communities."
Publisher Square Enix has partnered with Eurogamer for the launch of the site, which is live right now and will feature everything an Xbox gamer could ask for, including daily video content.
"Andy, Jane and I have long been admirers of Eurogamer and its team, so we're enormously excited to be launching Outside Xbox within the Eurogamer Network," added Mike Channell.
"Outside Xbox videos will be innovative, visceral and offer best-in-class jokes about the homogeneity of developer soundbites."