Embracer must focus on quality not quantity if it wants its bets to pay off | Opinion
SJN Insight's Sam Naji reflects on the group's recent restructure announcement, and ponders whether the IP it owns can fortify its future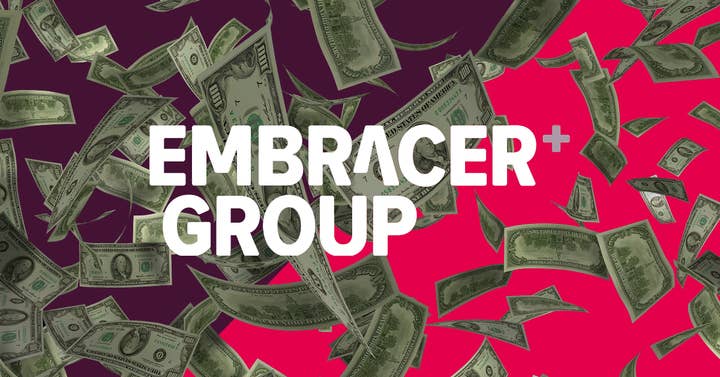 Sign up for the GI Daily here to get the biggest news straight to your inbox
It was too good to be true. The Embracer Group under the leadership of its CEO Lars Wingefors was set to be the most successful European video games publisher, rivalling the giants in the U.S. Years of numerous acquisitions of video game studios, distributors and publishers had made Embracer into a powerhouse in the industry.
But now, after its failed partnership deal with an unnamed company, coupled with the collapse of its share price (down by as much as 40% in one day) when that deal fell through, many are now questioning what is the long-term strategy for the company? Is the model of buying studio after studio, funded by loans, a secure one if revenue growth cannot keep up?
At all costs, Embracer needs to avoid making content for content's sake
The Embracer Group is now paying the piper from all that borrowing. With a lower market capitalisation thanks to that share price crash, probable higher interest rates on the loans and rising costs in production (thanks to inflation), this all culminated with the management of Embracer looking for a haircut. By the looks of it, they intend to take off a lot of hair.
As reported by Gamesindustry.biz, Embracer's restructuring program involves studio closures, the company looking to cut its debt by a third to around $1B, and seeking economies from laying off some of its 16,600 headcount. Uneasy times lie ahead.
The fact is that although the company generated revenue growth, its spending – especially on acquisition loans – out-paced the growth in income. The strategy to build an empire on cheap credit, shareholder goodwill and forecasted growth was sound provided the credit continued to stay cheap, which it didn't; the share price did not decline, which it did; and forecasted growth continued, which it will not. In its Interim Report Q4 FY 22/23 the current adjusted EBIT forecast is now down by a third from a previous forecast.

Below is a snapshot I created of the Embracer Group's last three fiscal years, covering income, profit, cash and the cost of acquisitions (which is shown as a minus figure). The net result is that although Embracer is generating three times more revenue now than it did just three years ago, it spent the equivalent of 72% of its income flow on acquisitions during this same timeframe. The company is not only servicing a huge amount of debt, but its cash position is also in the red. That is not a great place to be for any company. And to think Embracer was going to finance another huge deal with an unnamed company without first addressing the debt it has already accumulated.
Embracer is now in debt to the tune of $1.5 billion. No wonder some investors wanted to pull out.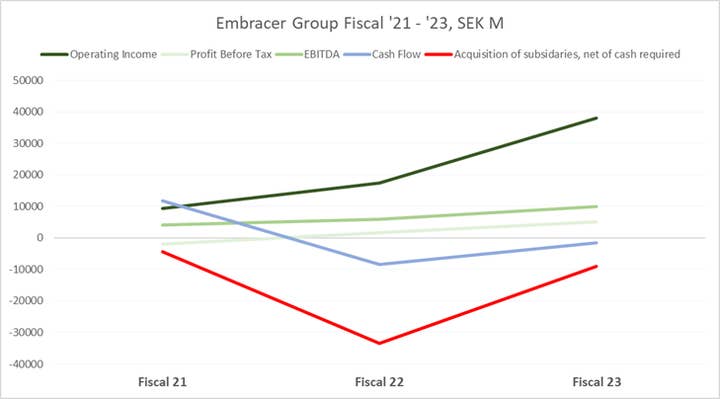 But herein lies a fundamental truth. With all those acquisitions the Embracer Group currently owns, among others, THQ Nordic, Plaion, Coffee Stain, Amplifier Game Invest, Saber Interactive, DECA Games, Gearbox Entertainment, Easybrain, Asmodee, Dark Horse and the IP to Lord of the Rings.
This means the company owns some of the biggest brand recognition franchises in games including Tomb Raider, Painkiller, Alone in the Dark, Red Faction, Darksiders, DeBlob, Jadded Alliance, Thief, TimeSplitters, Zen Pinball, We Sing, MotoGP, Metro, MX v ATV, Homefront, Homeworld, Little Nightmares, Goat Simulator, Destroy All Humans, TimeSplitters, Timecop, Darksiders, Saints Row, Duke Nukem, Borderlands, Valheim, Killing Floor, Deus Ex, Warhammer 40,000, and now Lord of the Rings.
Just look at what that means to the group's non-current assets (a company's long-term investments that have a useful life of more than one year):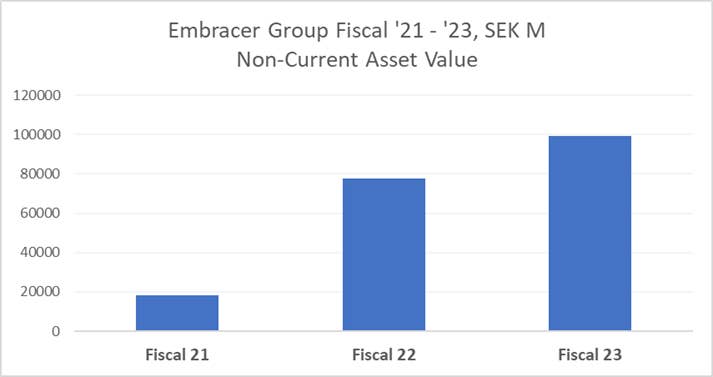 In the space of three years, the non-current asset value of the company has increased by almost five times to around $9.4 billion.
In Embracer's latest public statements following the collapse of its latest acquisition, the jungle drums are one of optimism. And so it should be, given the wealth of IP brand recognition it owns. The group recognized it now needs to capitalize on their franchises and make good games.
In an open letter, CEO Lars Wingefors stated: "There is significant untapped potential in Embracer which we will work together to unleash. We need to better leverage our scale, the quality of our portfolio and our capabilities. Our commitment to our transmedia strategy remains intact. That strategy alone has great potential to deliver substantial value across the group over the coming years."
The line-up of games that Embracer will release in its next fiscal year include Remnant 2, Warhammer 40,000 Space Marine 2, Payday 3, Hot Wheels Unleashed 2: Turbocharged, Arizona Sunshine 2, Alone in the Dark, Homeworld 3, as well as other unnamed projects. With 221 game projects in the pipeline, this looks extremely impressive, although I suspect some of these will be shelved as those cost economies kick in.
There is, however, a catch to all this good news, and this is the most important part of its financial recovery: at all costs, Embracer needs to avoid making content for content's sake.
The misfire of the latest Saints Row game cost them dearly and this type of mistake must be avoided. The aftershocks of the low sales for Saints Row resulted in the group recognizing it needs a tighter rein on game development and this should be forefront in their minds when running the business. To me, this not only means avoiding day-one launch failures of bugs or large patches, but gameplay must be of the highest quality. The games must deliver not just graphics but gameplay, story, immersion, fun and a high level of production value. The best-selling games often deliver on all these fronts.
Luckily, Embracer has two ace cards it can play: diversification of content and that Lord of the Rings IP. Those multiple acquisitions of companies in the entertainment sector have resulted in a healthy diversification of revenue. For example, console and PC games segment revenue constitute just 36% of net sales in its fiscal 2023 results, compared to 69% two years previously. This gives Embracer some degree of flexibility in case one of its games under delivers in expected revenue targets. Despite that, a strategy of accommodating a misfire should not be relied upon, even if gamers are a forgiving community.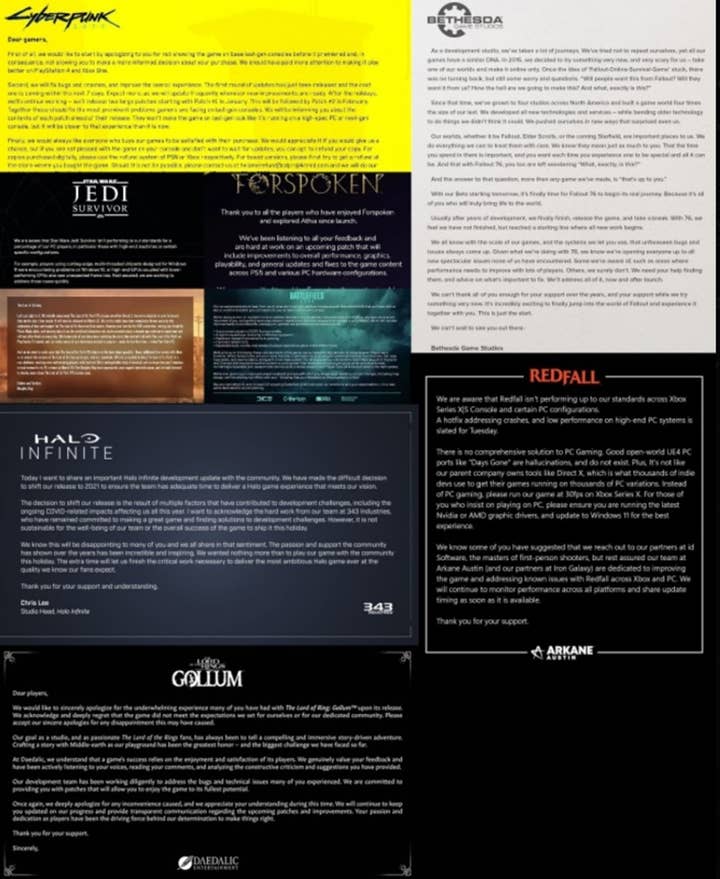 Recently, so many games have been released in such poor condition that it has become a bit of a running joke on Twitter. Pictured on the right is a collage that someone collected of public apology statements companies made on behalf of their creative teams.
It seems to me many publishers have allowed their creative teams the freedom to do what they like and as a result it sometimes becomes a mess of delayed games, half-baked games or shelved projects. The Embracer Group cannot afford that luxury. Quality control is everything to ensure its long-term success.
That quality assurance must be crucial when it comes to Lord of the Rings. Embracer's interim exec Matthew Karch stated that the company intends to put Lord of the Rings in the forefront of its strategic line up of product, "We own Lord of the Rings, and we know we need to be exploiting Lord of the Rings in a very significant fashion and turning that into one of the biggest gaming franchises in the world."
Exploiting is not a word I would use. The franchise that achieved cult status with the Peter Jackson trilogy has experienced some troubling times with an Amazon Prime show which has divided audiences and one of the worst reviewed games released this year with The Lord of the Rings: Gollum. Embracer must avoid falling into the trap of making something fast in expectation brand recognition alone will do the heavy lifting. The Gollum game has proven that theory to be well and truly wrong.
Embracer has a huge amount of debt, and its cash position is in the red. Not a great place to be for any company
In the long run, fundamentally the Embracer Group made the right decisions. If you read business books there is a recurring theme that they all espouse: ownership is everything. Ownership generates direct and indirect revenue. The more a company owns, the better, but recent history in video games, cinema and TV has shown that tapping into that ownership of IP, by itself, is not enough to guarantee success.
When it comes to entertainment commodities, quality of output is crucial in generating high revenue. The Embracer Group is going through some rough seas of its own making, but all of this could be transitory if it has a long-term strategy on making good on what it owns. The road will not be easy, it will need to produce high quality games with fewer resources. Embracer's advantage will be its wide portfolio of games that affords the company some wiggle room in case it releases a flop, but ideally the company must internalize on its best people and best resources and build on that.
Embracer needs to release a string of high quality, highly sought after games. The fact it has publicly stated it will do just that is good business. By owning a lot of video game IP, and with tight quality control, this is all the recipe it needs for salvation.
To sum up, I guess when it comes to video games, in this day and age, forget the quantity, it's the quality that counts. Embracer has the former, it must now focus everything it has on the latter.
Sam Naji is founder of video game analytics and consultancy firm SJN Insight
Sign up for the GI Daily here to get the biggest news straight to your inbox