EA is "going to be a 100% digital company, period" says Gibeau
EA's Labels president also tells us that NPD's monthly reports are "totally irrelevant"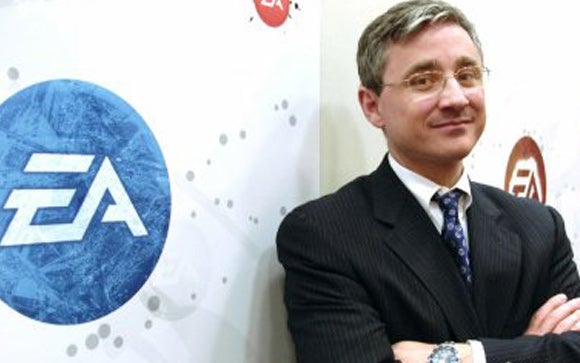 Electronic Arts is one of the publishers in this industry that is at the forefront of the digital transition. The company recently had its first year of digital revenues over one billion dollars, and now EA is expecting that number to jump closer to $2 billion (guidance of $1.7 billion in digital revenues this year). For EA Labels boss Frank Gibeau, the business is clearly at a tipping point. He told GamesIndustry International recently that EA clearly will be 100 percent digital in the near future.
We asked Gibeau point blank when the company will have most, if not all, revenues coming from digital products. It's not as far off as one might think.
"It's in the near future. It's coming. We have a clear line of sight on it and we're excited about it. Retail is a great channel for us. We have great relationships with our partners there. At the same time, the ultimate relationship is the connection that we have with the gamer. If the gamer wants to get the game through a digital download and that's the best way for them to get it, that's what we're going to do. It has a lot of enhancements for our business. It allows us to keep more that we make. It allows us to do some really interesting things from a service level standpoint; we can be a lot more personalized with what we're doing," Gibeau enthused.
"We're going to be a 100% digital company, period. It's going to be there some day. It's inevitable"

Frank Gibeau
EA isn't about to abandon retail and its valuable retail partners tomorrow, though.
"But if customers want to buy a game at retail, they can do that too. We'll continue to deliver games in whatever media formats make sense and as one ebbs and one starts to flow, we'll go in that direction," Gibeau continued. "For us, the fastest growing segment of our business is clearly digital and clearly digital services and ultimately Electronic Arts, at some point in the future - much like your question about streaming and cloud - we're going to be a 100% digital company, period. It's going to be there some day. It's inevitable."
The fact that more and more of the industry is going digital opens up new avenues for EA and other gaming companies.
"For us, we're focused in on the fact that the gaming market overall is broad. You have more people playing games now than ever before in the history of the industry. There are more markets available to us - Asia, Brazil, Russia - a bunch of emerging markets that are legitimate and growing fast. We have more devices that we can publish across now. We used to publish across three platforms; now we're publishing across 14 or 15," Gibeau said.
"[NPD] is an irrelevant measure on the industry. It's totally irrelevant. We don't even really look at it internally anymore"

Frank Gibeau
"The advent of IP televisions and streaming - we'll be prepared for it. That'll be a way that we'll generate content and deliver it to customers in a high quality way. The next generation of hardware is going to come out. It's difficult to speculate what generation next would be after that, but there are opportunities in cloud and streaming that are very interesting to us and we have relationships with Gaikai and other companies where we've investigated a lot of that stuff and we clearly see our IP and our capabilities on the digital services front translating over very easily there."
Gibeau believes that some industry observers and investors are not grasping the complete picture. And part of the reason for that is the constant decline we've seen through NPD's monthly retail reports. Gibeau went so far as to say that EA all but ignores NPD's data now.
"I think one of the problems with this industry right now is that people tend to look at it like they're looking at an elephant through a straw. They only see a little parts of it and they're not looking at the total picture, right? Between Facebook, social, mobile, free to play on PC, Asia, consoles... it's a vibrant, growing, huge market. An occasional bad report from NPD, which measures a sliver of what's actually happening in gaming gives people an erroneous impression," he stressed.
Gibeau continued, "My point is it's an irrelevant measure on the industry. It's totally irrelevant. We don't even really look at it internally anymore. We're more focused on our services and how we're connected with consumers. The number of Nucleus accounts we're growing, the amount of engagement time that we have, the amount of services that we're running - those are more important metrics for us than unit sales according to NPD and North America. So your original question is about what comes next. It's growing. It's booming. It's big. Things are good. If cloud and streaming come on line at scale, we'll be in the position to do it and we're excited about it."
Update: NPD has now reacted to Gibeau's comments. Please read that here.