EA: "I struggle with the perception that we're just a bunch of bad guys"
Behind the big blockbusters, EA is offering very friendly deals for indie developers -- EVP Matt Bilbey tells us why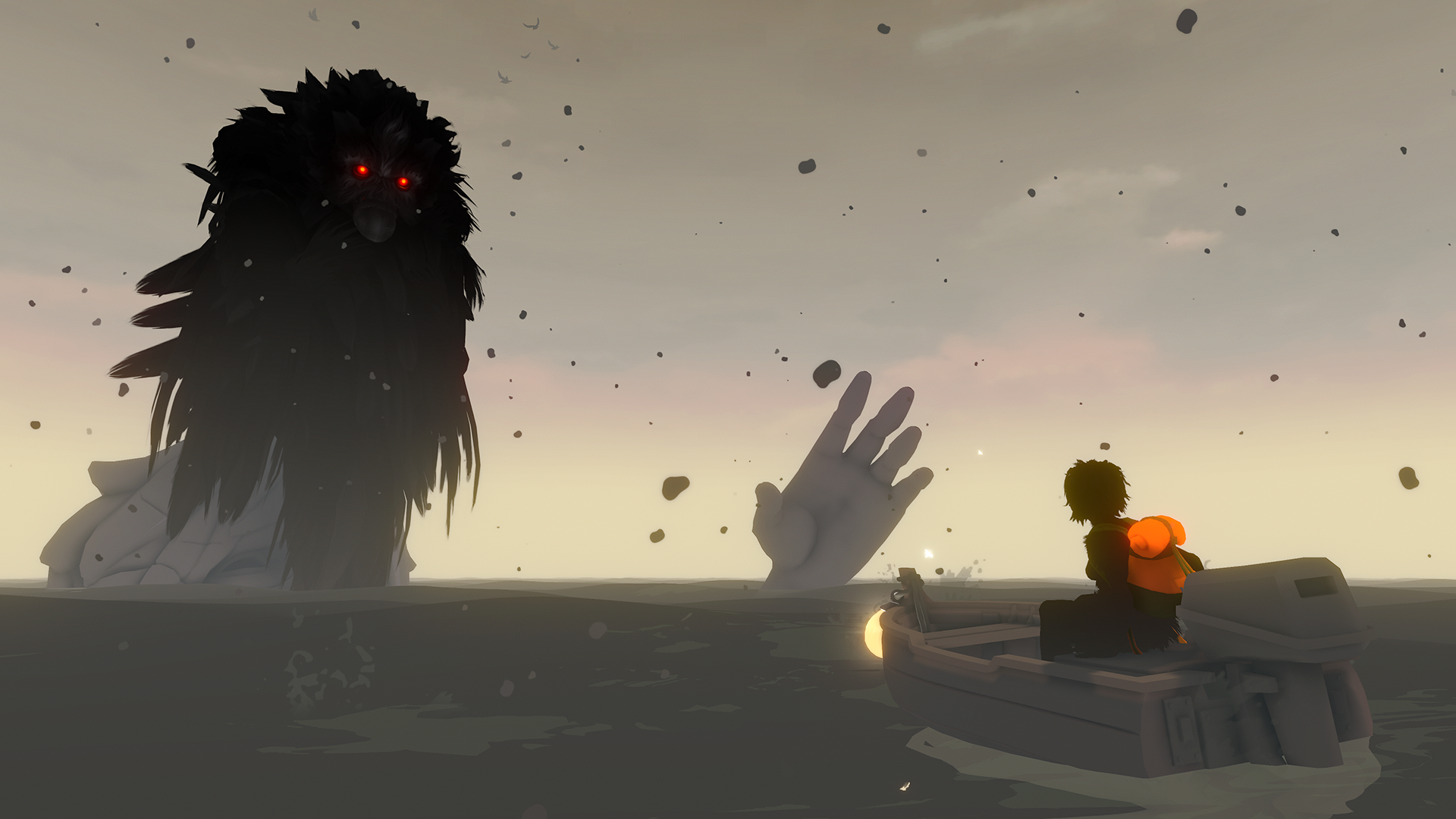 EA is the bad guy, right?
It's the company that lays off staff indiscriminately, it allowed Anthem to go out when it wasn't ready, and it's responsible for the term "surprise mechanics." And that's just this year.
This is not just a perception among gamers, either. For years I worked on the MCV Awards, an event that highlights sales and marketing achievements in the UK. EA would rarely ever win, despite always finishing the year as the UK's No.1 publisher. EA's industry peers simply didn't vote for it, and when its name was read out as a nominee, it wasn't uncommon to hear a few boos from the audience, as if EA was some pantomime villain.
Yet last month, next door to EA Play in Los Angeles (where it was showcasing the new Star Wars and FIFA games), the publisher was revealing the latest developers who have signed with its EA Originals publishing label -- Hazelight, Glowmade and Zoink.
Originals sees EA publish and promote new games from indie studios, and give every penny of profit back to the developer. EA only takes enough money to cover its costs. It's a deal so good that Jonny Hopper of Glowmade exclaimed on stage that he "couldn't believe" the contract he had been sent. To these creators EA isn't some super villain. Quite the opposite.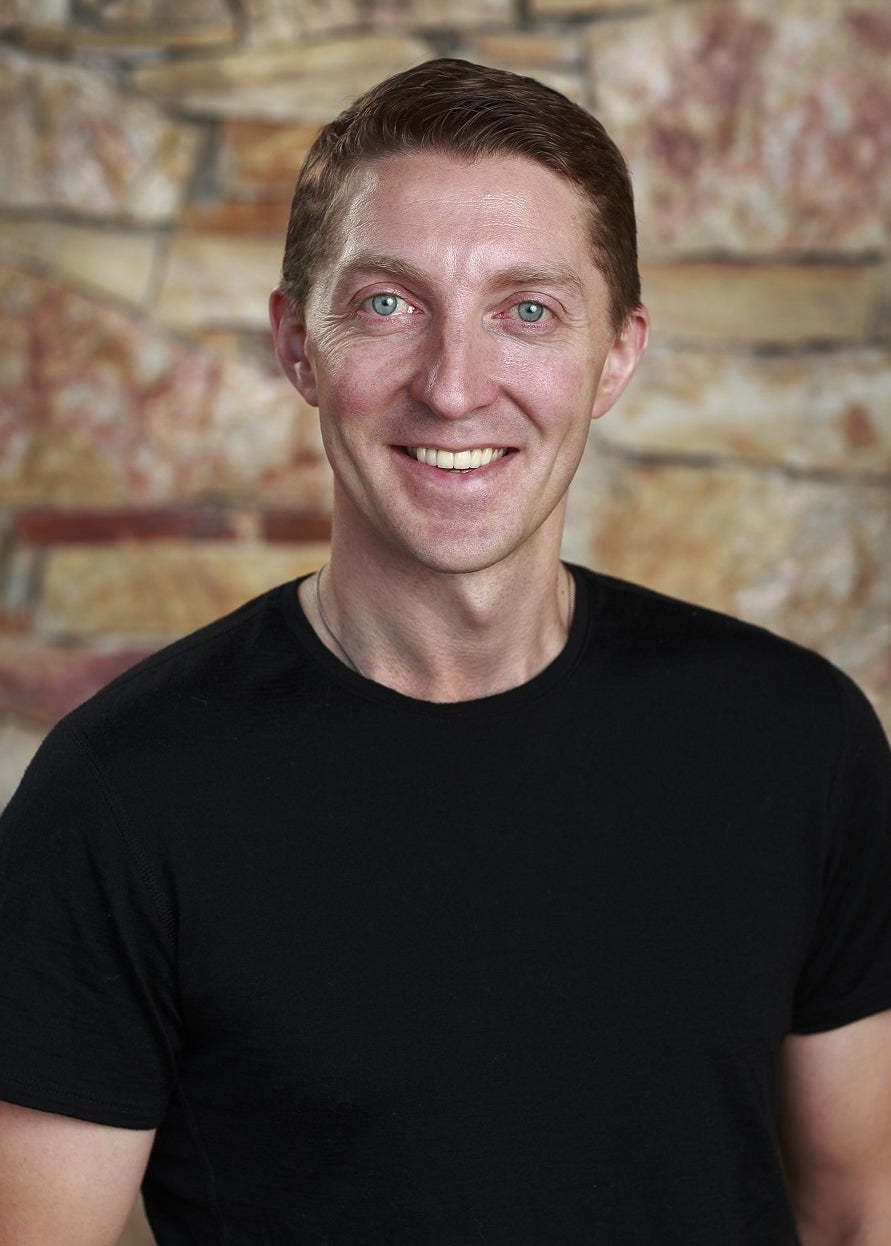 "25 years at EA and I still struggle with the external perception that we're just a bunch of bad guys," says Matt Bilbey, EVP of strategic growth at EA. "We love making and playing games. Unfortunately, when we make mistakes on games, the world knows about it because it's of a size and scale."
But EA is a public company. Surely there has to be a business case for EA Originals.
"As we got bigger, there is the concern that we had become disconnected from new talent coming through," Bilbey admits. "EA Originals is our opportunity to connect with that talent and those smaller ideas. When you are part of a big company, it's too easy to fall into the trap where when you see a game concept... it has to be big.cThe notion of actually coming up with small, unique game ideas... We know from the work that we've been doing on our subscription business that gamers will play a FIFA or a Fortnite -- they have one main franchise -- but then they want breaks from those games to play something that's maybe five or ten hours long.
"EA Originals are also games that we don't make in the bigger part of EA, or don't make enough of. So while there was a philanthropic part to it, selfishly it was the way for us to connect to talent on smaller ideas. When you are in a company and have had successes and mistakes around live service microtransactions, free-to-play, what geographies, what partners to work with, what animation engines... it actually feels good for our teams to sit with EA Original developers and you can actually give real advice. It genuinely makes you feel good. It's advice to help them not make the same mistakes."
"We are positively paranoid about going to E3 to sign 100 games on this or that promise, and not delivering on it"
EA does seem to be ramping up its Originals programme. It began with Coldwood and Unravel (which was actually before the programme was official), and it's been gradually signing a new studio every year. This E3, however, EA revealed three -- two of which are returning studios. And that doesn't include the game (Sea of Solitude) that is out this week.
"Things have changed a lot in the last year, where we felt that maybe four was the right number that we can put the right amount of attention and support," Bilbey says. "Over the last year, more teams have come to us because we are platform agnostic, global, and we've invested in games streaming and subscriptions. There's an appetite from a lot of small and large developers to really understand the future more, which has allowed us to sit back and go: 'You know, we should do more of these deals.' So we are going through the process now of putting that framework in place so that we can do more and give the consistent level of support that both parties want.
"Actually, we just set up like a creative council in our worldwide studios. [Respawn founder] Vince Zampella is running it. Vince is now going to get involved with some of these developers so that our experience within our worldwide studios can tentacle out and almost mentor some of these smaller independent studios. Again, Vince and those folks love it because they build relationships, they get creative."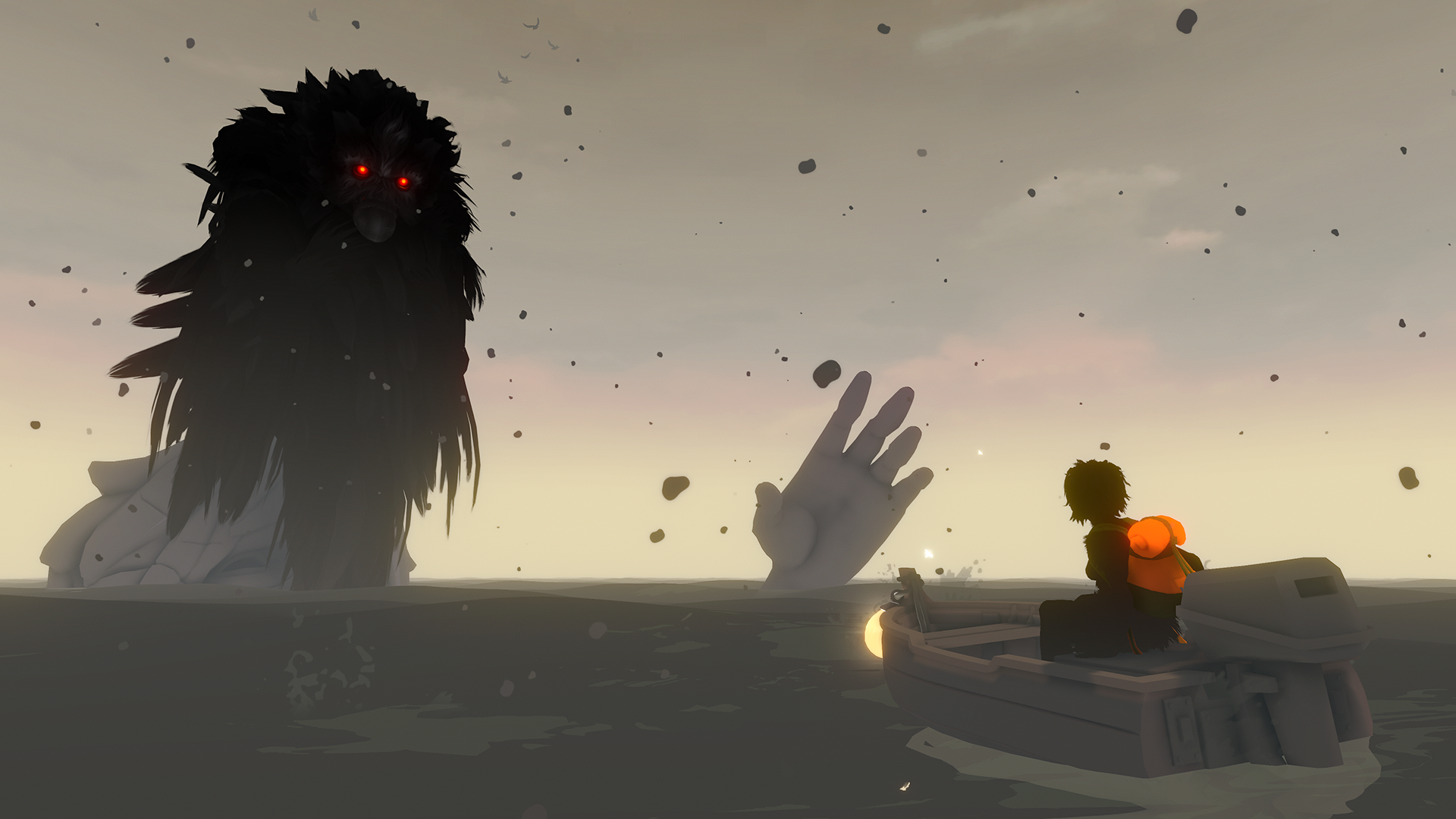 Yet even though EA is increasing the number of games it's signing, it doesn't plan to go too far. After all, its PR and marketing teams are already working on huge titles, and they need to make sure they give enough attention to these indie projects.
"We are positively paranoid about going to E3 to sign 100 games on this or that promise, and not delivering on it," Bilbey says. "If you make a promise and don't deliver, you're never going to get another chance because your name is going to be mud. While the independent games community is huge, it's relatively small when it comes to reputations. We've invested a lot in in changing the reputation of EA Partners [a different publishing label that supports bigger independent games in a deeper way] from 15 years ago -- which was more 'finish the game on time,' to now where it's more 'how can we work together to bring your creative idea to market in the right way?'
"You add [subscription and streaming] together and the value proposition becomes very compelling. But we're going to need more games as an industry"
"But we do see a future of doing more of these. We believe streaming is going to take gaming to new gamers and geographies, and then there's the subscription business model, which is how all of us consume music and media now... You add those two together and the value proposition becomes very compelling. But we're going to need more games as an industry, which are big ones and small ones of different varieties.
"I mean, we didn't call it EA Originals because of Netflix Originals because we named it before that, but it's a very similar idea. I know that people in the film and movie industry that retired 15 years ago and are now coming back because they're being given finance and creative freedom to make more movie content. I'm pretty sure the same will happen in gaming."
Mere days before our chat with EA we spoke with an indie developer who told us that new concepts like subscriptions and streaming were "keeping me up at night." EA thinks it can help. It had its own Steam rival long before Epic arrived, it launched its own subscription service before Game Pass was a twinkle in Xbox's eye, and it's investing in cloud gaming development with the Project Atlas.
EA Access [or Origin Access on PC] is the subscription service that -- EA was at pains to remind me -- not only has more games than any other subscription offering out there, but is available on more platforms, too (it's launching on PS4 this month). The service also received some attention at EA's pre-E3 event, with the news that several new indie developers are making their games available through it. Plus, all of the games signed to Originals will appear in EA Access, too.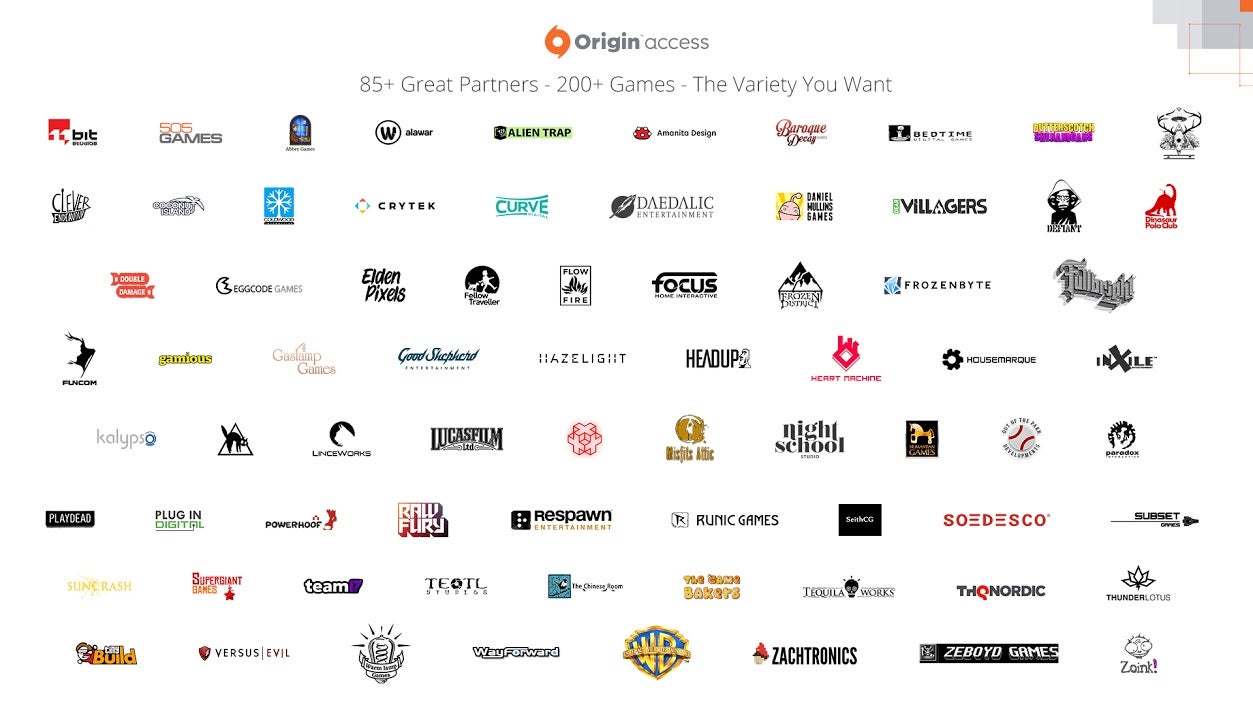 "[The EA Originals developers] actually want to be part of [Access] because they want to learn," Bilbey explains. "The subscription business in games today, the value proposition, is great. But the access... there's room for improvement, which streaming will unlock. Everyone understands that it's going to happen. We need to embrace and learn from it and that's part of our commitment when we work developers in a subscription. We will share what we learn around how people are using it, how much they're using and how much they're playing."
Not everyone is convinced by subscription services. Take-Two boss Strauss Zelnick feels that the business model doesn't make sense for creators, and that gamers don't actually play enough titles to make a subscription worthwhile.
"It's healthy to be sceptical. Andrew [Wilson], our CEO, and Strauss are good friends and share a lot," Bilbey begins. "The reality of EA Access, where you get over 80 games on your console for $30 a year... the value proposition is there. We have learned from Netflix and others that the real value is when your family can take advantage of it, where you may have four people in your household. When you unlock that opportunity and there are multiple people in your family that want to play and engage in that, the value proposition just goes through the roof.
"That's why, as we look at EA Partners and Originals and even the games we make, we're not just delivering games in one specific genre -- we need big games, small games, multiplayer games, co-op games, single-player games... We need depth and breadth to satisfy the whole household."
"If we don't understand what FIFA is like to play when streamed... if we don't understand that and aren't the best at it, then the quality of our games could go down."
He continues: "The majority of smaller developers that are coming to us to be part of the subscription are -- to your point earlier -- nervous of how to embrace this world, so they want to learn and there's no better way of learning than being part of it. You end up having to look at your game performance via different metrics around usage and engagement versus dollars that come through every day. When our partners, small or big, decide they tried with one game, so now they're going to two games, to five, it's because they've seen that it's additive to their business not cannibalistic. We've seen Origin Access grow to well over 200 games because people are understanding that it's a good business."
As the conversation with Bilbey continues, the questions we ask are different to what we had planned. In fact, I turn the page in the notebook and ask the questions I had prepared for Xbox head Phil Spencer.
"The conversation now can flip from platform holder to game creator because they are so intertwined. The game that creators are going to make is going to evolve based on what people are consuming on. That's why it's exciting being able to be part of both.
"Part of our investment in the streaming tech last year wasn't necessarily because we have aspirations to be a platform -- but we know from the days of Gaikai that we get held accountable for the quality of the experience when someone plays it. If we don't understand what FIFA is like to play when streamed, or what happens with the twitch gameplay of Battlefield... If we don't understand that and aren't the best at it, then the quality of our games could go down and that's not good for us. The main motivation of the investment in that space was based on a creative need to continue to make quality rather than necessarily a change in our business towards becoming a platform."
Still, it feels like EA is moving into areas that puts it in competition with Xbox and PlayStation. Yet Bilbey says that the company remains a strong partner for these firms. He believes "console gaming is about to accelerate into a complete different stratosphere" thanks to streaming, which he hopes will take console games into new markets.
"The conversations we have with Sony and Microsoft today are very different to before," he concludes. "We have a part of my group, which is looking at the strategic growth of the company -- I have the competitive gaming division, an Asia division... someone did this job eight years ago and I said to my boss, Andrew, that I have no idea what they did. Then it was just: 'And there's another console generation and it's $60 -- we'll do it again.' What did they do?
"I was in his office waiting for [Andrew Wilson] and he walked in and I had my head in my hands and he asked 'What's wrong?' I was like: 'My brain hurts. We had concluded that this is the future, then Google came along and announced something that we weren't expecting, so now we're not so sure.' It's stressful, but exciting."