EA has reportedly canceled Vancouver studio's Star Wars title
Update: Official statement from EA does not confirm or deny cancellation, says Vancouver project "continues and will evolve into future Star Wars content and games"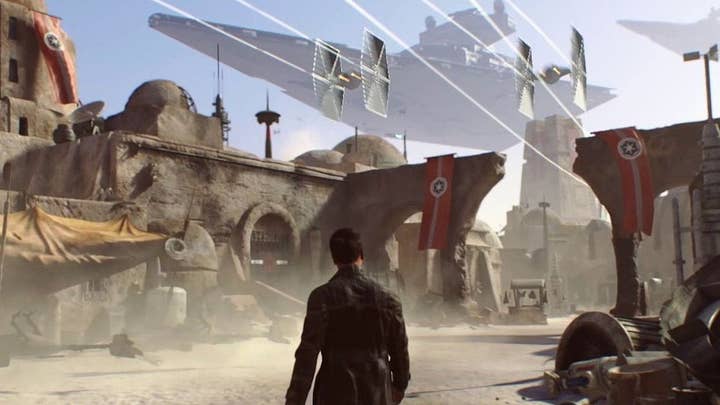 EA seems to have scraped through 2018 without (publicly) killing any games, and thus appears eager to get a fresh start early in 2019. According to a Kotaku report, the company's in-progress Star Wars title at EA Vancouver has been canceled.
Kotaku spoke with "three people familiar with goings-on at the company" and has shared that the open-world title, which had never been shown before, has been killed. Though details are murky, it appears that this game was effectively rebooted from the ashes of Visceral's Star Wars project, which EA Vancouver had been assisting on prior to the former studio's closure.
"In its current form, it was shaping up to be a story-based, linear adventure game," EA Worldwide Studios executive vice president Patrick Söderlund said at the time. "Throughout the development process, we have been testing the game concept with players, listening to the feedback about what and how they want to play, and closely tracking fundamental shifts in the marketplace. It has become clear that to deliver an experience that players will want to come back to and enjoy for a long time to come, we needed to pivot the design.
"We will maintain the stunning visuals, authenticity in the Star Wars universe, and focus on bringing a Star Wars story to life. Importantly, we are shifting the game to be a broader experience that allows for more variety and player agency, leaning into the capabilities of our Frostbite engine and reimagining central elements of the game to give players a Star Wars adventure of greater depth and breadth to explore."
Update: In a statement provided to GamesIndustry.biz, EA did not confirm or deny the game's cancellation, but seemed to imply that whatever the Vancouver studio had been working on, its nature would be changing. The full statement is below:
"There's been speculation overnight about one of our Star Wars projects. As a natural part of the creative process, the great work by our team in Vancouver continues and will evolve into future Star Wars content and games. We're fully committed to making more Star Wars games, we're very excited about Star Wars Jedi: Fallen Order from Respawn, and we'll share more about our new projects when the time is right."