EA beats guidance but sales slip
Quiet first quarter strong enough to prompt publisher to raise expectations for full fiscal year [UPDATE: Star Wars pre-orders "extremely strong"]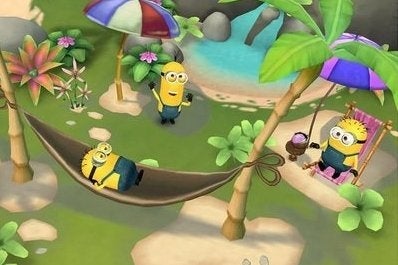 Electronic Arts today reported its results for the three months ended June 30, revealing that it beat previous earnings expectations even as it saw some declines year-over-year.
For the first fiscal quarter, EA posted GAAP net revenues of $1.20 billion, down slightly year-over-year from $1.21 billion. However, net income was up on a GAAP basis, jumping 32 percent to $42 million.
On a non-GAAP basis, total sales were $693 million, down year-over-year from $775 million. Non-GAAP net income also slid almost 20 percent, from $61 million to $49 million.
Both sets of figures showed modest improvements on EA's first quarter guidance issued in May. The first quarter was a quiet one for the company release-wise, headlined by mobile titles like EA Sports UFC and a soft launch for Minions Paradise in Canada and Australia.
"EA delivered first quarter revenue, margins and EPS above guidance through strength in catalog sales and outperformance in digital live services offerings," EA CFO Blake Jorgensen said. "We are raising our full-year guidance today to reflect the momentum across our portfolio."
The publisher raised its full-year GAAP revenue expectations from $4.25 billion to $4.3 billion, and its non-GAAP net revenue guidance from $4.4 billion to $4.45 billion. It also raised expectations earnings per share up to $1.98 from $1.90 on a GAAP basis, and to $2.85 from $2.75 on a non-GAAP basis.
Update: On the earnings call, EA noted that it doesn't believe it'll have trouble meeting the release date for the highly anticipated Star Wars: Battlefront, which launches on November 17. During the Q&A portion of the call, COO Peter Moore commented that pre-orders coming out of E3 have been "extremely strong" for the title, and he added that EA's expecting another boost following the upcoming Gamescom show where 265,000 gamers in Germany will look to get hands-on with the latest build of Star Wars.
Regarding the recent news that EA partnered with Nexon to bring an free-to-play version of Titanfall to Asia, Moore labeled it as "an interesting experiment in China," to see if the free-to-play model can be successfully adapted to that style of game.
And as for one of the hottest tech trends this year, CEO Andrew Wilson commented that EA is "investing appropriately" against virtual reality, and he said that the publisher has several VR "incubation projects" going on across the company, but he hesitated to say when EA might fully commit to VR or announce a big VR title.