Does App Store placement still matter?
A new App Annie report shows daily download gains of between 100 and 500 per cent depending on territory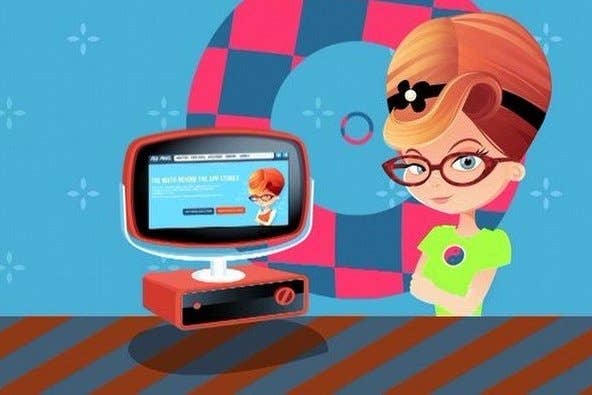 An App Store placement still has a significant impact on downloads, according to a new report from App Annie, ranging from a 80 per cent to a 500 per cent increase depending on the territory.
App Annie's data is taken from iPhone users in five countries at various levels of market maturity: Brazil, Japan, South Korea, the United Kingdom and the United States. Ultimately, it was the less mature markets that yielded the most positive results from App Store placement. Both the US and the UK App Stores didn't manage a 100 per cent increase in daily downloads, while the Japanese App Store returned a 150 per cent increase - roughly equivalent to the median 140 per cent increase taken from all five territories.
That median figure was dragged up by Brazil, with a 200 per cent increase in daily downloads, and particularly South Korea, which yielded almost 500 per cent more downloads following a placement. According to App Annie, this is likely due to the surge of interest in iOS devices in the country since the launch of iPhone 6. "Users who are new to a platform tend to download more apps than more longer-term users," the report noted.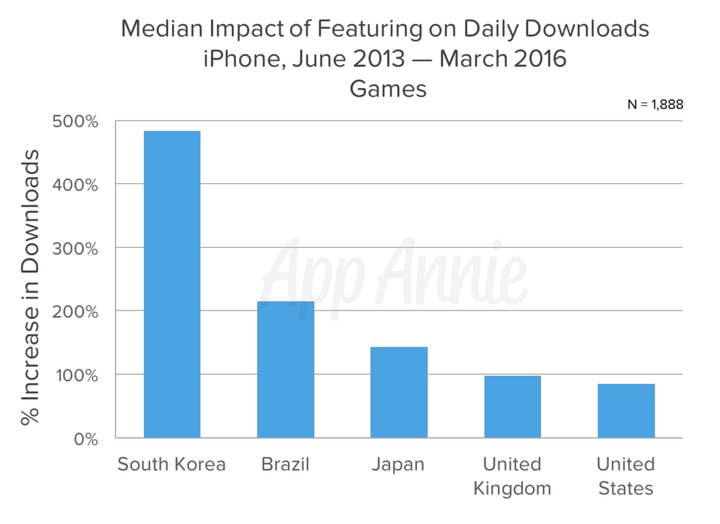 Over a week-long App Store placement, the trajectory of daily downloads increased sharply towards a peak on Day 3. The descent back to pre-placement levels is comparatively gentle, and games still received more downloads for the three days after the placement finished.
However, while placement may still be worth pursuing, the beneficial effect has decreased over time in all five countries. The decline is far more pronounced for non-game apps, though, as this graph demonstrates.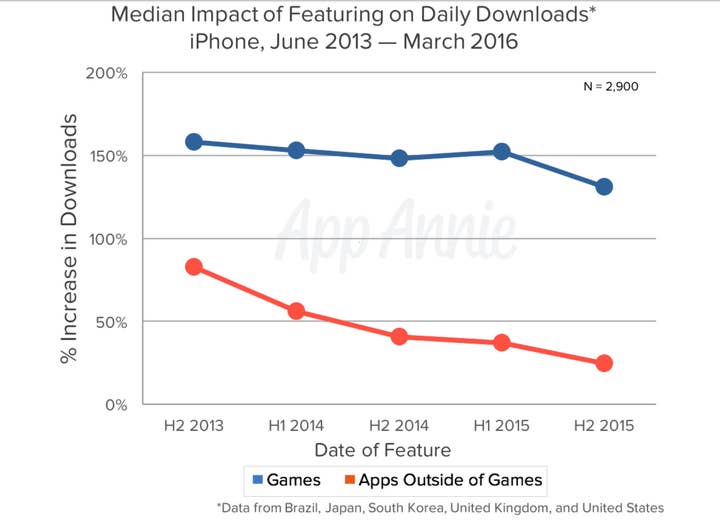 The issue for most developers will be balancing the effort required to get a placement against the likely benefits of receiving one. The companies App Annie talked to about the report emphasised the importance of production values to securing a place on the App Store, but they also regard placement as just one aspect of a broader and more expensive marketing strategy.
"All our games have very high production values for each and every specific audience we target, enabling us to broaden the ecosystem," said Baudouin Corman, general manager of the Americas at Gameloft. "When Apple comes to the same conclusion and brings strong featuring support, there is often an exponential effect. We aim to advertise our games at the same time as featuring."
Chris Heatherly, general manager at Disney Interactive Games, noted that "strong featuring" is no guarantee of success, "but it goes a long way in launching and sustaining a successful app."