Disney owns three of top five brands in US mobile games - Newzoo
Marvel, Star Wars, and classic Disney characters were among the highest revenue-earning franchises in mobile games for 2020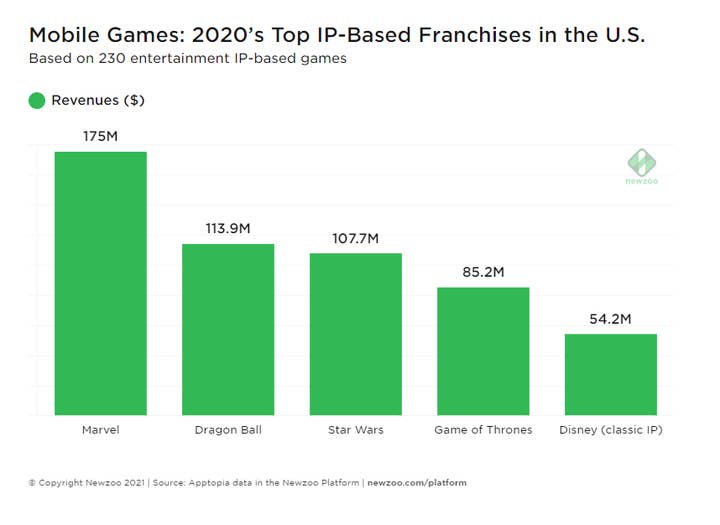 With Apple implementing new privacy rules on iOS apps, market research firm Newzoo believes mobile game makers will increasingly rely on IP-based games in order to draw attention to their games.
To put some perspective around the current size of that market, Newzoo on Friday released a report on IP-based mobile games, sharing revenue figures for a number of brands as tracked by Newzoo data partner Apptopia. (Newzoo's definition of an "IP-based" game does not include brands that began in gaming such as Pokémon.)
In 2020, Disney's Marvel Universe was the largest brand in mobile games in the US, with its various titles bringing in $175 million in revenues, according to Newzoo. The biggest Marvel game of the year was Marvel Strike Force, which brought in $90.5 million in in-app purchase revenues,
Two more Disney-owned brands -- Star Wars and the company's classic IP including Mickey Mouse and the like -- also made the list, with Star Wars games in third bringing in $107.7 million for the year, and classic Disney rounding out the top five with $54.2 million.
The remaining two properties in the US market's top five franchises were second place DragonBall ($113.9 million) and fourth place Game of Thrones ($85.2 million).
The most downloaded branded games on the mobile marketplaces aren't necessarily the highest grossing. When looking at all active games on app stores worldwide, Newzoo said the top five most downloaded IP-based franchises were Despicable Me, Marvel, Strawberry Shortcake, Transformers, and Disney (not including Marvel, Star Wars, or other extended properties).