Discover the secrets behind Human: Fall Flat's 25 million sales at GI Live: Online
Developer and publisher to discuss 3 years of growth for the smash hit indie game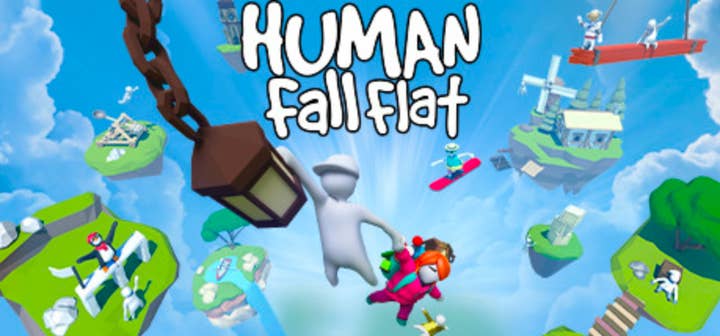 Human: Fall Flat developer No Brakes Games and publisher Curve will be doing a joint session at GI Live: Online to discuss the game's journey to 25 million sales.
The game's creator Tomas Sakalauskas will join Curve's VP of Franchise Publishing Gary Rowe for a special chat with GamesIndustry.biz.
GI Live: Online is the new digital event from the teams behind GamesIndustry.biz and EGX Rezzed, and takes place between April 14th - April 16th. It will feature talks sessions, private roundtables, special guests and a 1-to-1 meeting system.
Human: Fall Flat joins a series of big discussions that will take place at the event. Other talks include a session with former EA, Xbox and Liverpool FC exec Peter Moore, Minecraft head Helen Chiang, Velan Studios president Guha Bala and IO Interactive CEO Hakan Abrak.
There will also be sessions from publishers and investors such as LEGO Ventures' Rob Lowe, NDreams' business development manager Nadine Oehmcke, HyperCasual specialist Shai Sasson from CrazyLabs and investment expert Amy Wu from Lightspeed Venture Partners.
Full details on the event, plus where to buy tickets, can be found here.
Alongside the talks, we will also be hosting special advice roundtables with Valve/Steam, ID@Xbox, Kowloon Nights, London Venture Partners, Kickstarter, Hiro Capital, Transcend Fund and Creative England. These private roundtables are interactive sessions that will take place in the event Discord.
Speaking of the Discord, famous faces from the world of video games will be popping in to answer questions and share expertise across the three days. These guests include Brenda Romero, John Romero, Warren Spector, Team17 CEO Debbie Bestwick and UKIE head Jo Twist.
Finally, more than 50 publishers and investors have already signed up for the event to meet with developers. The meeting system will be open for 24 hours a day from 9am (UK time) Wednesday until midnight on Friday. Companies coming along include: Bandai Namco, Behaviour Interactive, Dear Villagers, Devolver Digital, Digital Extremes, EA Originals, Fundamentally Games, Galaxy Interactive, Gamesco London, Gearbox Publishing, Graffiti Games, Humble Bundle, ID@Xbox, Kickstarter, Kwalee, LEGO Ventures, Limited Run, London Venture Partners, Makers Fund, Microsoft, Miniclip, MyGames, NDreams, Oculus, Play Ventures, Playtonic Friends, Private Division, SEGA, Snail Games, Sold Out, Sony PlayStation, Team17, Those Awesome Guys, Thunderful, Triple Dragon, Twitch, Ubisoft, Wings, Xsolla and Ysbrb.
GI Live: Online will use Discord for the roundtables and networking, MeetToMatch for the 1-2-1 meetings, and YouTube for the speaker sessions.
Tickets are on sale right here starting at $50.
The event is headline sponsored by Xsolla, alongside event partners LEGO Ventures, MyGames, CrazyLabs, Creative England's Advance Initiative, Curve Digital, NDreams, Limited Run and Renaissance PR. For sponsorship packages, contact Charlotte.Nangle@gamesindustry.biz.