DDM: Game investments hit a four-year low in Q1
Undisclosed M&A price tags and "prolonged crypto winter" have 2023 off to a slow start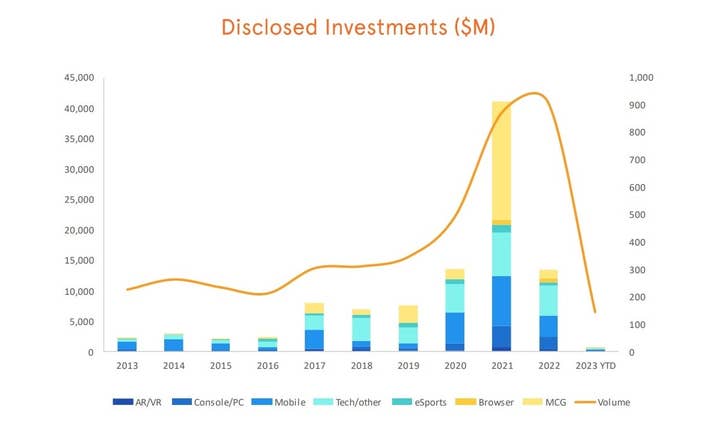 2022 may have been the second-biggest year for games industry investments, mergers, and acquisitions, but 2023 is off to a slow start according to the latest report from Digital Development Management (DDM).
The firm reported today that total games industry investments for the first quarter of 2023 amounted to $755 million, down 41% from the fourth quarter of 2022 and down 78% from last year's first quarter.
It is the lowest quarterly value DDM has seen in more than four years, going back to the third quarter of 2018.
M&A deals were down even more sharply, with the $415 million in deals the company tracked representing a drop of 92% quarter-over-quarter and 95% year-over-year.
It was the second worst quarter for M&A deals in the the past 14 years.
Part of that is due to a record 93% of the quarter's deals being announced with undisclosed values, but DDM also noted the number of M&A transactions has been declining for three straight quarters now.
The lone bright spot was a combined market cap of $54 million for games industry IPOs, up 60% quarter-over-quarter and 127% year-over-year. That total was led by VNG's IPO on Vietnam's Unlisted Public Company Market.
While many of the record investment quarters in recent years had blockchain outfits playing a significant role, DDM said "a prolonged crypto winter continues to spread fear within the market" as blockchain investments continued their recent decline, with $403 million in the quarter representing a drop of 29% from the fourth quarter of 2022, and the number of deals shrinking 31% to 68.