The crowdfunding bubble isn't bursting
But it's definitely in a decline phase, says ICO Partners' Thomas Bidaux in this crowdfunding year in review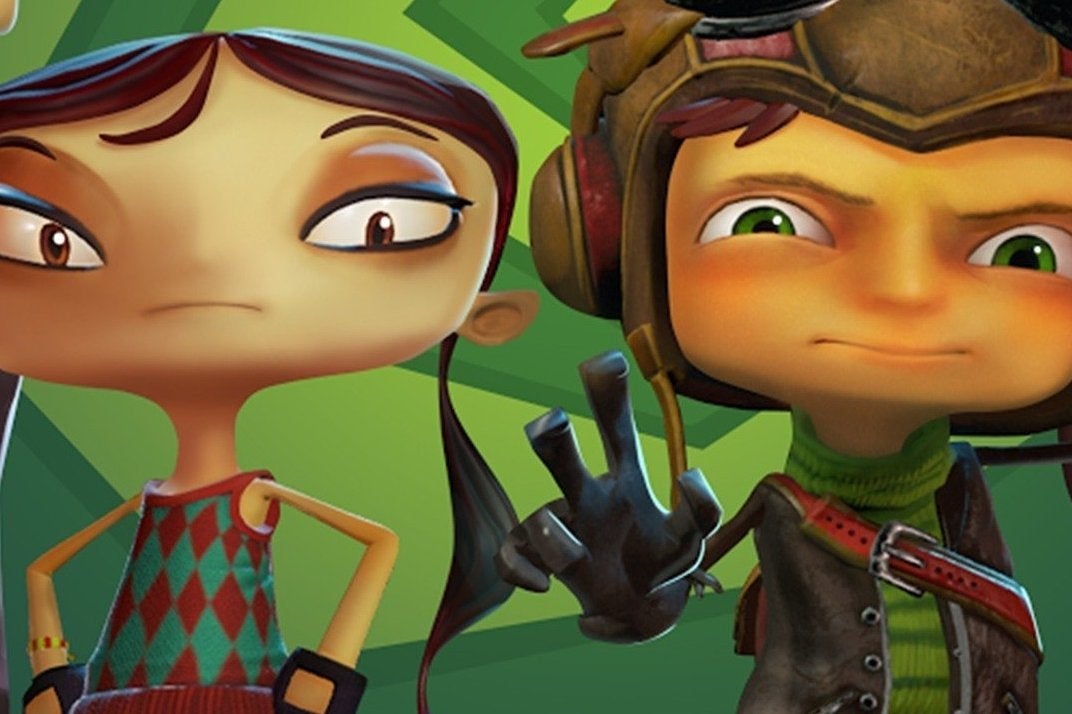 Editor's Note: This is one in a series of year-end stories to be published daily leading up to Christmas that include analysis, opinion and insights into the biggest news and trends of 2015.
It's December and as the end of the year nears, it's a good time to look back and reflect on what has happened since January.
I often delve into the data behind some of the most noteworthy gaming phenomena, but for this GamesIndustry.biz exclusive I specifically wanted to closely examine the evolution of crowdfuding over the last 12 months. Let's take a peek behind the curtain of how crowdfunding for video games has fared in 2015.
The Kickstarter domination
Let's start by stating the obvious: Kickstarter is still, by far, the dominating platform when it comes to crowdfunded video games.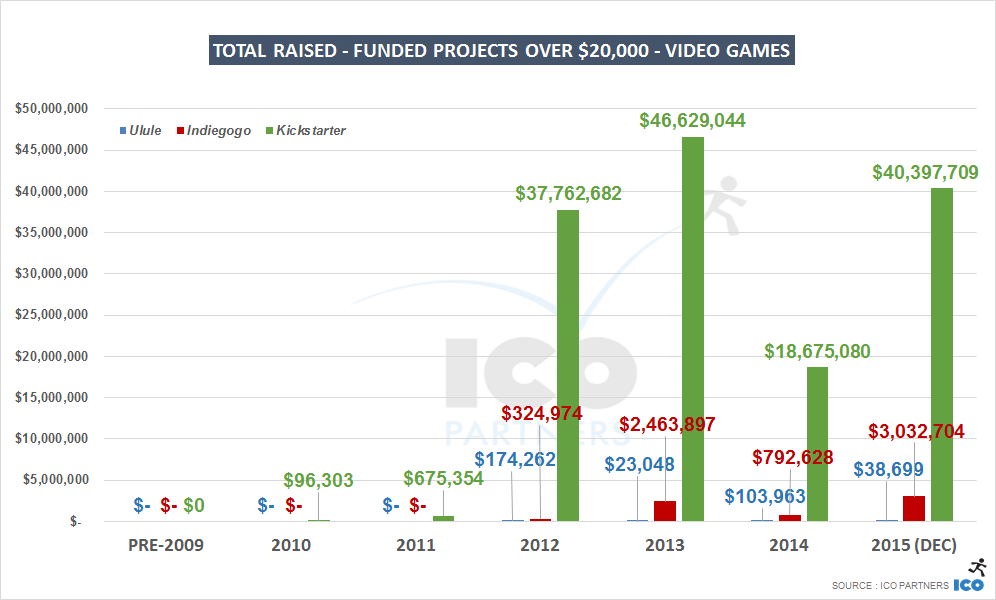 While those numbers are not complete and they only account for video game projects that successfully raised more than $20,000, they confirm the situation observed the past few years that Kickstarter is not only the main player when it comes to crowdfunding video games, but is totally dominating.
In a sense, it makes looking at the trends for crowdfunding in the industry that much easier. Just looking at Kickstarter numbers allows you to get a glimpse at what is happening to 90 percent of the funded projects.
Kickstarter trends
It is very common to consider monetary amounts to see how successful the crowdfunding platforms are, and this is certainly an important metric as their capacity to maintain their infrastructure depends on the percentage of funding they receive when a project is successfully funded.
In that regard, 2015 has been an excellent year for Kickstarter and video games, with more than $41 million collected by successful projects. This is a significantly better performance than in 2014 where we saw a decline in the total amount accumulated by games on the platform.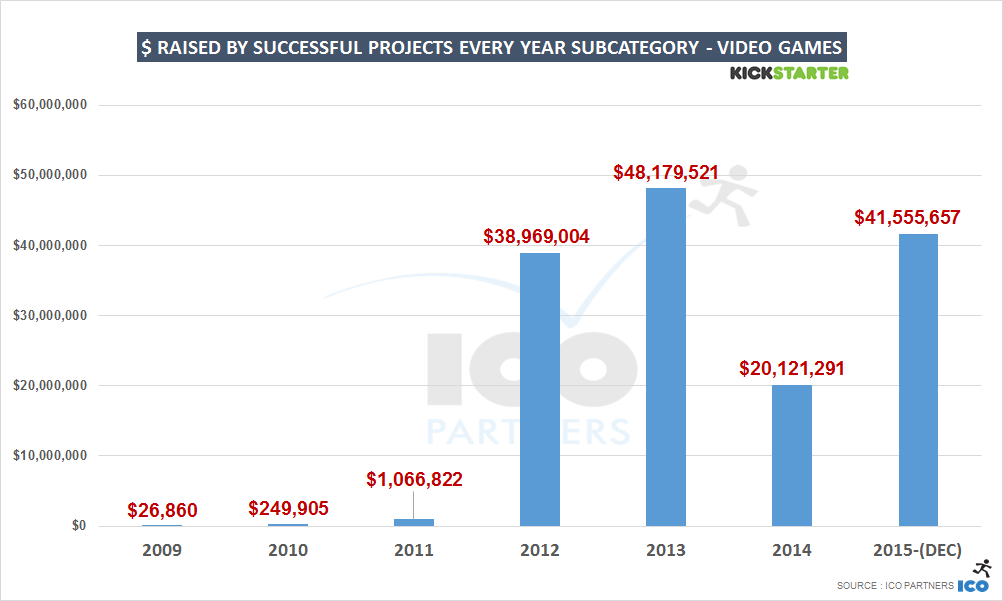 But before calling it, let's consider how those amounts are broken down between the different sizes of projects.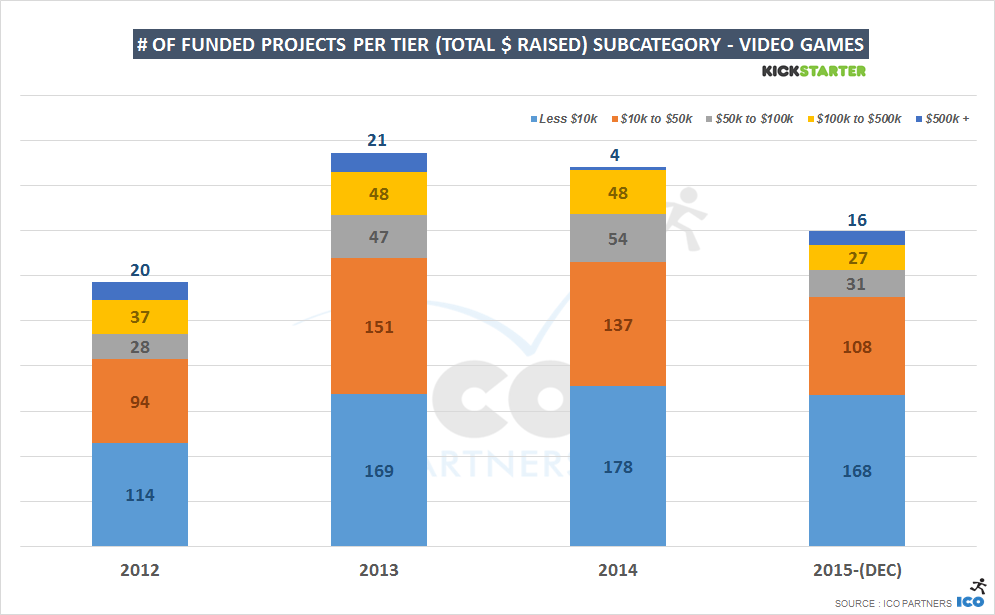 While 2015 was an excellent year for massive projects (the ones that are raising more than $500,000), what we see on all the other ranges is a decline. While we will end the year with more projects funded than in 2012, this year will be the lowest of the past three years. And the decline is seen in all the ranges of projects, except the small projects below $10,000 in funding.
This is not a bubble bursting, as there are still more than 350 projects that are already funded this year. There are actually a good number of studios and creators being allowed to take their project further thanks to crowdfunding, but we are definitely entering a decline phase.
But interestingly, 2015 was also a year where a lot of noteworthy events occurred around crowdfunding video games.
2015 crowdfunding events
Shenmue 3
I won't comment on the campaign itself, but I want to go back to how it was announced. E3 attracts more media attention than any other video game event in the world, and the Sony press conference is the largest at the event. For the first time, it was used as a platform for a crowdfunding campaign.
I see this as a sign of maturity and how crowdfunding is finding its way as a natural actor of the video game ecosystem. Not all projects will be crowdfunded (especially if the decline holds true), but it is now an accepted option, an element that has its place among the myriad of things you can use to make a game, and one you can announce at the No.1 event in the world.
Since then, similar crowdfunded games were presented during the Microsoft gamescom press conference and a Psychonauts 2 campaign on Fig was announced recently during The Game Awards; it might become a pattern to the point that we will speculate about the crowdfunding announcements to be made at each event.
Fig.co
In a space totally dominated by Kickstarter, the arrival of a new platform might be anecdotal, but Fig managed to grab headlines with its launch and offer an interesting alternative by presenting against-equity-funding on top of the more common against-rewards-funding.
I am somewhat skeptical about the wisdom of mixing those two models, but I can't blame them for trying something innovative.
After a slow start with Outer Wilds (while it barely raised its $125,000 objective, it is good to remember that would put them in the top 10 percent of the Kickstarter projects this year), and learning the hard way that free-to-play games have the hardest time to get crowdfunded with Anchors in the Drift, Fig has launched its first trump card with Double Fine's Psychonauts 2.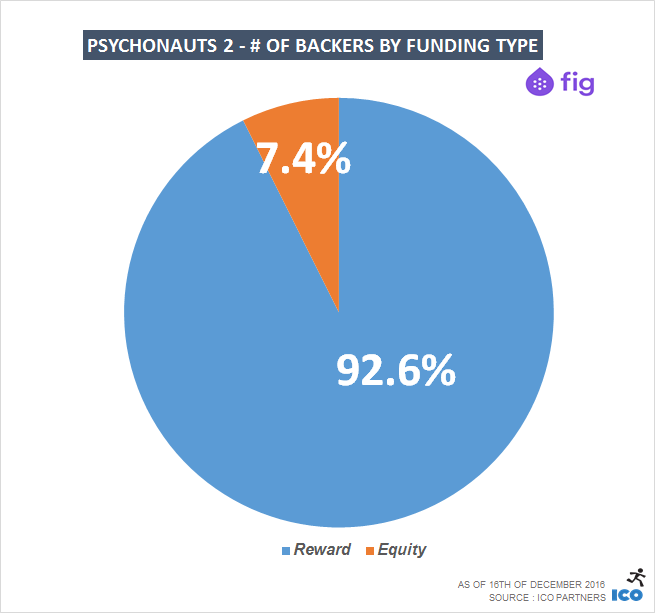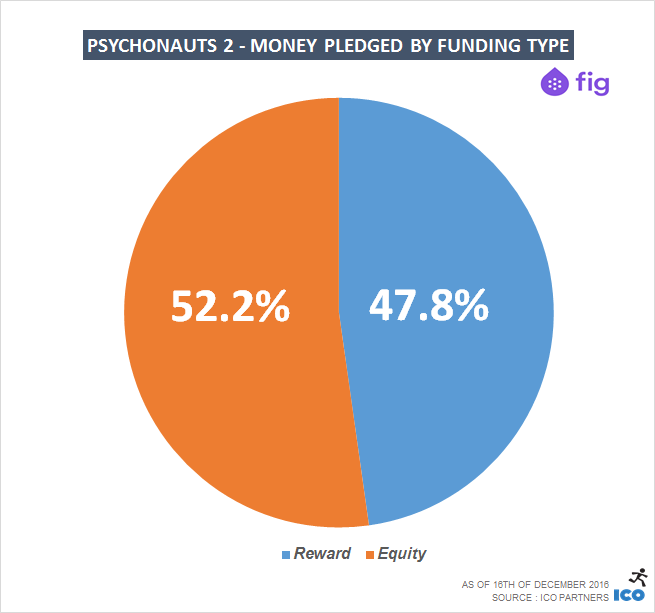 With its excellent start, and with more than half the funds secured as project equity, Fig might be making an excellent case for the mixed funding type formula for large projects. It will be great to follow up on this next year with more projects coming to the platform.
Star Citizen
I won't go on at length about Star Citizen but I wanted to note that it has now passed the $100 million mark in total funding, with more than $30 million secured in 2015 alone.
More than any other events in the past year, the continuous growth of Star Citizen makes me think that the game industry still has ways to build its crowdfunding beyond its current size. We may have to learn how to make campaigns more reliable and accountable.
The Collective
While the Square Enix initiative started in 2014, I wanted to mention it as it seems to have reached a nice cruise speed. Seven projects that went through the platform got funded by the crowd, for a total of $700,000.
And for the first time this year, a project, Goetia, elected to use the option to have the game published by Square Enix. All but one project supported by The Collective has been funded to date, showing that some curation and support from an established actor of the industry goes a long way to be successful with crowdfunding.
And this leads me to the last event of this year that I want to talk about...
Indivisible
Indivisible is a great project from many perspectives, one that will show the way for future campaigns.
Made by the studio behind Skullgirls, Indivisible did pull a few firsts. It was the first video game project on Indiegogo to raise more than $1 million, it was the first project to offer a playable demo for the game on a console (on PlayStation, not a coincidence I realize when you think about what was said earlier about Shenmue 3), and very importantly, it was the first project to raise a lot of money while being very open about the involvement of its publisher in the process.
Yes, Indivisible is also being funded by 505, and this might be a sign of things to come. When discussing the decline of crowdfunding, very often the lack of accountability is brought up as a growing concern. The presence of a publisher in the mix might be helping in that regard, without necessarily corrupting the spirit of crowdfunding as it helps developers get a better control of the creative process and plays in their favour in their relationship with publishers.
Disclaimer: All the data in the piece have either been collected manually on the different platforms, or automatically in the case of Kickstarter, using tools proprietary to ICO Partners and Potion of Wit. Treat all of them as estimates.