Critical Consensus: Inquisition scores high to revitalise Dragon Age
A vast, deep game which exemplifies Bioware's RPG pedigree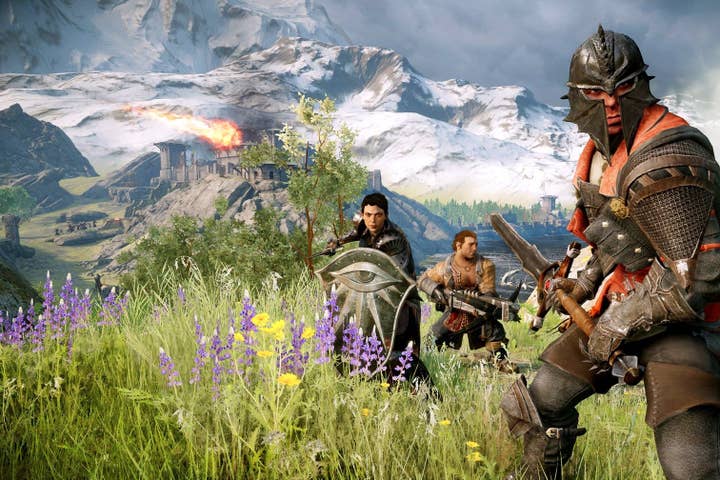 One of the inherent risks of a story-heavy IP is that if you bugger up one of the instalments, your audience skips it, falling out of touch with the series' story arc and disconnecting from its universe. Such was the fear for Dragon Age, a world which impressed in its opening act, but fell away sharply with what felt like a rushed and uncertain part 2. In acknowledging the shortcomings of the second game, Bioware went some way towards reassuring the faithful, but it was undeniable that nothing less than a resounding crescendo could re-establish the land of Tevinter as an RPG setting of the same calibre as the Tamriel of the Elder Scrolls or The Witcher's Temeria.
There aren't many teams you'd rather leave such a task in the hands of than Bioware's and, judging from review scores, that trust would be well-placed. With a metacritic ranging from 84 for Xbox One, 88 on PC and 89 for PS4, EA and Bioware seem to have established the Dragon Age series as the new gen's first top-class RPG - stealing a march on 2015's Witcher 3 and whatever Bethesda may be working on as a follow up to Skyrim.
One of the best-scoring reviews comes from Polygon's Philip Kollar, who focuses on the game's scope, characters and sheer wealth of content in his 9.5/10 review. Kollar argues that this is the game where the universe really finds its feet, finally fulfilling the promise it had teased in Origins and its sequel by immersing the player in a sequence of events which incorporates a story far bigger than the perspective you'll have of it. Nonetheless, says Kollar, it's still in the details that Bioware's talents shine brightest - weaving engaging and worthwhile characters as threads in a vast tapestry.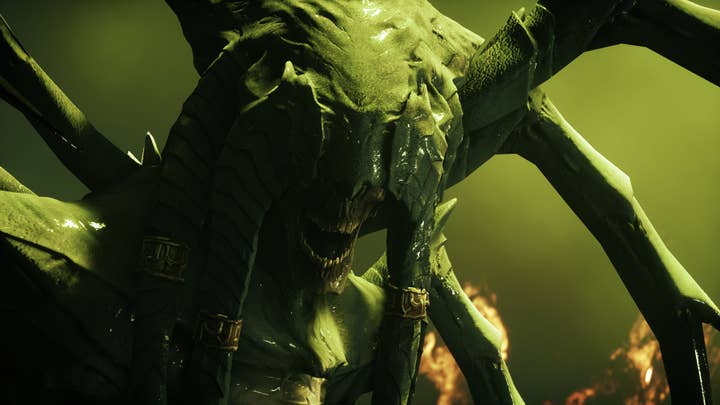 "But in true BioWare fashion, that broader story often takes a back seat to smaller character conflicts," he writes. "The Inquisitor pulls together a huge group of followers, including nine playable party members, and each has reams of dialogue conveying a fully developed personality."
As well as offering chatter and the opportunity for romance, the player's extended party brings both questing opportunities and advice on dealing with obstacles, says Kollar, making them more than just talking weapons. In fact, he says, that guidance comes in extremely useful in coping with a game which offers gameplay hours well into triple figures.
"Dragon Age: Inquisition is made up of numerous zones that I could teleport in between at will. However, each of those zones is gigantic in and of itself. In the 80 hours I spent playing Inquisition, I only fully completed two zones, and each of them took me around 20 hours of exploration, questing and monster-bashing."
"In the 80 hours I spent playing Inquisition, I only fully completed two zones, and each of them took me around 20 hours of exploration, questing and monster-bashing"

Philip Kollar, Polygon
In addition, Bioware has added the simplest of tools as an aide to exploring this vast landscape: the jump button. By doing so, says Kollar, the team has made the world feel more whole and believeable, introducing vertical as well as horizontal scale and a much more convincing sense of exploration. Tie that into the sense of being part of such a huge chain of events that new additions such as the ambassador-lead 'war table' missions, says Kollar, and you have a classic perfect for the winter evenings.
In broad agreement is Richard Cobbett at Eurogamer, who awards an 8 to Bioware's efforts. Whilst full of praise for the lush surroundings of Tevinter and the clear improvements made over the last game, Cobbett finds some concerns over the influence which Inquisition seems to have felt from its contemporaries.
"The role-playing too, pretty as it is, didn't feel like BioWare. There are straight up MMO style quests, like collecting 10 bits of meat, which at least make sense in context - that you're helping refugees and refugees need food. Others, however, are thrown in with no finesse whatsoever. You find a letter that says, in about as many words, "Girls really dig people who can kill bears!" and then ping, your Quest Journal suddenly thinks you're interested in bear-hunting. The first hour of a game is a bad, bad time for it to be resorting to this crap.
"The reason for the sack of activities where normally there'd be more involved quests is that Inquisition takes as many cues from the likes of Assassin's Creed as other RPGs, with its maps a sack of quests, collectibles, secret bits and general things to do."
That sense of piecemeal progress and scrappy world building disappears around a fifth of the way into the plot, says Cobbett, allowing the more convincing mechanisms of the plot to take hold. "The stakes become meaningful and dramatic," he writes. "The mysteries become interesting." Not as convinced as Kollar by the tasks which can be assigned to your plenipotentiaries, nor the combat which is arguably the game's key activity, Cobbett finds Inquisition's approach to less bloodthirsty matters of state a refreshing change from the sword and sorcery.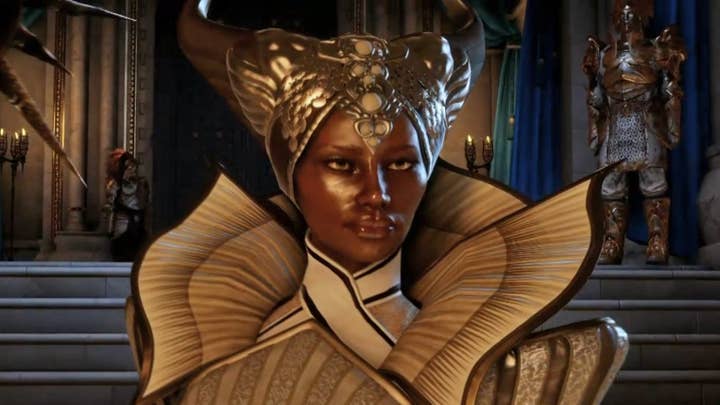 "While that side provides most of the raw action," he says of dragon killing and rift-closing, "it's the adventure and political parts of the game that make Inquisition work - its understanding that a party in Orlais, where the Great Game is played for the highest stakes, should be just as dangerous as anything that happens in a dungeon. After two games of controlling a ragtag bunch of misfits, it's also interesting to be in a position of genuine power for once."
Destructoid's Chris Carter and Joystiq's Alexander Sliwinski are similarly impressed, offering scores of 8.8/10 and 5/5, respectively.
Carter praises the RPG tree development of the characters as well as their dialogues, noting that "nothing feels tacked on" in a system which offers some of Origins' depth, tempered by the streamlining in evidence in the sequel. Overall, he says, the experience is "less nuanced than Origins," but offers a similar perspective on a living world, the fate of which increasingly lies in your hands.
Political intrigue and the raw sense of exploration garner praise from Carter, too, who also has good things to report about the game's multiplayer mode - a section of the game which sees you take control of an entirely separate character.
"Multiplayer is the cherry on top, because nothing in the campaign feels like it was compromised for its addition"

Chris Carter, Destructoid.
"Multiplayer is the cherry on top, because nothing in the campaign feels like it was compromised for its addition. In essence, it's a modified horde mode that operates similar to Uncharted 3's co-op sections. Four players will be able to select from a host of classes, each with their own skills and abilities, and play through a miniature dungeon together.
"It has that horde feel in terms of fighting wave after wave of enemies, but each stage is an adventure complete with multiple paths, loot to gather, and special doors that can only be opened by certain classes. In that sense, it's not your typical boring 'kill kill kill' mode."
Sliwinski's assessment also acknowledges the scope and detail achieved here, as well as the palatable way in which the development team is able to introduce such vast levels of information to the player.
"Inquisition's immensely helpful in-game codex can introduce or refresh players to some of the characters and socio-political rules of the world," he writes. "With very few exceptions, long-standing characters are properly reintroduced. There isn't a 'previously on Dragon Age...' within the game, though curious players can cover those gaps with the helpful interactive recap at DragonAgeKeep.com."
Joystiq's reviewer also appreciates the switch of pace afforded by the inclusion of Orlais as a destination, a place where court politics partially replace the hew and bellow of the battlefield.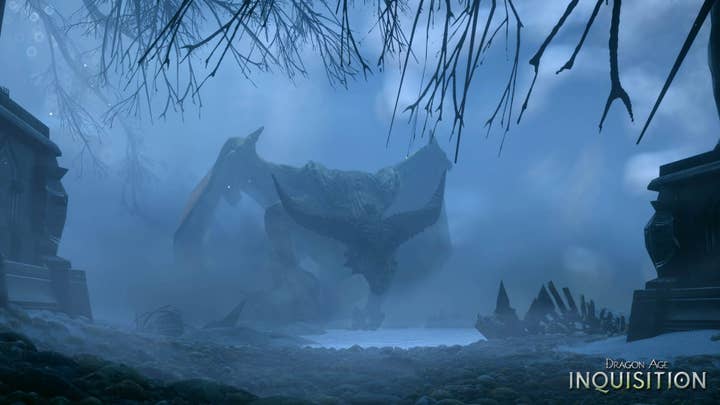 "With the inclusion of The Orlesian Empire, Inquisition delves deep into 'the game,' which is how those born into or educated in Orlais refer to the machinations of social politics. Orlais had previously been referenced in the Dragon Age series, but now we get to see this twist on 18th century French court intrigue in all its grandeur. Inquisition explores Thedas' class and racial politics through a variety of missions and interactions with the game's companions, who have rich ideological diversity."
In summarising, Sliwinski makes the key point that so many Bioware fans have been waiting to hear since the Drs Zeschuk and Muzyka departed the company they founded: has Bioware maintained its aims, its ambitions and its quality?
"Dragon Age: Inquisition is BioWare's reaffirmation of what it's capable of delivering," reassures Sliwinski. "It's a gorgeous game on an epic scale. Rich in character and story, it creates a fantasy world with plausible social rules you can get lost in. It makes you feel that you aren't just exploring a new world, but helping shape it at various levels of society. Inquisition sets the bar for what a blockbuster RPG should be."