Critical Consensus: Infinity Blade
As far as it's come, the iOS is still not really a platform associated with gorgeous graphics, technical excellence or top notch animation. It's a platform for puzzle games, quirky indies and annoying gimmick apps.
More and more, this pervading opinion is doing the platform a vast disservice. It's also something which is likely to change with the arrival of Infinity Blade.
Whilst Epic and Chair Games' third-person slash-'em-up is far from the first to try and squeeze high-end visuals and retail-quality gameplay from Apple's handsets, it seems to have attracted the attentions of the gaming press more successfully than any of its predecessors.
That's probably at least something to do with the names attached to it - Epic's first foray into the App store was always going to make a splash, but it's perhaps the presence of that term 'Unreal Engine 3' which has most commentators so excited. Players and reviewers alike have already had a teasing preview of what the Engine can push from the iPhone with Epic's tech demo Epic Citadel earlier this year - but Infinity Blade turns that tech demo into a fully fledged, and hugely profitable title.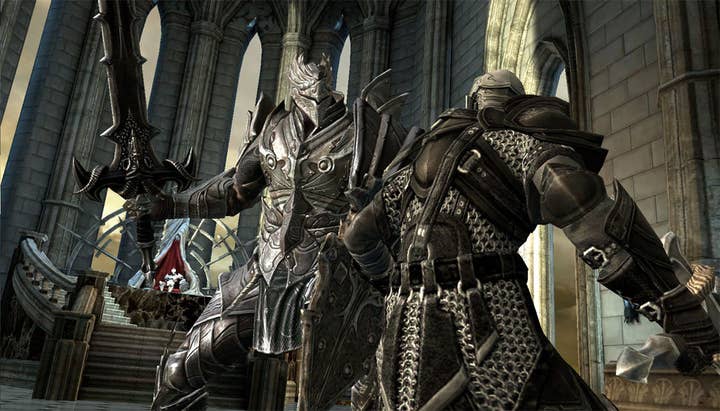 Eurogamer certainly thinks so, eschewing its normal policy of including iPhone titles in a regular roundup of reviews, the website gives Infinity Blade its own full review, courtesy of Mark Brown. His 8/10 review calls it "electric, the same sort of edge-of-your-seat thrill you get from the best Punch-Out!! brawl" and "amazingly satisfying".
Brief as the game may be as a beginning to boss experience, Brown believes that it's the compulsion which makes it a great title, praising the "carrot-on-a-stick mentality" and even employing the forbidden term: "addictive".
Concluding that "like flinging birds or landing planes, Infinity Blade's smart, nuanced and thrilling combat very rarely bores" Brown calls Infinity Blade "ferociously satisfying, well designed and well executed", no mean feat for a price of £3.49.
Joystiq's Justin McElroy is another reviewer to offer a scintillating appraisal of Infinity Blade, awarding five stars to a game with "deep, well-thought-out combat", "brilliant story contrivance" and "drop-dead gorgeous graphics", making it "one of the easiest recommendations I'll make all year".
McElroy does warn that owners of older iPhones might not get the full experience, however, as Infinity Blade suffers from "too-frequent slowdown even on my 3GS" - although a 3GS is the minimum recommended handset for the game.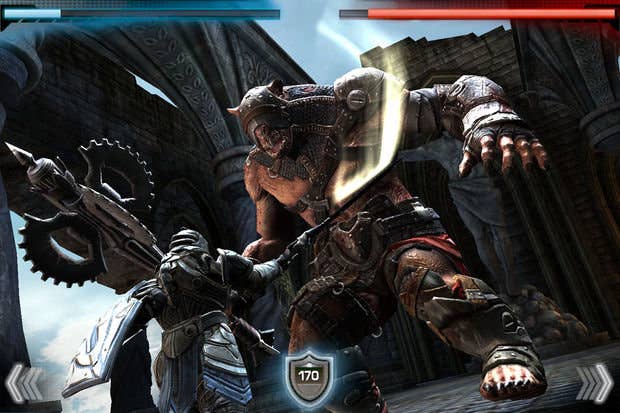 Destructoid's Nick Chester is another reviewer who sees similarities between Infinity Blade and Nintendo's Punch-Out!!, although he points out that "the characters you'll encounter don't hold to the same kind of patterns as Nintendo's pugilists". It's not to the game's detriment, however, instead promoting "extremely satisfying" gameplay and "enjoyable, addictive gameplay mechanics" which "doesn't rest on its good looks".
Chester acknowledges the wow factor of Chair's game as a "showpiece for the power of your iDevice" but also makes clear that "there's a great game under the hood, one that's easy to recommend", awarding 8.5 out of ten in his final assessment.
Over at Edge, the traditionally anonymous reviewer also plumps for an 8 - positing that Epic's small-screen debut could be "calling time on the scrappy bedroom ingenuity of the iPhone marketplace, or heralding a strange new era in which big budget action games compete for space on the touch screen".
Like most reviewers, Edge tips its hat to the tightly harnessed power of Unreal Engine 3 operating under such tight constraints, but points out that whilst "the technology's happy to pour on the detailing, the art direction ultimately wins the day with a range of wonderfully brutal enemy and armour designs". Gameplay and control are given glowing assessments, too, vaunted as "generally simple, responsive and intelligent" but also "satisfyingly tricky".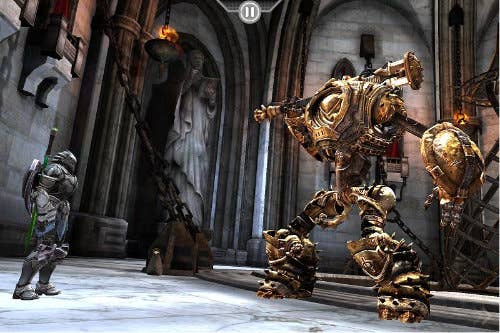 It's also, the reviewer feels, a game which understands its market, with short, session-based gameplay lending itself excellently to "bus journeys, boarding queues and coffee breaks". It's in the concluding paragraph where we see what may be the most prescient comment in the piece, however, and the aspect of Infinity Blade which is most likely to have the biggest impact on the App Store. The game is, after all, a "fearsome advert for a publisher's middleware".
More reviews of Infinity Blade are available at PocketGamer, IGN and 1-Up.