Creative Europe wasn't aware of Alexis Kennedy accusations when it gave The Weather Factory money
Industry hits back at the EACEA's decision to award the studio a €150,000 grant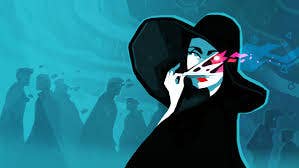 The European Union's Education, Audiovisual & Culture Executive Agency (EACEA) has responded to criticism that it awarded a €150,000 Creative Europe grant to Weather Factory after allegations of abuse were made against one of the studio's co-founders, Alexis Kennedy.
Kennedy -- who also co-founded Failbetter Games -- was one of several high-profile people in the industry to be accused of mistreating others last August. Two people who previously worked with Kennedy went public with accusations of predatory and abusive behaviour. Kennedy denied the accusations.
"At the time of the assessment of grant applications and the subsequent award, we were not aware of the allegations made against Mr. Kennedy," a European Commission spokesperson told USgamer about the decision to award Weather Factory the grant.
The EACEA further posited that while the award was given in line with current guidelines, "the Commission reserves the right to re-evaluate the situation, if and when facts highlighting irregularities in the selection procedure would justify it."
However, at the time of writing, there have been no public statements that the Commission is planning to withdraw the grant.
"As regards vetting potential recipients, the call for proposals indicates a set of criteria that form the legal framework of the selection process," the spokesperson added. "The evaluation was based on these criteria, taking into account the principles of the Treaties and the Charter of Fundamental Rights of the EU."