Crash Team Racing limps to the top of the UK chart
No new releases in the whole top 40 alows CTR back to the top despite a 14% drop in sales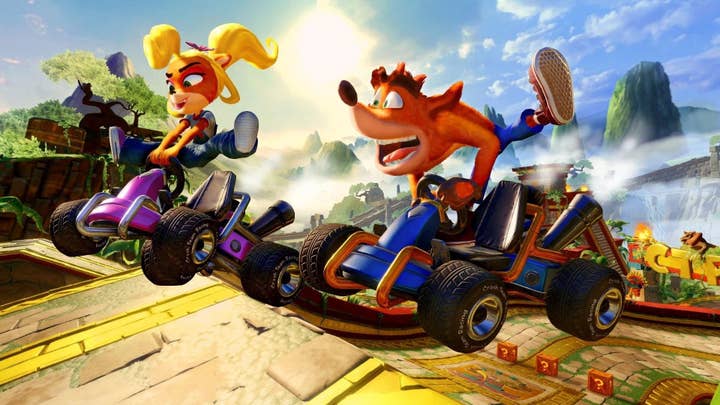 Crash Team Racing Nitro-Fueled sputtered into the top spot in the UK retail chart, despite its sales actually falling 14% over last week.
The general stagnation of the AAA summer release slump was clearly displayed by Crash Team Racing, which managed to climb from third to first despite declining overall.
There were no new entries in the top ten -- indeed, there were no new entries in the entire top 40 -- and only two of the games were outside of the top ten last week: F1 2019 climbed from 11th to sixth, and Red Dead Redemption 2 ascended from 15th to eighth.
Fire Emblem: Three Houses, which was at the top of the all formats chart for the last two weeks, plunged to seventh -- a drop of more than 60% for the second consecutive week. However, Nintendo occupied the second and third spots, with Super Mario Maker 2 and Mario Kart 8 Deluxe.
FIFA 19 was in fourth place, while Grand Theft Auto V -- which is back at the forefront of conversation thanks to GTA Online's Diamond Casino & Resort -- finished the week in fifth.
Here is the UKIE/GfK Top Ten for the week ending August 10:
| Last Week | This Week | Title |
| --- | --- | --- |
| 1 | 1 | Crash Team Racing Nitro-Fueled |
| 4 | 2 | Super Mario Maker 2 |
| 7 | 3 | Mario Kart 8: Deluxe |
| 2 | 4 | FIFA 19 |
| 6 | 5 | Grand Theft Auto V |
| 11 | 6 | F1 2019 |
| 1 | 7 | Fire Emblem: Three Houses |
| 15 | 8 | Red Dead Redemption 2 |
| 10 | 9 | Minecraft |
| 9 | 10 | Super Smash Bros Ultimate |