COVID-19 drives first-half mobile app spending to $50b - App Annie
Mobile analytics firm says pandemic "has changed consumer behavior on mobile forever"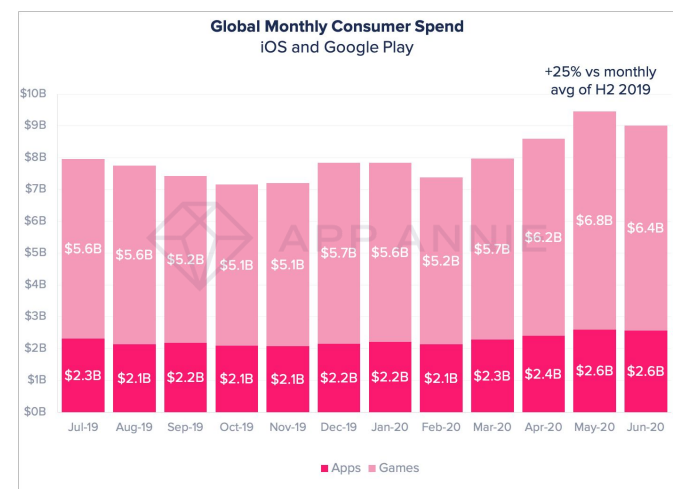 The global pandemic "has changed consumer behavior on mobile forever," according to App Annie.
The mobile analytics firm today released its first-half consumer behavior report, detailing how consumers used their phones more often -- and for more reasons -- as COVID-19 spread around the world.
In the first half of 2020, iOS and Google Play apps and games were downloaded 64 billion times, an increase of 5% year-over-year and 10% from the back half of 2019. Consumer spending over the first half was greater than $50 billion, also up 10% from the second half of 2019.
People were also spending more time on their phones, with App Annie finding the average daily hours spent on Android phones jumped as countries began locking down.
In Russia, the second quarter average time spent on Android phones was 3.5 hours a day, up 40% compared to 2019's average. Canada (up 39%) and India (up 37%) were also among the countries seeing significant increases in time spent on mobile.
Many of the countries App Annie looked at are continuing to see growing engagement, but two countries that dealt with the pandemic early on -- South Korea and China -- saw time spent on Android dipped in the second quarter compared to the first.
However, App Annie doesn't expect a full return to pre-pandemic numbers anytime soon.
"Psychologists have found it takes an average of 66 days to form a habit," the company said. "As the pandemic stretches into Q3 2020 from the first case near the start of the year, app habits are solidifying and mobile is becoming even more deeply rooted in our routines."
It added, "COVID-19 advanced mobile trends we were already seeing by a 2-to-3-year adoption, speeding up the transition to a mobile-first world. Once consumers get used to the convenience mobile offers - such as the ease of ordering groceries compared to traveling to the store and lugging bags around -- mobile becomes incredibly sticky, representing a significant opportunity for businesses."