Com2uS sees $13.5 million profit in Q2
Global growth of Summoners War helped to drive record results for the mobile publisher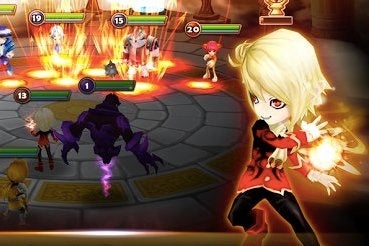 Mobile developer and publisher Com2uS today announced its best financial performance in a quarter to date, with numbers up across the board. The company saw 43.0 billion KRW ($41.5 million USD) in sales, 17.3 billion KRW ($16.7 million USD) in operating profit, and 14.0 billion KRW ($13.5 million USD) in net profit, which represented year-over-year increases of 112 percent, 754 percent, and 331 percent, respectively.
Com2uS stressed the growth of its global business as it said it saw its best overseas results yet with $29.1 billion KRW ($28.1 million USD) in overseas sales, which accounted for 68 percent of the company's total sales. The success can be largely attributed to Com2uS' two recent titles, Summoners War: Sky Arena and Ace Fishing: Wild Catch. Summoners War debuted in June and quickly made the top 10 grossing titles chart on Google Play in 34 countries and 30 countries on the App Store. Com2uS also said that older titles such as Golf Star and Tiny Farm maintained steady sales.
"We were able to secure our presence in both major and emerging markets around the world with the global success of Summoners War and Ace Fishing," added Baek Yong Choi, Com2uS CFO. "With offices in the US, Korea, Japan, and China, we plan to solidify ourselves as the global leader in mobile games by leveraging our user base and know-how with all our titles going forward."
For the second half of its fiscal year, Com2uS has 11 titles slated for release, it said. In partnership with Gamevil, the company is looking to leverage its global platform, Hive, and aims "to capitalize on both companies' user base through collaboration, cross-promotion, and various events."