Changing the shape of arcade controls
Campervan Games' Matthew Deline shares a vision of accessibility and physicality for his arcade cabinet, Shape Arcade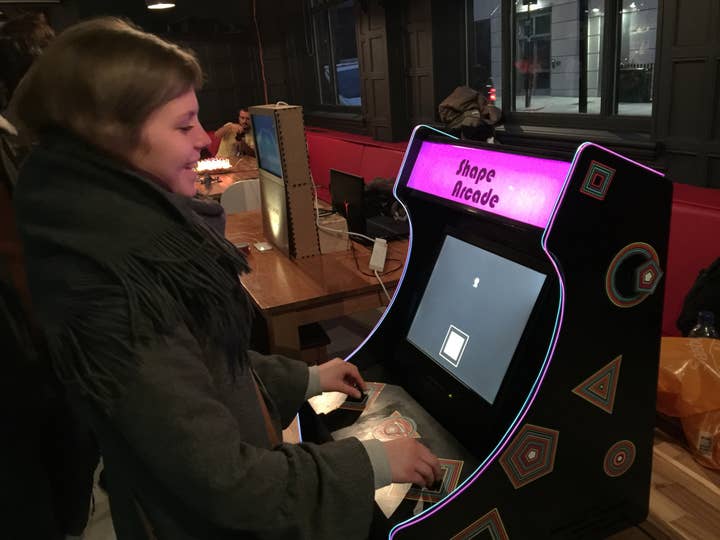 When Matthew Deline showed his prototype arcade cabinet, Shape Arcade, at a PAX Australia event, several people came up to him afterward and said, "Oh, I remember this game."
While that was flattering, Shape Arcade is an entirely new creation, and one still very much in progress. Speaking to GamesIndustry.biz, Deline says he's willing to take the compliment of imagined nostalgia with grace. Especially because of the somewhat unusual way that Shape Arcade controls.
Shape Arcade began as a project Deline worked on as part of his Master's program. During a time in which he was already thinking extensively about alternative controller schemes, he was assigned to create something that only took one form of input. So Deline picked a dial as his game's controller.
"Some of the first arcade games were created using an oscilloscope, which is similar to using the dials"
Shape Arcade has a simple premise: various geometric shapes appear at the top of the screen and slowly drop down toward the player. The player must use one rotating dial control to move their own shape at the bottom of the screen to "catch" the falling shapes, while using a second dial to change their shape to match that of whatever they are catching.
"I've been wanting to build an arcade cabinet since I was a kid," Deline says. "At the time I was making this decision, I was thinking this was evocative of the early arcade era. Some of the first arcade games were created using an oscilloscope, which is similar to using the dials. So what is the thing that I could do best to pay homage, and to do something new with that type of experience?"
Aside from the dials, another unique aspect of Shape Arcade's physical structure is the cabinet's small size. That could easily be explained away as a limitation of a prototype, but Deline tells me the idea for a smaller cabinet has been a part of the vision from the beginning -- as an accessibility feature.
"I think that there's something personally that I find important and invigorating about physical experiences that are hard to bring across, especially in this case where one of the main design tenets for the game itself was accessibility. So that's why it was built as sort of a team tabletop arcade cabinet, rather than a giant one.
"A friend of mine was in a wheelchair, and I thought, 'How would they play this game?' If I had created your large standing arcade cabinet, most wheelchair users would have a lot of difficulty, and just cornering off a large section of people that might [otherwise] have the opportunity to play my game just didn't sit right with me. It was important to me to make sure that people who wanted to play could."
"Cornering off a large section of people that might [otherwise] have the opportunity to play my game just didn't sit right with me"
From there, Deline is trying to build accessibility into his vision at every stage, delving into resources from groups such as Special Effect to help inform this mission. He's open about the fact that some accommodations will be more challenging to make than others simply due to the type of game he's making, but adds that nothing is off the table.
"I want to make the game available for everybody," he says. "I can't imagine a version of this game that would be playable for people that wouldn't be able to see. It's a very visual game. It is also very difficult to play one-handed. However, it is very fun to play with two people using one hand, so there are considerations there as well."
He's also not limiting Shape Arcade to, well, arcades. Though the smaller, accessible arcade cabinet is at the forefront of his vision, he also has in mind larger cabinets, or even smaller ones for play at home. And he's considering console and mobile releases of the game, though that presents an entirely new set of problems given that none of those platforms come with dials attached.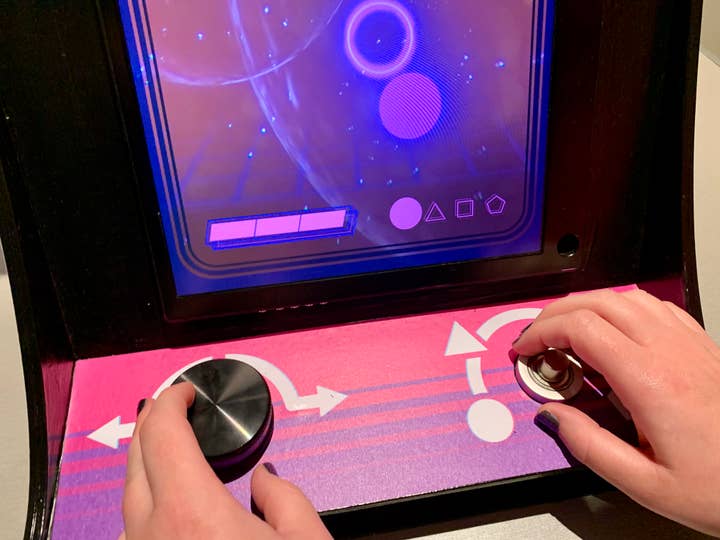 "Right now it's a matter of experimenting with different control options," he says. "On the PlayStation controller, for example, most of the shapes which you can play in the game match up with the face buttons, with the exception of the cross button. So if you press square, you become square; press triangle, you become a triangle... But I think that changes the player experience to some degree.
"I look at companies like Nintendo who do alternative controls as sort of their bread and butter"
"So it's a matter of sort of deciding, 'Is this different than what I'm creating with the arcade machine? And if so, how do I adjust that experience? How do I bring this alternative control scheme where there's a bit of uncertainty into something with a controller?'"
For now, those questions are still a way off. Deline is working on Shape Arcade with the help of a few contractors, but right now it's still a single prototype cabinet that he was showing off at various trade shows -- an endeavor that's on pause for the present moment. He's considering his options, including potential crowdfunding or partnering with manufacturers to get the cabinets in actual arcades.
But Deline is still thinking about those console options even early on, and allowing himself to be inspired by the unique control schemes at his disposal. During our video chat, he showed me both the cabinet with its dials, as well as a third-party dock for a Nintendo Switch he owns, one that's shaped like a small arcade cabinet.
Along with the accessibility component, Deline says one of the most important elements of Shape Arcade is to give players a physical experience, and to make that experience core to the game through its controls. Though that may manifest differently across different eventual platform releases or even from arcade to arcade, Shape Arcade is a simple enough concept that Deline is able to be flexible with how that eventually manifests.
"I've tried different control schemes with face buttons, with the shoulder buttons," he says. "I'd love to get an [Xbox Adaptive Controller] from Microsoft. And I look at companies like Nintendo who do alternative controls as sort of their bread and butter. I see how disruptive the control mechanisms [used by] Nintendo systems are over the past few decades.
"You look at something like the analog control stick from the Nintendo 64, or the motion controls on the Wii, and whether or not those are successful or long-standing, I think that they're different and they bring something interesting to a mainstream market. And I'd love to be able to at least have some semblance of that with the games that we take to console as well."