CCP creating EVE TV series with director Baltasar Kormakur
EVE Online's players will inspire a new television and comic book series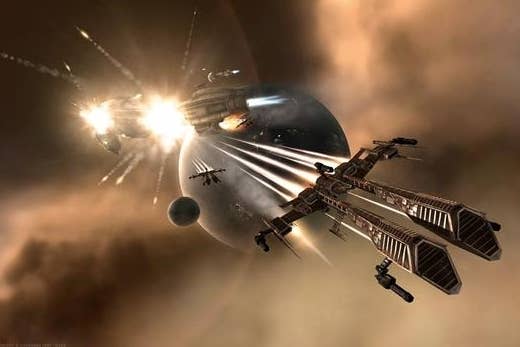 EVE Online publisher CCP Games has announced that it will be developing a television show based on the MMO in partnership with director Baltasar Kormakur. The show will be inspired by the real stories of EVE Online players, who can submit their tales here.
"The inhabitants of the notorious and beloved EVE Universe have ten years' worth of dramatic stories to tell," said CCP chief executive officer Hilmar Veigar Petursson. "Our close collaboration with Baltasar and his creative team gives me confidence that we will capture EVE's essence, inspiring millions of TV viewers with visions of humanity's future."
Kormakur directed two films released in 2012: Contraband, which starred Mark Wahlberg, and The Deep, which won 11 of the Icelandic Film and Television Academy's Edda Awards. He is currently in post-production on 2 Guns, starring Wahlberg and Denzel Washington, and directing the pilot of episode of HBO's The Missionary.
"The EVE universe is full of astounding stories of epic battles, daring heists, and gripping political intrigue, all of which will make for an amazing television series," said Kormakur. "The opportunity to interact with the fans of the EVE Universe directly opens up all sorts of exciting possibilities."
The stories submitted on CCP's True Stories website will also inspire a comic book from Dark Horse. EVE: True Stories will be available this fall for free on Dark Horse's digital site and mobile apps. The comic publisher will be releasing an artbook and guide for EVE Online, entitled EVE: Source. The 184-page book will be available this winter, alongside a hardcover graphic novel for EVE: True Stories.
"It's going to take everything we've got to capture the amazing visuals and rich history of the EVE Universe in a single volume," said Dark Horse editor Dave Marshall. "As we fill it with material from EVE Online's stellar space combat to the 'boots on the ground' action of Dust 514's planetary conflicts, EVE: Source is shaping up to be one of the most stunning books we've ever published."