Candy Crush's recipe for success
King games guru Tommy Palm explains what makes his blockbuster tick, says it's never too late for the little guy to disrupt a market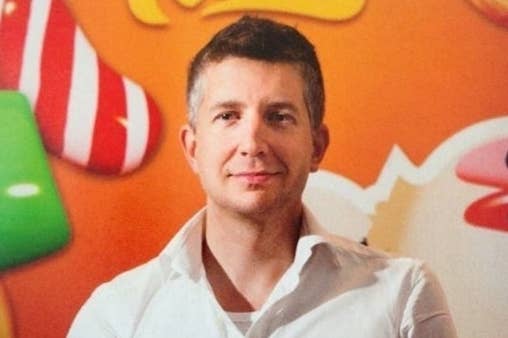 Success in the free-to-play market can be elusive, but Candy Crush Saga maker King believes it has found a formula that works. The company's games guru Tommy Palm discussed his approach to making hit games in a session today at the Montreal International Game Summit.
Palm began by updating some key numbers, saying King now has more than 100 million daily active users with Candy Crush Saga being played more than 700 million times per day on mobile platforms alone. It's an almost incomprehensible number, Palm said, and a tribute to how accessible games can be on smartphones. Currently, the game has 225 million monthly unique players. According to Google Trends, Candy Crush Saga is three times as searched for as Super Mario.
Though it's best known for Candy Crush Saga, King has been around for 10 years. In 2010, the company had been profitable for four years already, with more than 150 casual games on its own site, King.com. But in September of 2010, King noticed its distributors (like Yahoo Games) were starting to lose traffic to Facebook. It was already a cemented market, according to industry watchers, so anyone who didn't have games on the social network had supposedly already missed the train.
That conventional wisdom didn't stop King, which tried six parallel experiments on Facebook and found success with one of them (Bubble Saga). Within four months, King became the seventh biggest developer on Facebook, with 2.4 million daily active users. But at the same time, PC sales were starting to drop off quite severely, while tablets and smartphones were starting to take off, a trend which caught King's keen interest.
"People need innovation in small iterations. One step at a time is how you have to innovate for broad demographics."

Tommy Palm
Around the same time, Candy Crush had been released on King.com, where it was enjoying some early success. There were two new things about the game that resonated well with the audience, Palm explained. First, it had a family friendly candy theme. Second, there was innovation in that players could match two powered up candies together to create a special effect. What Palm thought worked best was how approachable it was.
"I can't overestimate how important that is," Palm said. "When you work with a game, you become very blind to how easy it is to know it...People need innovation in small iterations. One step at a time is how you have to innovate for broad demographics."
Palm said King knew then it had a solid hit on its hands even then. It would eventually launch on mobile platforms and become the first game to score a "hat trick," topping the iOS, Google Play, and Facebook charts simultaneously.
The game's success hasn't been without challenges. Mobile games need to worry about reliability of network traffic in a way Facebook games don't, as well as working on the full range of smartphone display screens no matter their resolution. Palm also said the game had to be converted to be mobile-friendly, which meant pulling the time limit out of the equation and making it playable offline as well as across different platforms.
However, there are some common myths surrounding Candy Crush that Palm wants to dispel. First, the company treats all players equally, he said. The developers don't separate free players from paying players, and they try to make it a great game for both audiences. Also, the blinking hints on the screen are purely random, not designed to show the least effective move. They may not show the best move every time, because Palm said if they did, there wouldn't be much of a game. Finally, candies are added to the board randomly. Palm said there's no algorithm in the background to stymie players and push them to pay. There's a mix of randomness and design in the game, but Palm said it's actually a nice sweet spot when some players are seeing design intent when there's none in play.
"It is never too late to disrupt and industry. Even if you're a small indie player, this is a very democratic marketplace."

Tommy Palm
Palm then took a moment to discuss discoverability, marketing and branding, or "the root of all evil according to some designers." Despite that aversion, Palm said it's one of the most important things companies need to worry about, whether they're selling games or music or other media. One of the biggest advantages any company can have on that front is their existing user base. Palm said to top the free downloads chart on iOS, it took initially took Candy Crush 150,000 downloads a day, and the number keeps going up. However, the boost in downloads you get form being on that chart "make it worth getting up there." Cross-promotion, PR, word-of-mouth, featured placement, advertising, and Facebook referrals are all key for boosting the installs number, Palm said.
Candy Crush's virality has also helped, although Palm said that hasn't been something built heavily into the game. Candy Crush Saga is a single-player game with social components in it, Palm said, which is an effective combination as players frequently discuss the game with each other when they're not playing it.
"I would argue the social layer of Candy Crush is actually rather light, rather simple and straight forward," Palm said. "When you talk about social games, the most important thing is actually the social aspects outside the game."
Ultimately, Candy Crush has laid out a repeatable formula for making strong IP, Palm said. The company's large and growing network of players is furthering that goal, and the company's focus on small and agile development teams experimenting with new game idea provides it with the quality games to build into blockbusters.
"It is never too late to disrupt and industry," Palm said. "Even if you're a small indie player, this is a very democratic marketplace."