Candy Crush Saga is the UK's most popular game of all time on Android
App Annie: Subway Surfers is second most-downloaded; Clash of Clans second in consumer spend
Candy Crush has been a name oft-referenced as the quintessential example of a popular mobile game, so it shouldn't be surprising that it's apparently the most popular game of all time on Google Play in the UK.
App Annie has released a report on the UK's top ten Google Play games of all time, with separate lists for both most-downloaded and consumer spend. Candy Crush Saga topped both lists, though below it the breakdown was a bit more varied.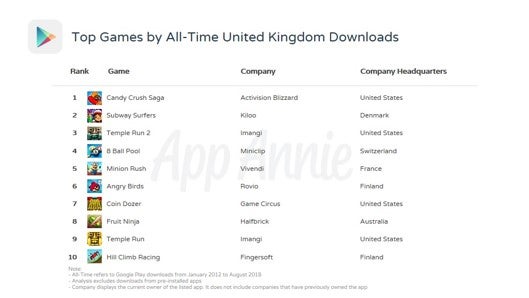 By downloads, Kiloo's Subway Surfers took the number two spot, followed by Temple Run 2. Angry Birds from Rovio came in at number 6, but more common names in the news lately such as Clash of Clans, Pokemon GO, and Fortnite (the latter likely due to recency) were nowhere to be found.
However, the former two did make an appearance on the consumer spend chart, with Clash of Clans in the #2 spot and Pokemon GO at #3. Activision Blizzard commanded this list not only in the top spot, but also with Candy Crush Soda Saga at #4 and Farm Heroes Saga at #6.