Call of Duty is No.1 but physical sales continue to slow | UK Boxed Charts
New Fortnite release makes Top Ten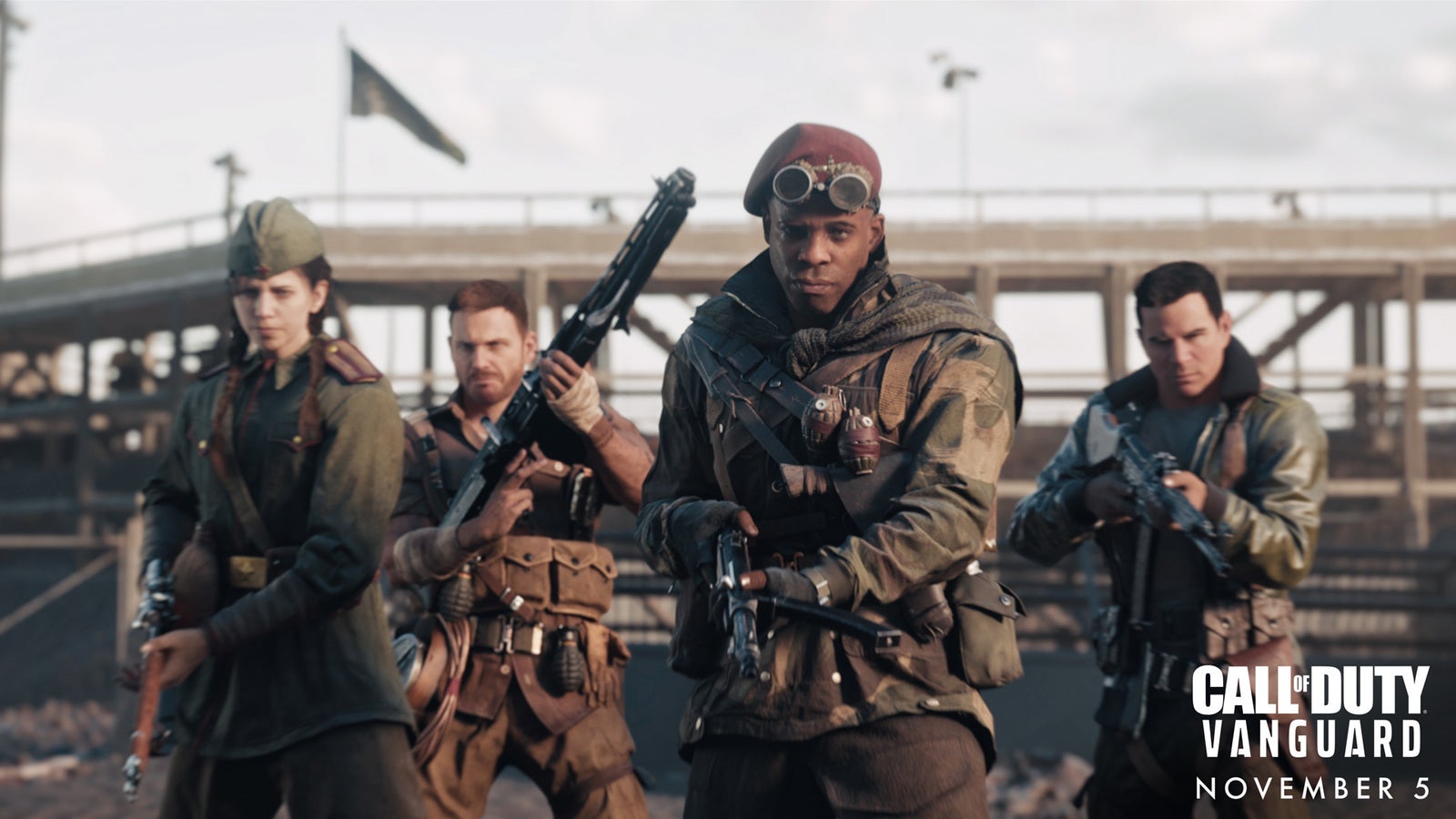 Call of Duty: Vanguard is No.1 in the UK boxed charts, comfortably ending FIFA 22's lengthy spell at the top.
Activision's shooter primarily sold on PlayStation platforms, with PS5 accounting for 41% of sales, PS4 29%, Xbox One 19% and Xbox Series X and S 11%.
Call of Duty, like FIFA before it, was historically a powerhouse sales force at UK retail, often selling in excess of a million copies in a box. Today, it's primarily a digital game and that is accelerating. We don't have the digital sales figures yet, but physical sales are down 23% over last year's game.
In 2020, Call of Duty: Black Ops Cold War had physical launch sales fall 64% over the previous year's entry (Modern Warfare). But digital accelerated by 39%, so we can't draw any conclusions on Vanguard's UK performance just yet.
Call of Duty is the big one, but there were a few other new games in the charts this week. Fortnite Minty Legends Pack lands at No.9 (33% of sales on Nintendo Switch, 24% PS4, 24% Xbox and 19% PS5). Just Dance 2022 slides in at No.11 (88% of sales on Nintendo Switch), and coming in at No.40 is Fast & Furious: Spy Racers - Rise of Shifter.
Last week's No.2 was Marvel's Guardians of the Galaxy, which falls to No.6 after a 64% sales drop week-on-week. Mario Party Superstars, which also launched last week, holds No.3 position after only a small sales decrease of 18%. Meanwhile, Riders Republic from Ubisoft drops eight places to No.16 after a 48% sales slip.
It's overall a strong week for Switch, driven by improved hardware sales, which has seen Mario Kart 8: Deluxe rise 30% in sales, and Animal Crossing: New Horizons sales increase 14%.
But it was another week of good PS5 stock levels, which means Marvel's Spider-Man: Miles Morales jumps 12 places to No.5 after a 342% sales jump. Immortals: Fenyx Rising returns to the charts at No.12 after a 652% sales rise. This was the result of some price discounting, but also a PS5 bundle at retailer ShopTo.
Here is the GfK top ten for the week ending November 6, 2021:
| Last Week | This Week | Title |
| --- | --- | --- |
| New Entry | 1 | Call of Duty: Vanguard |
| 1 | 2 | FIFA 22 |
| 3 | 3 | Mario Party Superstars |
| 5 | 4 | Mario Kart 8: Deluxe |
| 17 | 5 | Spider-Man: Miles Morales |
| 2 | 6 | Guardians of the Galaxy |
| 6 | 7 | Animal Crossing: New Horizons |
| 7 | 8 | Minecraft (Switch) |
| New Entry | 9 | Fortnite Minty Legends Pack |
| 4 | 10 | Far Cry 6 |