Bungie Foundation raises $1m for Nepal
Destiny players dig deep to help Direct Relief's disaster recovery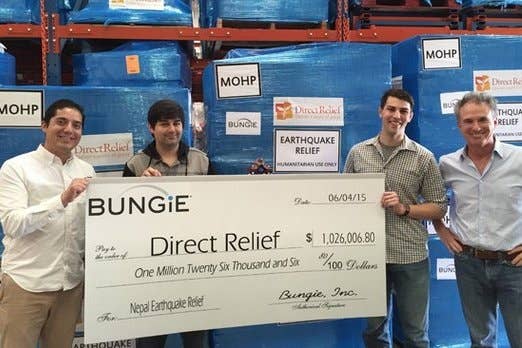 The Bungie Foundation has been able to donate over $1 million to the disaster relief efforts in Nepal thanks to contributions from players and publisher Activision.
"All told, your collective power has raised over $1,000,000," said community manager David "DeeJ" Dague.
"With special thanks to Activision for matching a $50,000 contribution from the Bungie Foundation, the fundraising drive is over. Now comes the business of putting those funds to work. Check out the tangible results. Thanks to your support, Direct Relief is outbound with everything you can see here - with the exception of the Guardians presenting the check. They're staying home. The rest is destined for Nepal."
Bungie launched the campaign a month ago, asking players to donate $25 to the Nepal earthquake relief efforts.
In return for their donations Destiny fans will receive a limited edition t-shirt and in-game shader. Both items should be available later in the summer.
"This was an astounding act of generosity on the part of Bungie and the larger Bungie community, and we at Direct Relief are deeply grateful - beyond what can be expressed in words," added CEO of Direct Relief Thomas Tighe.
"Most importantly, the Bungie community's amazing support will translate immediately and directly into help for people in Nepal who experienced a tremendous blow, are in a very difficult and more vulnerable situation now as monsoon season nears, and also have a long, tough road ahead. Every penny will be spent to help strengthen essential health services that were needed before the earthquakes and much more so now."
Far Cry 4's development team also pledged their support for Nepal in a separate campaign, offering to match donations up to $100,000. So far $81668.81 has been raised.