Breadcrumbs Interactive embraced Slavic folklore to find Yaga's unique voice
The Romanian studio drew from the country's culture for its debut, and won the Nordic Discovery Contest in the process
Romania is one of the emerging forces in European game development, with a history that stretches back further than one might think.
Ubisoft opened a studio in Bucharest in 1992, and other publishers - Electronic Arts and Gameloft among them - have followed since, taking advantage of the country's skilled workforce and lower costs. Today, around 7,000 people are employed across dozens of studios, making it one of the largest national industries in Europe.
"Romanian studios want to make interesting games, but we don't have a place to make them"
However, the majority of that number are engaged with outsourcing, production services, or as support teams for larger studios in other countries. Where Romania falls behind other major games industries is in creating original IP, but that is starting to change.
"The local industry is split," says Catalin Zima-Zegreanu, a founding member of the Cluj-based indie Breadcrumbs Interactive. "Big publishers are in the cities, like EA and Ubisoft in Bucharest, but in the last few years a lot of smaller studios have cropped up, all trying to get a handle on the industry."
Breadcrumbs Interactive is one such studio. Zima-Zegreanu and his fellow founders all worked at Evozon Systems, which he describes as, "20 people, doing outsourcing and art services for mobile games." For developers in Romania, this kind of work offers the most stability and security, a clearly marked path to a career in the games industry. However, for most people, this reality is far from the dream of being a game developer, and Zima-Zegreanu was no different.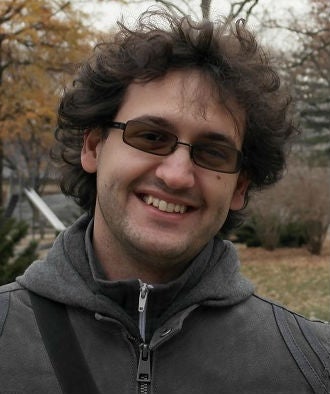 "We weren't satisfied with what we were doing in the mobile games space, but that's where we could get clients," he says. Mobile games paid the bills, but Zima-Zegreanu and his colleagues would work on prototypes for PC and console games as "a hobby" - a way of scratching a specific creative itch that mobile projects simply could not.
"That's the idea around a lot of the studios in Romania," he says. "We want to make interesting games, but we don't have a place to make them. A lot of companies are trying to get off the ground doing that."
While starting an indie studio to create original games is always a risk, Breadcrumbs Interactive is slightly different. It was started within Evozon Systems as a separate entity, Zima-Zegreanu says, "a freedom dictated by management. We were free to propose it, and if the numbers looked right our management would give the go ahead."
The numbers evidently did look right, and Breadcrumbs' debut game, Yaga, has emerged to become one of the most promising titles on the indie circuit. It was a standout in a pitching contest at Reboot Develop in 2017 - for which GamesIndustry.biz was part of the judging panel - and it was named the winner of the Nordic Discovery Contest at the Nordic Game Conference in May.
"Guacamelee was a good model for us... A game that takes the feel of Slavic folktales and puts that up front would be a really nice wrapper"
Yaga is an action-RPG with branching narrative paths and rich potential for replays; this was the starting point, Zima-Zegreanu says, emblematic of the kind of game that the Breadcrumbs team had aspired to make. Where Yaga really stands apart, however, is in its central theme and visual aesthetic, the latter being a core strength of the people working on the game, skills sharpened from years of working on art assets for other people's games.
"We were a bit tired of all the indie games that have really nice gameplay, but they all use pixel art and retro aesthetics," Zima-Zegreanu says. "We are not that big a fan of those art styles. We wanted to make something that has a retro feel in its difficulty, its replayability, and stuff like that, but with an art style that is fresh and clean and ready for high-resolution displays.
"That's an important thing going forward. We feel our artists are very good at what they do, so we want them to be able to express their personality as freely as possible."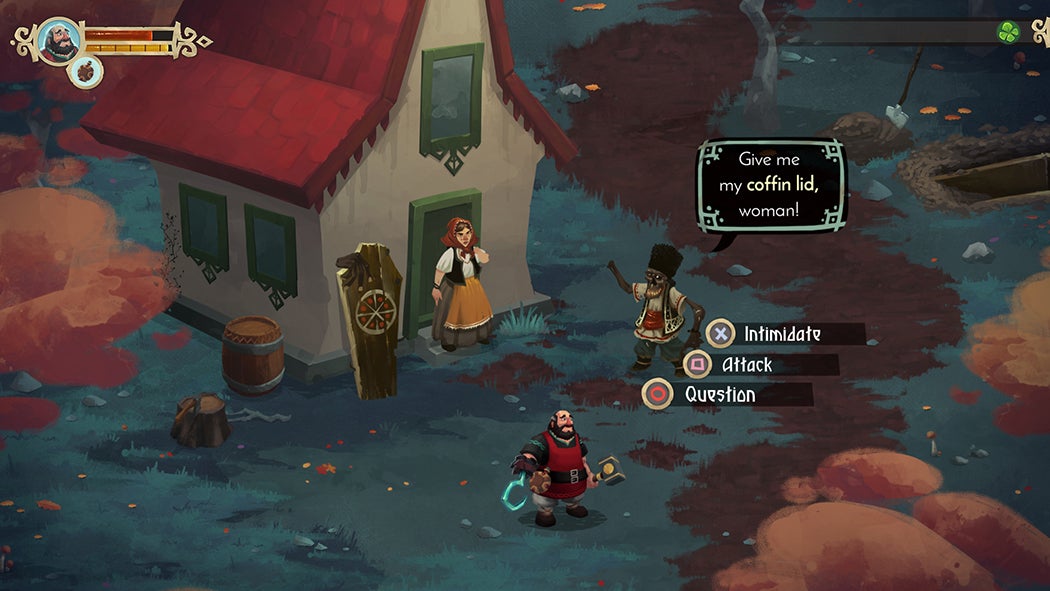 The theme of Yaga allows its artists to do exactly that. Breadcrumbs considered many possible themes for the game, including much more familiar (and commercially safe) subject matter like superheroes. However, Zima-Zegreanu knew that making a great user experience would be pointless if it didn't stand out from its competition, if the theme didn't allow the studio's artists to test the limits of their abilities. Rather than make yet another game about super-people in capes, then, Breadcrumbs reached into the history and traditions of its home country.
"Guacamelee was a good model for us," Zima-Zegreanu says. "[Drinkbox Studios] focused on having every part of the game reflect aspects of Mexican culture. We thought that a game that takes the feel of Slavic folktales and puts that up front would be a really nice wrapper. The game has to stand on its own without that, but those elements can really add a lot to the package.
"This is unexplored territory for games, and from a visual and a design point of view we wanted something that wasn't overused"
"Among all of our options, the one with Slavic folklore was the richest in elements," he continues, citing "two main reasons" driving that choice. One was the combination of "grimness and humour" that the most vivid folktales tend to provide.
"The other was that this is unexplored territory for games, and from a visual and a design point of view we wanted something that wasn't overused. People don't know the creatures in Slavic folklore... Well, they do know because of The Witcher 3, but it is one of the few games with Slavic elements, so there is still a lot of potential with that theme.
"We don't want to draw many parallels with The Witcher, because it's a big comparison to make. But we do feel that some people will recognise the creatures and see our take on them. What we feel The Witcher did, with its monster designs, is westernise them a little bit... We looked at them a little differently: not just scary or creepy, but adding a little bit of dark humour to the creatures themselves."
That much is clear from every single art asset and screenshot that Breadcrumbs Interactive has released, and with Yaga's systems set to be finished in August it will spend the rest of the year adding more character and content. The first few months of 2019 will then be spent on polish and porting ahead of a possible March launch; time that Breadcrumbs may not have had were it not for winning the Nordic Discovery Contest.
Among the prizes the studio received for being named the winner was a PR campaign from indie specialists Plan of Attack, and the assistance of Nordisk Film - which recently acquired Avalanche Studios - in finding a publisher. There were other benefits to winning, Zima-Zegreanu says, but as the skills and experience that the team lacks, these will prove to be the most valuable. Like an increasing number of Romanian studios, good ideas and the skill to execute them are not in short supply at Breadcrumbs Interactive. With the extra support from the Nordic Discovery Contest, however, Yaga has real potential to break out and find its audience.
"From a business point of view - finding people to work with, and relationships to help us cover the areas we're not so good at, it's been really great," Zima-Zegreanu says. "A lot of good could come from this."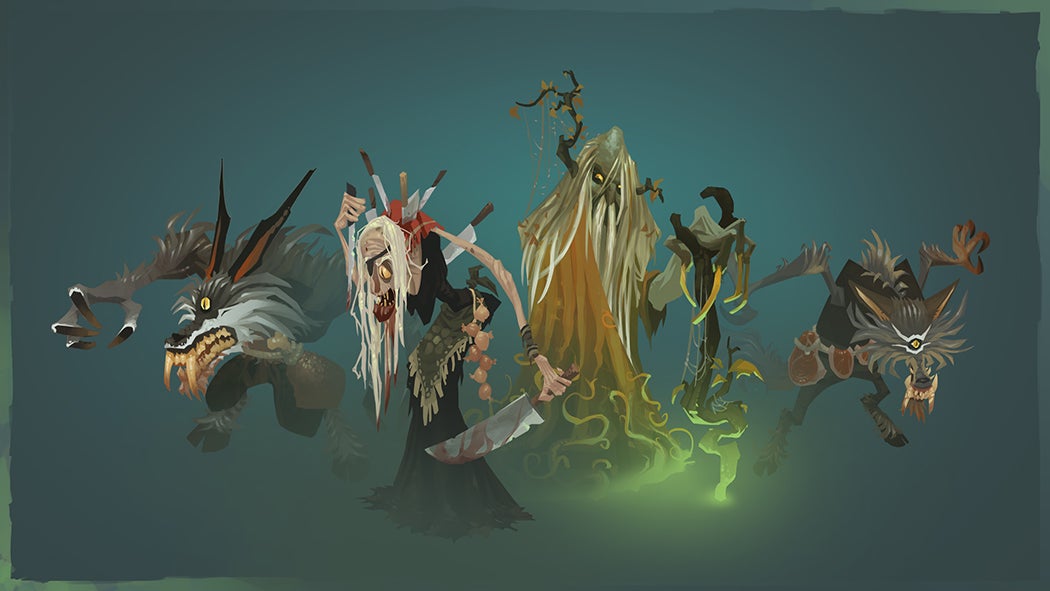 GamesIndustry.biz is a media partner of the Nordic Game Conference. We attended the show with assistance from the organiser.