Brazilian games market to hit $2.3bn in 2021 - Newzoo
Research firm shares key trends for Latin America's largest region at BIG Festival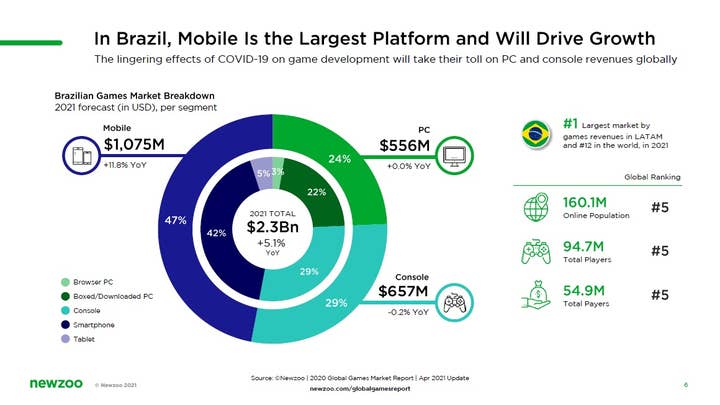 Today, Newzoo revealed 2021 market forecast for the Brazilian games market at BIG Festival (Brazil's Independent Games Festival).
Brazil is the largest market within Latin America and 12th in the world for game revenues, the research firm said.
For 2021, it is estimated that the region will see $2.3 billion USD in revenue, which will place revenue up 5.1% year-over-year.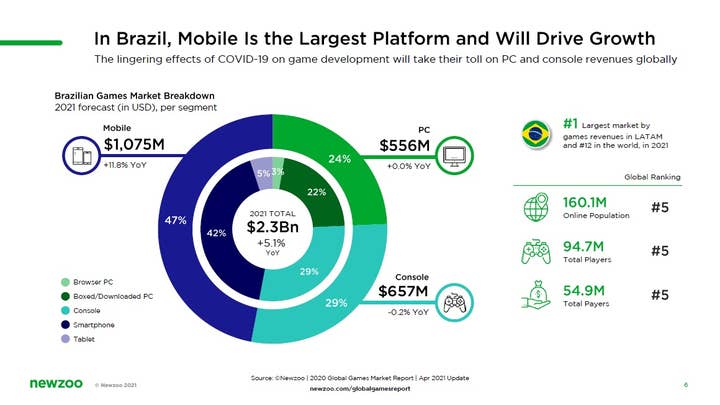 In Brazil, mobile gaming encompasses 47% of the market, console gaming 29%, and PC gaming 24%.
Newzoo added that mobile drives mobile drives the global gaming market because hardware is becoming more sophisticated, global mobile/fixed broadband infrastructure is improving, and mobile is the primary means of gaming for certain demographics.
The research firm also notes the relative popularity of core games on mobile devices in Brazil. The battle royale is the highest grossing genre for the region. By comparison, puzzle is the top gross genre on mobile within the US.