Brasil: Point Of No Return
The console companies are all looking towards Brasil, but are they too late to stop this potentially lucrative market from turning to free-to-play?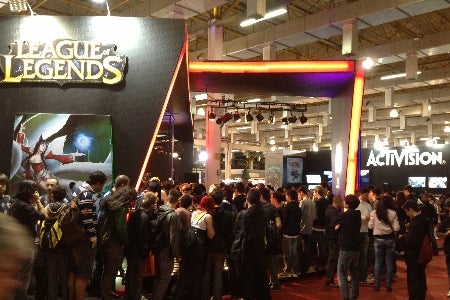 There's more than a hint of Gamescom to the Brasil Game Show. A thick strip of Sao Paulo's Expo Center Norte has been filled with the sort of huge multimedia booths that will be familiar to any regular visitor of Cologne in mid-summer. The names are also familiar: FIFA 13, Call of Duty: Black Ops 2, Halo 4, God of War: Ascension, Wii U.
I have become used to thinking about the industry's supposed 'emerging markets' in terms of free-to-play, smartphones and social networks, but the Brasil Game Show confounded my expectations. The crowds of people here - at certain points so voluminous it's possible to be stuck in one spot for a minute at a time - are a potent demonstration of the passion the Brasilian people have for products that many of them can scarcely afford.
"Last year we started to see a huge increase in our free-to-play clients' revenue. Because of the stability of our economy and the low price of internet, this is still the tip of the iceberg"

Carlos Estigarribia, Right Zero
There is tremendous opportunity here, but also tremendous tension between the console companies just waking up to the potential of the Brasilian market, and the free-to-play companies used to eating their lunch in Europe, Japan and North America. Free-to-play companies like Germany's Innogames, whose managing director, Michael Zillmer, has been courting Brazilian gamers ever since the company's decision to translate its products into Portuguese gained it an unexpected following in the country.
"Last year at the Brasil Game Show, it was half of this," he says, grinning. "It's booming.
"Brazil has 100 million people with an internet connection; bigger than Portugal, bigger than the UK, bigger than Germany... It's easier for online [companies], but if you want the sort of success that Innogames has in Germany you really need to understand the market, and that's what we're trying at the moment."
Innogames' progress in cracking the market hasn't extended far beyond offering Brasilian-Portuguese localisation, but the results are impressive: Brasil is curently Innogames' third biggest market in terms of players behind the US and Germany. The focus is now on encouraging those players to spend money, so Innogames - like many companies at this point in time - has plans to establish a dedicated office in order to gain a better understanding of its user-base.
But that is no small feat. Right Zero is a company dedicated to helping publishers in Innogames' position. Started in 2009 by Carlos Estigarribia and his two partners, Right Zero offers aid to international companies trying to navigate Brazil's distinctive/difficult business environment: billing, banking, recruitment, taxes, legal issues, market research, focus-testing; Right Zero can help or find appropriate partners for every challenge, and demand for its services is increasing all the time.
"A lot of companies are setting up operations here," Estigarribia says, "either a sales office or publishing and development."
The explosion in the Brasilian middle-class and the steady decline in the cost of high-speed internet is creating a more favourable environment for free-to-play games with each passing month. The sort of experiences now available to large numbers of Brasilians are much more sophisticated than the social networking games that the market has already embraced. The fact that Riot Games' League of Legends booth is the most crowded and raucous spot in the entire convention centre is not a coincidence. There is repressed demand here for gaming of all kinds, but the brands upon which the console industry is built do not have the same allure. The table is set for free-to-play companies to seize the opportunity before the less agile console publishers can react.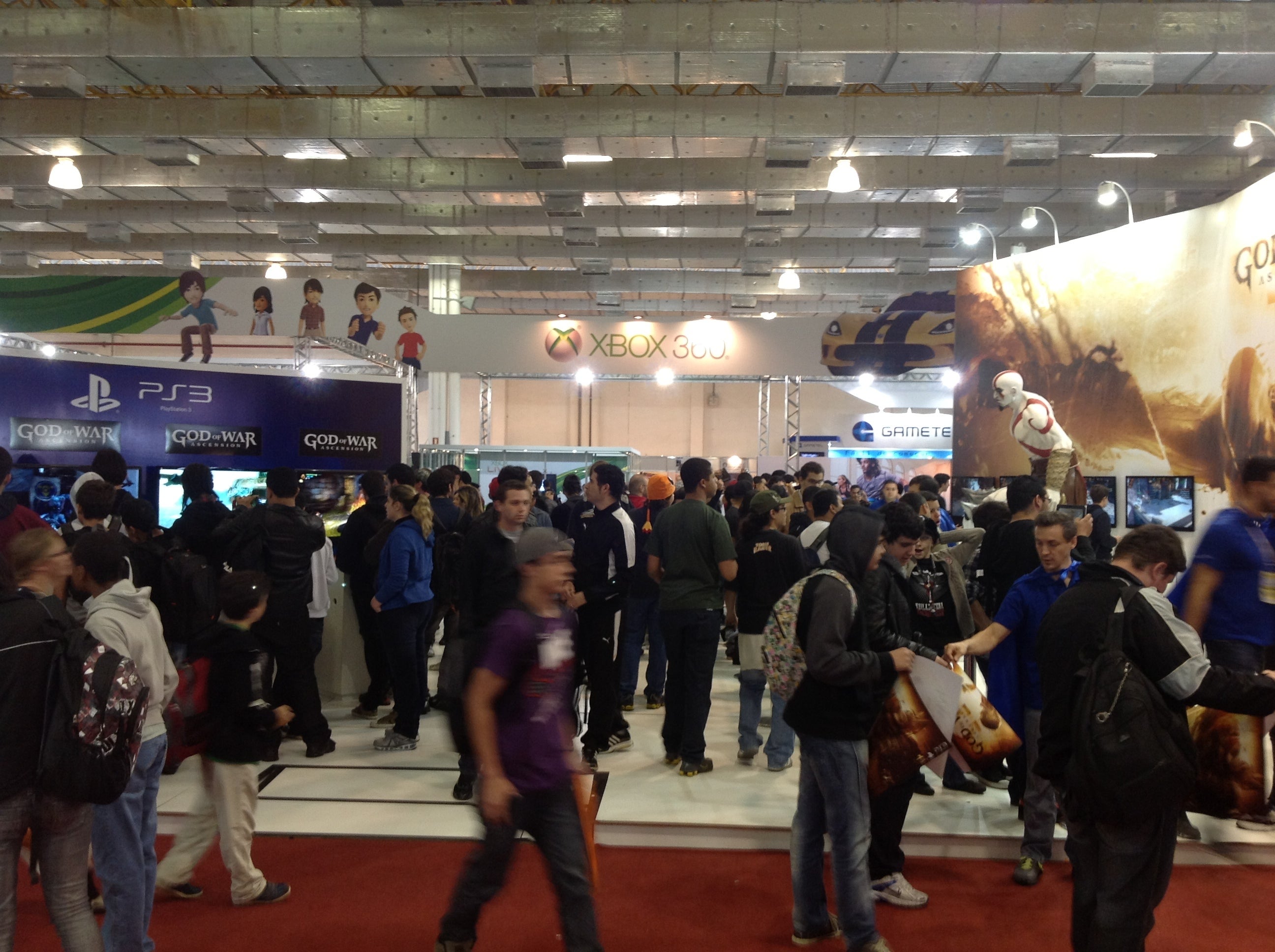 "A lot of people are now starting to play online games. It's a huge market that has never heard [of gaming's big franchises]. It's difficult to say which type of game is most popular, because people are experimenting with everything - it's all brand new," Estigarribia says.
"We believe that the free-to-play model has a much bigger potential here than the console model. After they are a fan of the game, Brasilian people will spend much more than $60 - our clients have Brazilian users spending $60 a month for social and free-to-play games. People have the money, and they are willing to spend, but they don't want to spend it in one transaction.
"Last year we started to see a huge increase in our [mostly free-to-play] clients' revenue. We have access to their financial statements, and last year, every month the revenue was getting bigger. Because of the stability of our economy and the low price of internet, this is still the tip of the iceberg."
However, at this point the size of the iceberg is difficult to define. In a country with almost 200 million people finding players won't be a problem, but actually getting to their money is a peculiar and fascinating headache. In Brazil, free-to-play success demands a degree of elasticity that established billing companies cannot provide. If a company only accepts international credit cards for micro-transactions it has already frozen out around 60 per cent of Brazil's addressable market - along with incurring a string of national and regional charges that can eat as much as 50 per cent of each transaction.
"The willingness to spend, overall, is not that much lower than in Europe," says Julian Migura, director of international business development for Boa Compra, the biggest online payment company in Brazil. "The access to cash is a little bit lower, but it's okay. It's not the core issue.
"The core issue is that people don't trust banks: they don't have bank accounts, and to get an international credit card you need $50,000 in your bank account. If you're an American or European company you'd use an international processor for credit cards; that's considered an import, so you need an international credit card in Brazil, which maybe 6 to 8 per cent of the population have access to. And that doesn't mean they even want to use it.
"Ubisoft, perennially behind Activision and EA in Europe and North America, has a market share of 10.9 per cent, while Konami is the market leader in console software. That's right, Konami"
Boa Compra started in 2003 with the goal of monetising Latin America. According to Migura, free-to-play and browser-game companies have had interested customers in the region for a long time, but there was no way to get the hard cash from the Alcatraz-like solitude of their pockets. Fortunately, Boa Compra has devised an ideal solution.
"People use cash, so you need to convert that cash into a number in the system," Migura says. "With a credit card it's super easy, but with real cash it's a problem. They have bank slips, for example, called "Boleto", which is the main payment method [in Brasil] - most people use that to pay their water, rent, electricity, mobile phones, everything.
"But we have developed a system where you can deposit cash into any ATM, even if you don't have a bank account there - you just put in the number, and it goes direct to our online system. That's much faster... We need one working day to process a Boleto, which is why sales always go down on the weekend, because nothing is processed. In Europe and North America, sales go up."
The importance of Boa Compra's solution to the growth of free-to-play gaming in Brasil shouldn't be under-estimated. With partners including Valve and Riot Games, a network of 5,000 internet cafés, and its own pre-paid card available at more than 200,000 points of sale, Boa Compra is offering an efficient and secure workaround to perhaps the most important limiting factor in the development of the Brasilian gaming market. The Brasil Game Show offers ample evidence that there is a great deal of enthusiasm for console products, but that's not exactly the point. The real question is whether console companies can make their products available in the right places and at the right prices before free-to-play games have stolen too much of the market. Will Brasil's story turn out like that of China or Korea?
The problem of distributing physical goods in such a vast country is another key obstacle preventing the spread of console gaming. As Migura points out, if you're a Brasilian gamer and you don't live in either Rio de Janeiro or Sao Paulo, acquiring a relatively expensive new game could also entail a long drive to a bigger town, or, in more extreme cases, even a plane journey to the nearest city.
If consoles are to succeed, NC Games may well be the catalyst. Founded in 1994 - which is practically the stone-age in terms of Brasil's still nascent gaming market - NC Games is now the biggest distributor of console hardware and software, with more than a 60 per cent share of the market. This year, it is on course to generate revenues of $200 million; next year, it will be $500 million; the year after, $1 billion.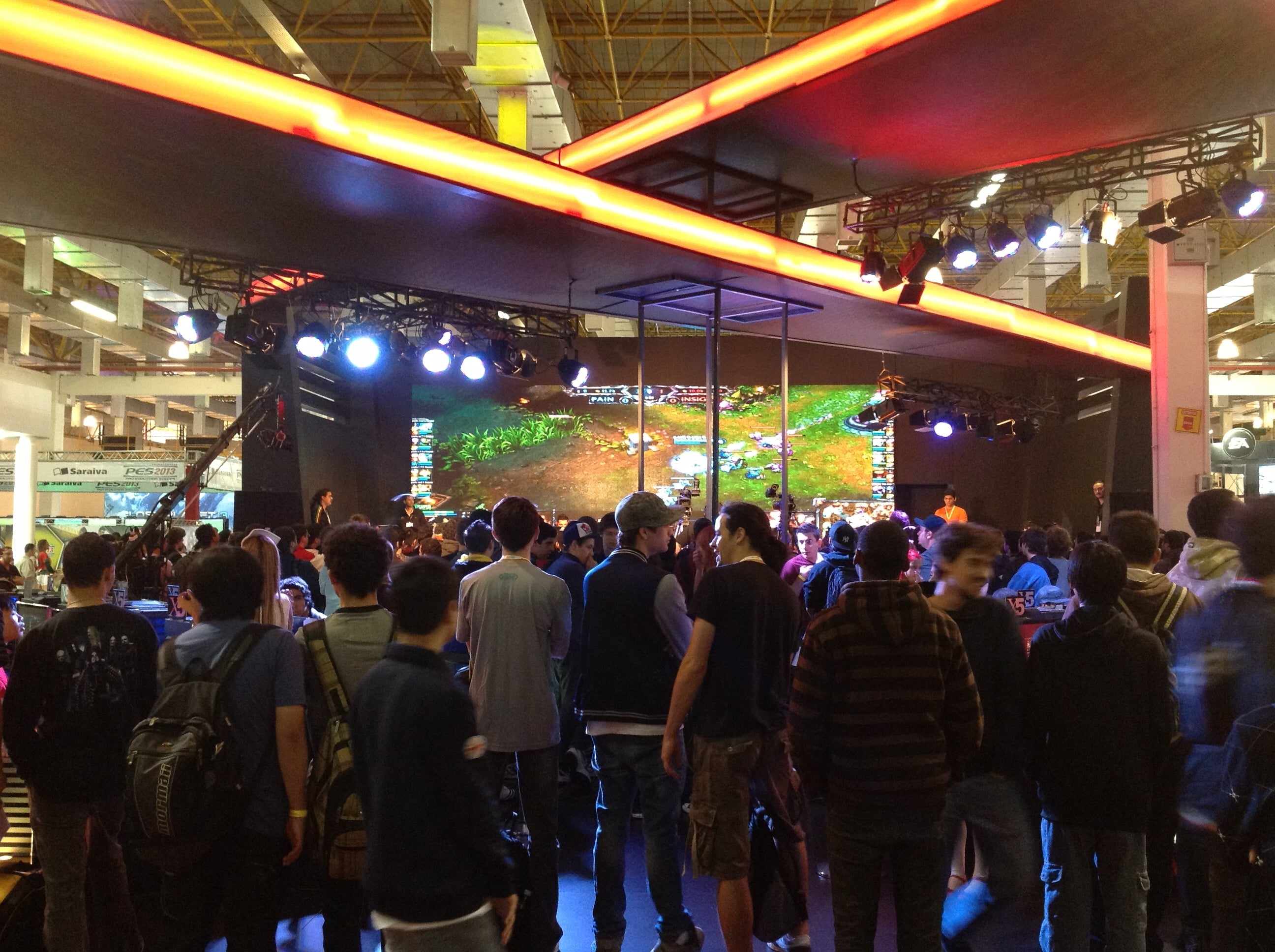 At least, that's the plan, and with the Brasilian market for console games growing by 83 per cent in value and 138 per cent in volume in the last year alone, the trend is certainly heading in the right direction. The steady collapse of CD and DVD sales in the region has also opened up space in major retailers like Wal-Mart and Carrefour that NC is busy developing into dedicated spaces for consoles and games. The company now has 2,000 retail partners and 7,000 points of sale, and those numbers are growing every month.
And the rewards for enterprising publishers are abundantly clear. In Brasil, a relatively marginalised company like Capcom has a similar market share (7 per cent) to EA (7.7 per cent), and significantly higher than the industry's dominant international console publisher, Activision-Blizzard (6.2 per cent and falling). Ubisoft, perennially third-place behind Activision and EA in Europe and North America, has a market share of 10.9 per cent, while Konami is the market leader in console software. That's right, Konami.
"Today, the [Brasilian] game market is about 2 per cent of the American market. But if you go to other categories, like appliances and fast moving consumer goods, the percentage of the Brasilian market, even though it is an emerging market, is much higher - it can get anywhere from 10 to 20 per cent," says Leonardo Azevedo, marketing director at NC.
"We believe that [the games] category just wasn't growing as much in the past due to problems in local production, high costs, lack of strong distributors. We can now grow faster than the market, and really accommodate all of the platforms they have in the US and Europe.
"In fact, we believe we can make a strong case for 'special games.' For example, Konami has a market share between 10 and 15 per cent - in fact, by Gfk's data it has 14 per cent of the market. It's the highest market share they have in the world. They were able to grow substantially in Brasil because they had the combination of both a game that met the expectations and desires of the Brasilian players in Pro Evolution Soccer - they have 20 teams from the Brasilian championship, which makes it an extremely aggressive competitor in Brasil - and a strong distribution and marketing strategy.
"Our investment in local manufacturing was the point of no return. Brasil is the top priority of Microsoft corporation, and we're sure the consumers will reward our efforts"

Guilherme Camargo, Microsoft Brasil
"They were really able to maximise their potential in Brasil, and we believe that for many games there is a potential here that hasn't been explored yet."
However, regardless of the demand for or availability of console games, it is still necessary to purchase expensive dedicated hardware on which to play them. The Brasilian government's protectionist policies on imported goods mean that any console or console games manufactured outside of the country are subject to severe taxation. By way of example, these are the launch prices for the current generation of consoles - feel free to wince as you attempt to grasp it all: Nintendo Wii - BRL 2,399 ($1,182); Xbox 360 - BRL 2,999 ($1,478); PlayStation 3 - BRL 1,999 ($985).
Understandably, the cost of legitimate console gaming helped to create a thriving grey market, where consoles and bags of pirated games can be bought for a relatively meagre amount. The solution to the problem is simple: establish a factory within Brasil and assemble the console locally, instantly driving your price down by as much as 40 per cent. However, the solution is also costly, requiring a major commitment from each company to the future of the Brasilian market and Latin America as a whole - a product manufactured in Brasil will receive similar tax benefits in other Latin American.
Microsoft made that commitment in October 2011, when it opened a factory in Manaus for the assembly of the Xbox 360 and, potentially, products like the forthcoming Surface tablet. So far, Sony and Nintendo have not announced plans to follow suit.
At this point, it's worth noting that GamesIndustry International spoke to Nintendo at the Brasil Game Show, but the company-line rhetoric that made up a significant part of the interview offered little more information than the company is both aware of and enthusiastic about the potential of the Brasilian games market. In other words, while Nintendo is working on better distribution and service practices, the company's official stance on the country has barely changed since it launched the Wii there in November 2006. Today, the Wii is available for BRL 699 ($350) with a line of "Nintendo Select" games for BRL 79 ($40); good value for a console in Brasil, but very soon it will be superseded by the Wii U, and that is likely to be significantly more expensive.
For Sony, pricing and value are even more difficult. The only reason why the PlayStation 3 launched at a lower price than the Xbox 360 or Wii in Brasil was that it launched at the end of 2010 - its competitors both launched there in 2006. Indeed, right now on UZ Games, Brasil's leading specialist games retailer, the cheapest Xbox 360 model is BRL 899, compared to BRL 1,399 for the only available PlayStation 3. The mind boggles at what the PS3 might have cost Brasilian gamers in 2007, and it's a safe bet that Sony will continue its policy of losing money on hardware at launch for its next console.
All of which gives Microsoft a significant advantage in what could prove to be one of the world's biggest console markets. The price-drop made possible by its factory in Manaus spurred 30 per cent growth in year-on-year sales during the last holiday season, giving Microsoft the leading share. More importantly, it will allow them to launch the next Xbox on the same day and at a comparable price to its other major territories. Until then, we can only speculate on just how significant that could be in the development of the market.
"By [starting local assembly of Xbox 360], people who were willing to buy from the grey market, or even import the consoles from the US, are now deciding to buy locally," says Guilherme Camargo, country manager for Microsoft and Xbox in Brasil. struggling to raise his voice above the whooping from the nearby League of Legends booth.
"We changed the informal market to a formal market, and right now we can see that publishers and even our competition are more willing to invest in the country... We are investing a lot in Brasil, and we will keep on investing. Probably, Brasil will be in the top 3 [in the world] in terms of Xbox.
"Our investment in local manufacturing was the point of no return. Brasil is the top priority of Microsoft corporation, and we're sure the consumers will reward our efforts. Brasil will be a leading console gaming market."