Big franchises debut in top grossing iPhone charts
But Infinity Blade, GTA, Batman and CoD can't topple Zynga Poker
Four traditional games companies made a significant impact in the top grossing iPhone charts for December, with Epic, Take-Two, Activision and Warner Bros scoring mobile hits.
That's according to analysis from Cowen & Company*, which noted that twelve of the top 20 grossing games on iPhone were built on a freemium model, with only three relying purely on an upfront purchase.
Top of the charts was Poker By Zynga, but Epic's Infinity Blade II, Take-Two's Grand Theft Auto III, Call of Duty: Black Ops Zombies from Activision and Warner's Batman: Arkham City Lockdown all made the top 20 in the month they launched.
Thirteen of the top 20 games were made by independent developers.
Titles held similar positions on the iPad, apart from Z2Live's Battle Nations, which took the top spot on iPad compared to number 20 on mobile. Electronic Arts also scored an iPad hit with The Sims FreePlay although the publisher did not feature in the iPhone charts.
Estimated Top 20 Grossing iPhone Games (December)**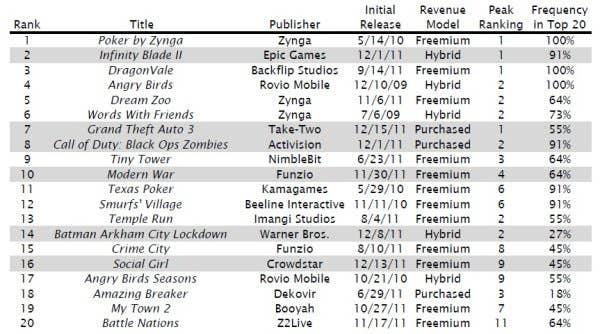 Estimated Top 20 Grossing iPad Games (December)**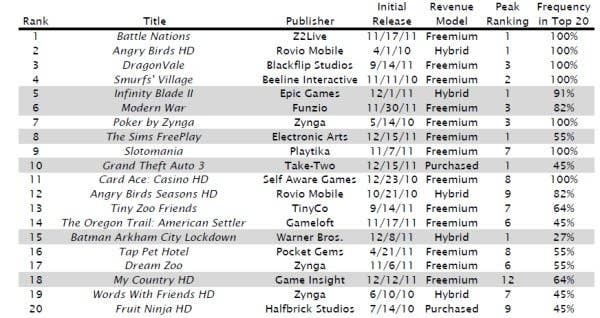 * Cowen & Company says of its methodology: "We construct our monthly measurement by pulling the list of the top 20 grossing titles twice a week, and then aggregating those data points across the month into an 'average' for the month as a whole. We are using top grossing titles as our measurement because it is the metric that relates most directly to monetization (as opposed to top-selling or most-downloaded).
"Our top 20 lists include the following details: title, publisher, initial release date, revenue model (freemium, purchased, or hybrid, with the latter representing games that have both an upfront cost and in-app transactions), the peak ranking (single-day) during the days we measured in the month, and the percentage of observations during the month that the title was in the top 20 (i.e., if we had 10 measurement days during the month and the title was in the top 20 on 7 of those days, it would score 70%)."
** Source: AppAnnie and Cowen & Company estimates. Greyed out titles launched during the month.