Between a Rock Band and a Guitar Place
It's 2009 all over again, but have the mistakes that put the music game genre in a coma last time actually been rectified?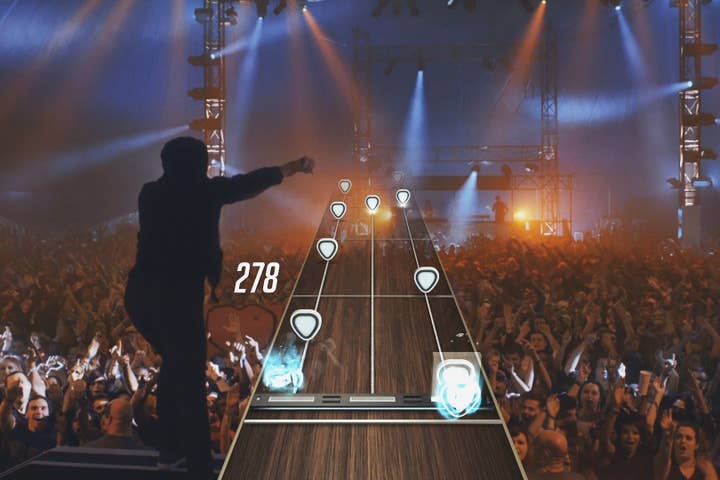 You know the story about "traditional" Christmas, and how most of what we now consider immutable tradition actually dates from the 1950s and only became embedded in our collective consciousness because of the cultural dominance of the Baby Boomer generation? If that's how traditions are formed, then perhaps we've invented a new one. Just as the ageing boomers might now grumble vociferously if Bing Crosby is left off the Christmas playlist, so might we, in our latter years, declare that it's "just not the same" without a face-off between Rock Band and Guitar Hero.
Here we are, five years after both franchises slipped away gently into a comatose state, and it's like nothing has changed; this Christmas will once again see a Harmonix-developed Rock Band title going up against a Guitar Hero game from Activision (this time developed by the superb and often underrated FreeStyleGames). Huge, daft boxes of instruments will cause headaches for retailers and post-festive strife for households. It'll be brilliant, though; countless parties will be held; innumerable hours of fun had; vast amounts of alcohol imbibed, at least the first few drinks seeming to magically make those tricky sections easier to play.
Yet the spectacle of Guitar Hero and Rock Band duking it out once more raises eyebrows, because lest we forget, these franchises were put to bed for very good reasons. By 2010, the market was utterly saturated; consumers and retailers alike were pretty much sick and tired, if not of the genre itself (which never stopped being fun), then of the mess surrounding it. Competition between EA and Activision had turned into little more than a dick-waving contest over DLC which was ultimately deeply anti-consumer in nature, with each side locking up exclusive rights to various songs and denying consumers the opportunity to choose a game "ecosystem" on its merits and then build the library of tracks they actually wanted. Release after release of disc-based games, of which Activision was especially guilty, added next to nothing to the experience and accelerated consumer fatigue. By the time both publishers gave up on the genre, it was a mess; milked dry and discarded.
"It was Activision that really flooded the market, dropping the quality bar significantly along the way"
It didn't have to be like this. Like I said, it's not like the genre ever stopped being fun; plenty of people still pull out Rock Band (whose reputation and playability remained far more intact by the end of the Plastic Instrument Boom than Guitar Hero's) to enjoy with friends to this day. This ought, in fact, to be one of the industry's most rare and valuable of beasts, a truly evergreen sector which continues to be successful and profitable year after year after year. There will never be a year when playing in a fake band with your friends won't be a fun thing to do. There will never be a year when a new set of high schoolers, students or flat-sharing young people aren't looking for a fun party experience. There will never be a year when new music that people want to sing or strum along to isn't released. There should never be a year when a Rock Band or a Guitar Hero doesn't work.
We just had five years when the consensus was that these games wouldn't work, and I wonder what lessons have been learned. Harmonix seems to be in a humble and reasonable frame of mind about its return to Rock Band; the studio is working hard to make sure that the game works with those old controllers in the back of your cupboard, and in a surprising and wonderful move, the developer is also working hard to make sure all your previous Rock Star DLC works out of the door with the new game (although those who have moved from Xbox 360 to PS4 are bang out of luck, which is a bit of a shame). It all seems like Harmonix is very conscious of the reasons why Rock Band had to be put to sleep last time and are desperate not to repeat the mistakes. They'd very much like a solid, annual performer, rather than another boom and bust.
Thing is, Harmonix and EA - its publisher at the time - don't really bear much of the blame for the bust last time. Sure, they engaged in the dick-waving over exclusive DLC - it takes two to tango - but it was Activision that really flooded the market, dropping the quality bar significantly along the way. It's unsurprising, then, that it's Activision's plans this time around that are raising eyebrows. While the changes being made by FreeStyleGames to the Guitar Hero "formula" are interesting in themselves, the overall effect - making your old DLC and old instruments incompatible - feels far more like the decision of a cynical publisher than a genuine expression of creative freedom and innovation.
"The fear is that, in the competition between the two sides, the chance to build something sustainable will be lost in favour of short-term profit and advantage. Again"
In a fair clash between the two games, the market would almost certainly punish Activision for this avarice; but the exclusive deal-making that will determine which songs appear in each game means that this isn't actually a fair clash. If you want to play your favourite songs, you have to buy the game that features them; the whole thing is rigged in negotiations between music labels and game publishers, and the ultimate losers are consumers. If things play out as aggressively anti-consumer this time as they were last time, though, the backside will fall out of the market a lot faster than last time; and perhaps damage the whole genre badly enough that it'll take more than five years to make a comeback this time.
In an era when consoles are truly connected devices, music games ought to be a no-brainer. The instruments are a product, but the game is a service; you buy or download a client application and off you go, with a constantly expanding library of songs to choose from. It's a damned good business, potentially - make the tracks reasonably priced and you've got a great impulse purchase, for an audience who are probably a couple of drinks worse for wear and very, very ready to make an impulse purchase. Hell, open out the potential audience by making smartphone apps that serve as the most basic controllers for the game; not remotely as much fun as the plastic instruments, but a great gateway to the experience, allowing people who don't want to drop a load of money on peripherals to give you money for songs anyway. Do this and you've got something evergreen - not a giant seasonal hit, but a service that makes solid money on an ongoing basis, and never stops doing so.
To an extent, I think both players in the market get this idea; Guitar Hero's "channels" come off as a slightly odd version of the idea above, and Harmonix's drive to ensure that old DLC continues to work suggests a strong belief in continuity and offering a service rather than milking a product. The fear is that in the competition between the two sides, the chance to build something sustainable - and the interests of the consumer - will be lost in favour of short-term profit and advantage. Again. That would be a huge shame; in truth, I don't want a pissing contest between Rock Band and Guitar Hero to become a Christmas tradition, but I certainly wouldn't object to a dusting down of music game instruments becoming a party tradition that never really gets old.