Bethesda sues over Westworld mobile game
Publisher alleges that Fallout Shelter developer Behaviour Interactive re-used copyrighted code when it created "blatant rip-off" for Warner Bros.
Bethesda Softworks has filed suit against the original developer of Fallout Shelter because its upcoming Westworld mobile game appears to be a little too close for comfort to the hit Fallout spin-off.
As first reported by TMZ, Bethesda is suing Montreal-based Behaviour Interactive and Warner Bros., saying the companies' upcoming Westworld goes beyond taking inspiration from Fallout Shelter and actually re-uses source code from the game.
According to a copy of the suit posted by Polygon, Bethesda alleges, "The Westworld game is a blatant rip-off of Fallout Shelter. Working with the same copyrighted computer code used by Fallout Shelter, Westworld has the same or highly similar game design, art style, animations, features and other gameplay elements as Fallout Shelter, all of which are owned by Bethesda."
As for how Bethesda knows the unreleased game is running on the same code, it pointed to bugs from early versions of Fallout Shelter that seem to be afflicting a demo version of the Westworld game as well.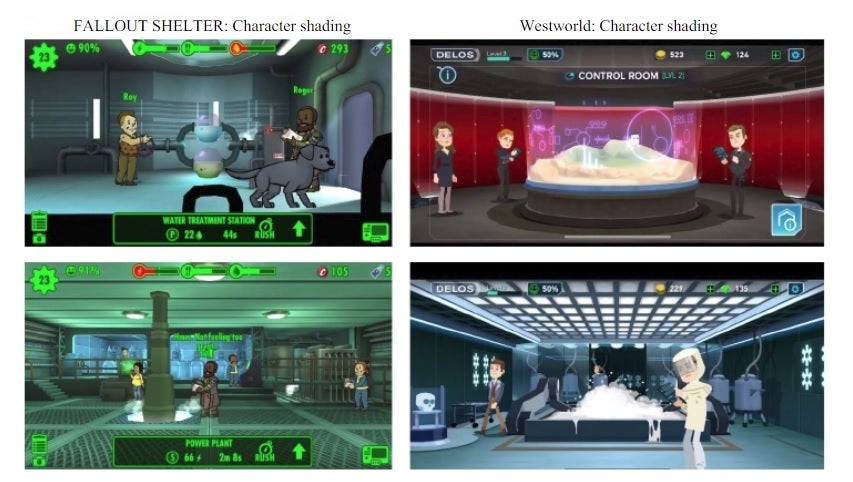 "Specifically, the view is out-of-focus and the scene that appears is far to the right and below the targeted landscape image," the company said. "It is as if a camera capturing the scene had been inadvertently pointed to the lower right foreground and then slowly refocuses on the central image. The identical problem appeared in initial versions of Fallout Shelter but was addressed before Fallout Shelter was released to the public."
Beyond use of actual Fallout Shelter source code, Bethesda took issue with a number of similarities in the two games, from how characters are animated to the location and appearance of certain user interface elements to how a tutorial for zooming the game's camera works.
Bethesda first contracted Behaviour to work on Fallout Shelter in January of 2014. According to the suit, Bethesda "provided the conception, design, and overall direction of the game's mechanics and resulting look and feel, and Behaviour provided the implementation."
In December of 2015, Bethesda started up its own Montreal-based studio and moved live ops development on the game there. The new studio was led by Yves Lachance, who had just joined Bethesda from Behaviour, where he was senior vice president of publishing and strategic partnerships.
Beyond actual and punitive damages, Bethesda is asking for the Westworld mobile game to be cancelled, with every version removed from distribution.
Warner Bros. entertainment declined to comment on the suit. As of this writing, Behaviour has not returned a request for comment.