Bad Juju buys Desura from Linden Lab
Second Life dev sells online store as it focuses on new virtual worlds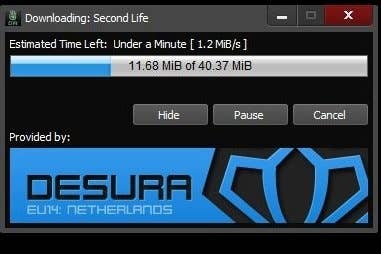 Bad Juju Games, an independent developer of both games and middleware, has acquired the Desura digital distribution service from Linden Lab.
For Linden Lab, this deal is a matter of focusing on its top priority: developing new virtual worlds while maintaining and evolving existing products like Second Life. Both companies have worked for "months" to ensure that Desura's transition was not at the expense of its users' experience or Linden Lab's roadmap of new features.
Bad Juju's motives are less obvious. Founded in 2010, Bad Juju has developed tools and technology for a variety of purposes, from data collection to online multiplayer features to second-screen functionality. Bad Juju's products have featured in Call of Duty, Tekken, Ace Combat and many other games, including mobile and PC titles.
"From the start, Desura has made great strides to deliver Gamers a viable game publishing service offering a wide selection of games not found on Steam," said Bad Juju president Tony Novak in a statement. "Now, our team at Bad Juju is tasked with raising that bar - An effort that we intend to approach while continuing to embrace the DRM Free ideals that have made Desura a contender within the limited field of digital and PC games publishers.
"This marks a very important milestone for Bad Juju Games to reach the greatest breadth of game developers and gamers who all share a fanatical passion for gaming as a whole."
Since its launch in 2009, Desura has built a catalogue of some 2600 games and a community of more than one million monthly active users. Linden Lab acquired it in July 2013.
While the acquisition deal has only just been announced, Bad Juju is already promising a new client application, a better user experience, and new cross-platform services for developers selling their games through the store.